General Caleb Akandwanaho a.ka. Salim Saleh has received the Kabalega Star Medal for his  contribution and role towards the Bush war and creation of the Uganda Peoples' Defence Forces (UPDF).
Born on 14 January 1960, Saleh is a retired General Officer and advisor on military matters.
He joined FRONASA in 1976 and trained at Montepwezi.
A daring Military Officer, he participated as the main bodyguard of President Museveni in the early days of the struggle.
He exhibited command towards the UNLA soldiers at a roadblock and that was a turning point of the struggle.
He planned and commanded most of the battles of the Bush War.
He has held several portfolios and is remembered for most fearless actions documented as commander of the bush war, mobile forces and after.
Gen Saleh had been hit by enemy fire three times on the left and right hand and on the head but he braved and persevered  on.
He is now involved in the Operation Wealth Creation to kick poverty out of Uganda.
Also awarded the Kabalega star is General Ivan Koreta. Born on 15 October 1955, he was part of a core group of hardened Mozambique trainees in FRELIMO camps.
He outstandingly commanded the 13th Battalion that guarded Gulu/ Kampala highway.
He exceptionally commanded the 1st UGBAG (15) Contingent to Liberia, 1st Commandant of Senior Command and Staff Command (SCSC), Deputy Chief of Defence Forces (DCDF), C/Man General Court Martial, Deputy Director General External Security Organisation and Member of Parliament among other portfolios.
He also commanded troops that assaulted enemy barracks, captured a lot of weapons/ammos, opened new fighting fronts operational and theatres and exhibited exemplary performance.
He is a Military Officer, diplomat and a legislator.
Brig Gen Bosco Omure was born on 01 July 1956. He Joined the struggle in 1976 and trained at Montepwezi Training School – Mozambique.
He was commissioned on 17 March 2005.
He went on to serve in different capacities including Operation Wealth Creation where he has benefited his home district with a demonstration centre for fruit seedlings that have been established on plantation farming in particular Jackfruit.
His outstanding initiative, leadership and other abilities have improved supplies.
Notable to note is Late Maj Gen Fred Rwigyema Rubona who was born on 5 July 1956, later, joined FRONASA in 1976 to train at Montepwezi Training School – Mozambique.
Rwigyema was awarded the Luwero Triangle Medal.
He distinguished himself through exceptional service on the 15 November 1980 while conducting room service.
A caterer at the Nile Mansion informed the late Fred that he overheard some signallers shouting some words like Yoweri Muchebeni…Kireka Road Block.
He swung into action, mobilized the escorts and found second Lt Saleh at Kololo residence of YKM from where they headed to Kireka Road Block at around on the mission of rescuing YK Museveni at all cost. No reconnaissance had been done on the road block.
The actions saved YK Museveni for the Peoples' Struggle.
Rwigyema later on commanded Mondlane force which operated in the Kalasa and Makulubita areas during the guerrilla war.
He later was later killed in action in October 1990.
Tarehe Sita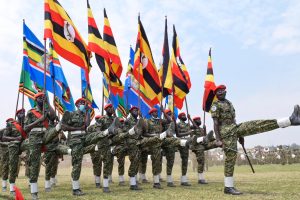 Celebrated on February 6 every year, Tarehe Sita a Kiswahili statement for sixth day  is when 40 combatants took to the Luweero bushes through the attack at Kabamba on this exact date to launch an epic five-year struggle that ushered the National Resistance Movement into power.
The attack on Kabamba led to the formation of the National Resistance Army which later metamorphosed into the current army, the Uganda People's Defence Forces.