Former Speaker of Parliament Rt Hon Jacob Oulanyah has been laid to rest in Lalogi village in Omoro district.
The burial was attended by Speaker Anitah Among, Deputy Speaker Thomas Tayebwa, the Chief Justice Alfonse Owiny-Dollo, Cabinet ministers, Members of Parliament, among others.
The family of the former Speaker was represented by Andrew Ojok Oulanyah who spoke on their behalf.
Mzee Nathan Okori, the father of the late Rt Hon Oulanyah, addressed mourners in Acholi dialect which was translated by Oulanyah's close friend and Democratic Party President Hon Norbert Mao.
It was an emotional moment for mourners to bear as Mzee Okori eulogized his son.
"The mourners who have come here. Pass my message to the President. Inform him that Oulanyah started several projects here and most of them are incomplete," Mzee Okori stated.
He said Government should complete the house that Oulanyah was building in Omoro.
"Once this house is complete, it will generate income which will be used to support Oulanyah's family as you can see he has left school-going children."
He appealed to government to support family members and other dependents that Oulanyah has left behind.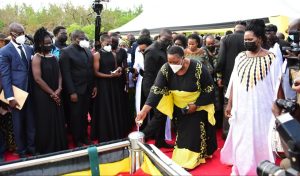 He also appealed to the Chief Justice Alfonse Owiny-Dollo to use his position to secure Oulanyah's estates from meddlers who want to grab it.
The chairperson of Acholi Parliamentary Group, Hon Anthony Akol asked President Museveni to investigate the death of Rt Hon Oulanyah.
The National Resistance Movement (NRM) Secretary General Richard Todwong delivered a special condolence message from Gen Salim Saleh to mourners in Lalogi.
Gen Saleh, in his message, said that he was privileged to work with Oulanyah to draft a new 10-point program intended to achieve socio-economic transformation.
Chief Justice Owiny-Dollo eulogized the late former Speaker for the last time before his burial.
He said he is still seeking answers from God for taking away Oulanyah.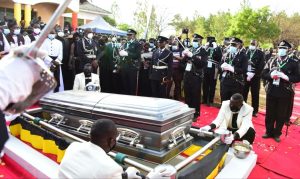 "Coming from one side has never been a factor on who should be Chief Justice or Speaker," Dollo noted.
"Through this Oulanyah Education Trust Fund,….I promise that Jacob's children will pursue their education for as far as their brains can handle."
While addressing mourners in Lalogi, the Speaker of Parliament Anitah Among said Oulanyah was a special person to the people of Uganda and that a Memorial Day event will be held every 23rd March in his honour.
The chosen date is the late's birthday.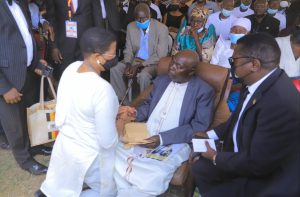 The Vice President Jessica Alupo who was delivering the President's message said she has taken note of the issues raised by Mzee Okori such as his unfinished projects and support to the children, etc.
Oulanyah's body later received final blessings and before being escorted to his final resting place.