Jumia, Uganda's leading e-commerce platform, has launched the 6th edition of its annual "Jumia Black Friday" campaign aimed at growing visibility for vendors and delivering unbeatable offers to customers across the country under the theme "Jumia Black Friday- Beeyi Laisi".
The announcement was made Tuesday at the Jumia Uganda Offices in Bugolobi, Kampala where dfcu bank was also announced as the Platinum Sponsor for this year's Jumia Black Friday promotion. 
Ron Kawamara, Chief Executive Officer (CEO) at Jumia Uganda, thanked partners and sponsors of this year's Black Friday promotion for their commitment to giving Ugandan customers affordable services and products amidst a financially challenging year.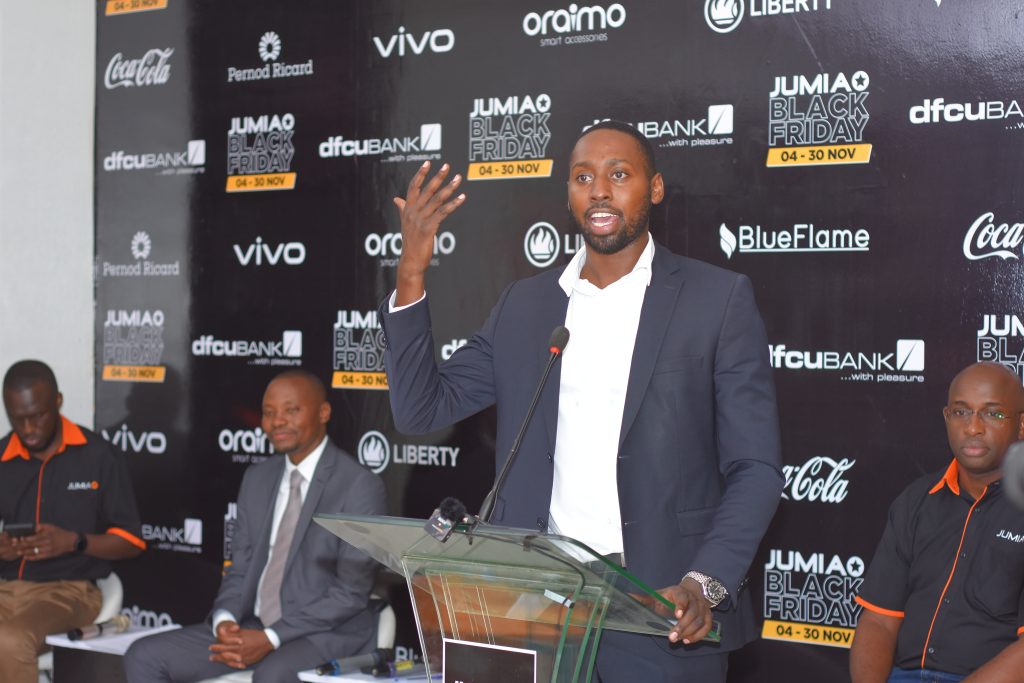 "This year's Jumia Black Friday campaign is essential to our customers and us now more than ever, especially with increased commodity prices. We are grateful to the thousands of Ugandan businesses participating in this campaign and their efforts to offer the best deals to our consumers," he said.
He echoed that the coming together of the partners of this year's Jumia Black Friday is a reaffirmation of the unified commitment from the private sector and, by extension, the public sector to the bright future of e-commerce in this country.
"Jumia decided to do more than one Black Friday to fit in with our consumers who may not have money on only one, but might get it as the month evolves along! Why Black Friday in Uganda? Whereas in the U.S. it is one day – we would like to extend and give more time to Ugandans by giving more days for Ugandans to shop," said Kawamara.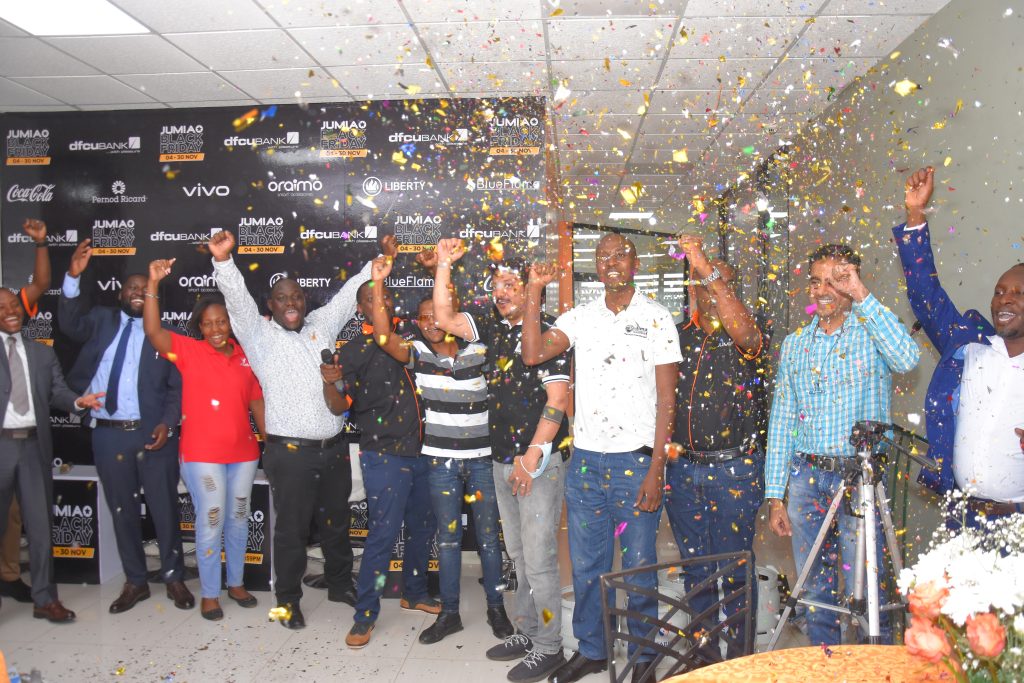 "We have been investing $ 800,000 – $ 1,000,000 in awareness and price support towards the previous editions of Black Friday. Initially, there were electronics majorly being listed for Black Friday but the list of categories available has increased with a wider assortment."
He thanked Liberty Uganda, an insurance services provider, for adding a layer of protection to Black Friday. 
"Liberty has been progressive and we thank them for thinking ahead by bringing insurance closer to the people, at a lower cost with seamless operations," he noted.
Ben Kuyon, Chief Marketing Officer at Jumia, said Jumia is offering a Shs1m voucher to a lucky customer who can find it on its application on Thursday night November 3, 2022.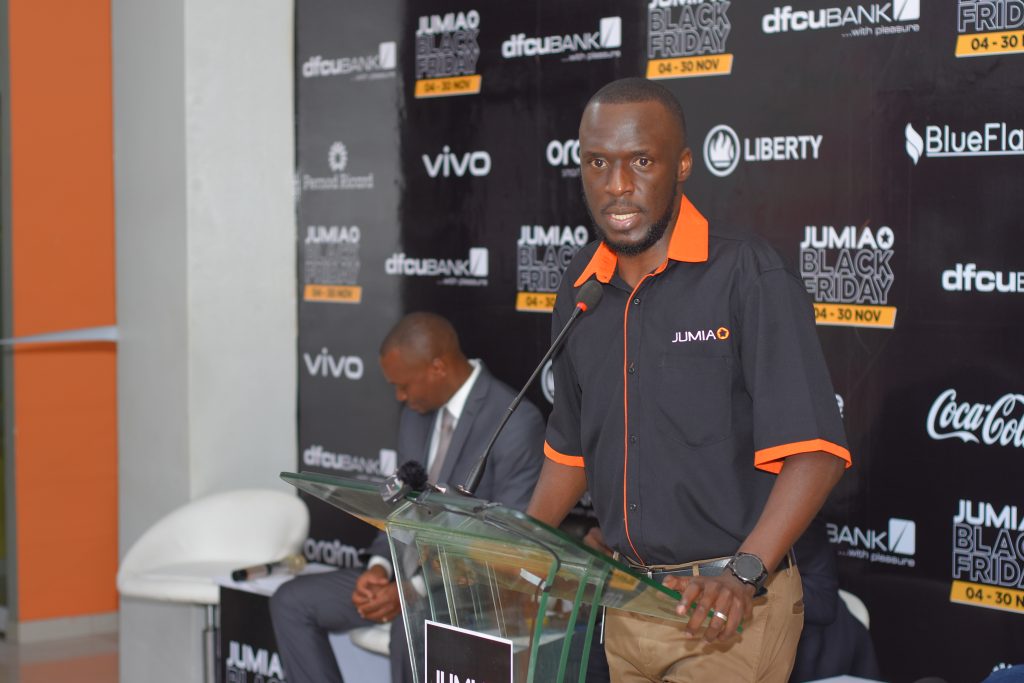 "The campaign will go live on November 3rd at 11:59 pm with a treasure hunt for a 1,000,000 shillings voucher and midnight flash sales with deals like a 55 Pixel inch TV for 1,209,000shs, ADH 5KG etc."
"Just download the Jumia app and find that voucher," he noted.
He said apart from the old games like Jumia E-Tower, they have also made some new innovations where a customer plays games and the points that the customer wins are converted into money that can be used for shopping on the Jumia platform.  
Speaking at the same event, Jude Kansiime, Head of Marketing at dfcu Bank, said, "We're excited to partner with Jumia for the most anticipated campaign of the year. As a Bank, we seek to meet our customers' needs at every point. Cash and mobile money are the most popular payment options available today."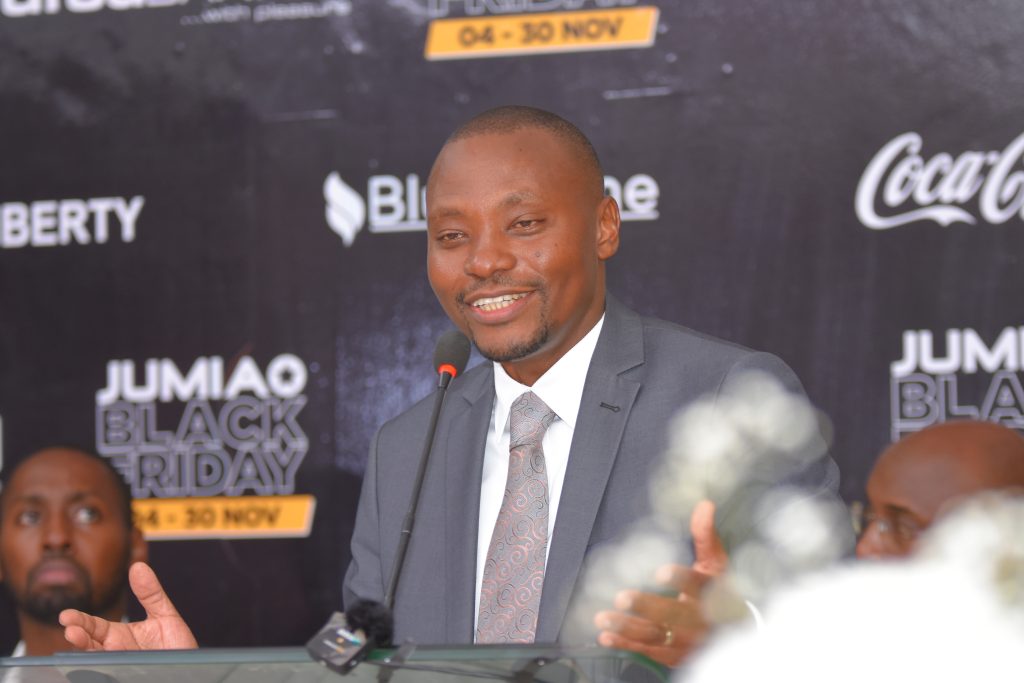 "With the growing trend of e-commerce, we want to introduce dfcu Bank's Visa card option as a safe, secure and free alternative. This will also further support the growth of e-commerce across the country as is the case with more developed countries."
According to Jude, this partnership is an opportunity for the Bank's customers to enjoy guaranteed discounts on the wide range of products sold on Jumia's shopping platform.
"One of the major outcomes of the Covid-19 pandemic was a global shift from physical to online shopping, and Uganda was no exception. We're excited to partner with a credible online shopping platform to give our Visa Card holders an opportunity to enjoy Black Friday discounts."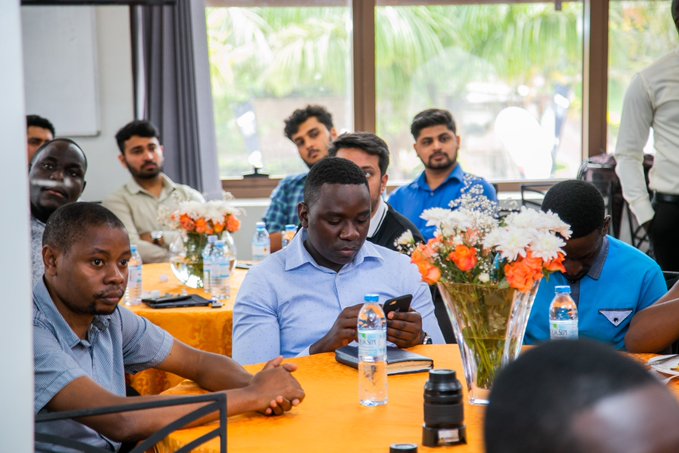 "This campaign also comes when the year is coming to a close. It offers the opportunity to stock up for the festive season, with discounted prices on various items. dfcu is excited that our customers will enjoy reduced prices, and shopping convenience, with dfcu and Jumia."
Faridah Nalubega, Manager of Cards & Money Transfers at dfcu Bank, said the Bank's existing Visa Debit and Credit Customers will all benefit from the promotion. 
"Throughout this year, we have run a number of customer-centred campaigns which are in line with the Bank's vision to transform lives through the provision of innovative solutions. Combining the convenience of our Debit and Credit Cards, the excitement of discounted prices," she said.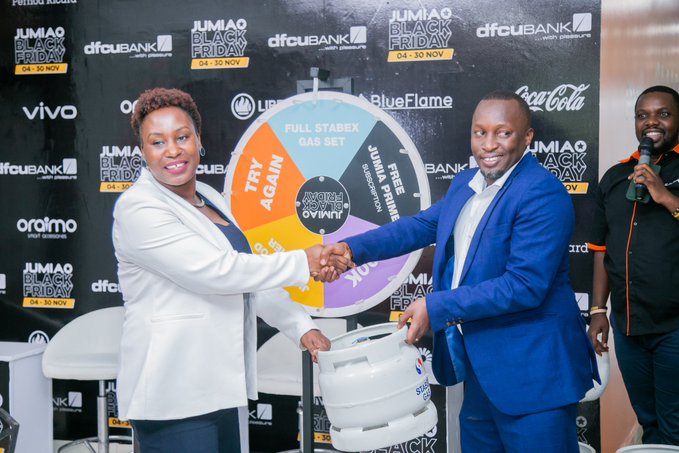 Characterized as one of the busiest shopping seasons, Black Friday marks the beginning of the end-of-year festive season that includes Christmas and New Year's celebrations. 
As part of the partnership, dfcu Bank customers will enjoy discounts on different categories.
This year, Jumia will run the Black Friday campaign from November 4th to 30th in partnership with dfcu Bank as a platinum sponsor, VIVO, Coca Cola, Pernod Ricard, Liberty and Blue Flame as Gold sponsors on the marketplace. 
On the other hand, Jumia Food, the company's quick commerce arm has partnered with Krusty's KFC, Ugaroll, Meza Shawarma among other numerous restaurants across the country to subsidize meals during the campaign period.
Partners like Liberty Insurance are offering insurance packages on large appliances, electronics and phones to help secure the products purchased during Black Friday.
Top loader washing machine for 489,000shs and a full 6kg gas Stabex set for 109,000shs among other exciting deals from various partners.