BAT Uganda has called for enhanced action against illicit trade in Uganda, following a 2021 report, which indicates that the illicit trade incidence in cigarettes continues to rise significantly.
The research commissioned by BAT Uganda and conducted by Kantar, covered the 2nd half of 2021 and found that 23.8% of the cigarettes sold in Uganda appear to be illicit, accounting for almost one in four cigarettes smoked.
This represented an increase of 54.5% compared to September 2020 when the number stood at 15.4%.
Further, the Kantar research found that more than half of the illicit cigarettes (51%) in the market appear to be manufactured in Uganda based on pack markings, with the rest being smuggled into Uganda from other countries.
Similar research conducted in Kenya by Kantar also found that Uganda is a major source of illicit cigarettes in neighbouring countries, with 93% of illicit cigarettes found in Kenya believed to originate from Uganda.
These illicit cigarettes are typically branded 'Supermatch', though the report makes no claim as to the actual manufacturer of each pack and bases its findings solely on the observable features of the packet.
Speaking during a sensitization workshop on illicit trade at Hotel Africana in March this year, Billy Tsuma, the BAT Fiscal Affairs Engagement Manager for East Africa, said Uganda lost about Shs38bn in illicit cigarettes trade last year.
"Cigarettes are one of the most trafficked goods and this reduces governments' revenue. In the last quarter of 2021, 24% of the cigarettes smoked in Uganda were as a result of illicit trade and Shs38 billion which was supposed to go URA was lost," Tsuma was quoted as saying.
Illicit cigarette trade fueling organized crime
BAT Uganda Chairman, Hon. Dr. Elly Karuhanga, told the media on Monday that BAT Uganda is concerned that illicit trade in cigarettes is allowed to thrive in this country despite the various negative impacts, which include fueling organized crime.
"While we acknowledge efforts thus far by the Uganda Revenue Authority in tackling this serious issue, including through the introduction of the Digital Tax Stamps System, much more needs to be done," Dr Karuhanga told journalists at Serena Hotel in Kampala.
Illicit cigarette trade on the Ugandan market is a threat to the economy, noted Dr Karuhanga, adding that Uganda is losing Shs30bn annually to illicit tobacco trade.
"…we estimate that the government loses approximately 30 billion Shillings annually to the illegal tobacco trade," he noted quoting research that shows Uganda is a major source of illicit cigarettes in the East African region.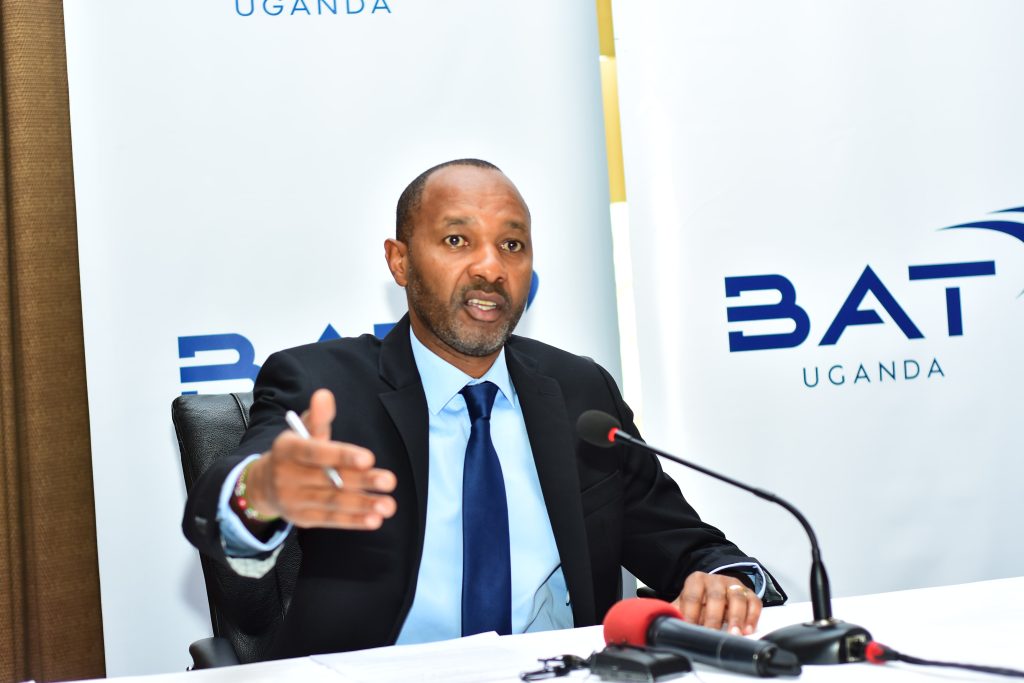 "We are calling on the Inspector General of Police, Mr. Martin Okoth Ochola, the Commissioner-General of the Uganda Revenue Authority, Mr. John Rujoki Musinguzi, the Minister of Health, Hon. Dr. Jane Ruth Aceng, the Executive Director of the Uganda National Bureau of Standards, Mr. David Livingstone Ebiru, all concerned security and local government agencies, as well as the Uganda Administration, to enhance enforcement against illicit trade in the tobacco industry."
He said BAT Uganda is committed to collaborating transparently with all relevant agencies to eradicate illicit trade in Uganda.
"We urge the business community and industry bodies to jointly fight for the eradication of illicit trade in Uganda, and believe that a unified effort is critical in supporting the Government's efforts to safeguard legitimate business in Uganda."
Alongside calls for greater collaboration, BAT Uganda detailed a multipronged approach to combat illicit trade, including the following measures: Full enforcement of tobacco product and packaging regulations across the tobacco industry and proper implementation of the Digital Tax Stamps Solution (DTS) which includes stronger enforcement to prevent under-declaration of local factory production and ensuring that only fully duty-paid products with tax stamps are sold in the Ugandan market.
Others are; greater information sharing and excise tax harmonization within the EAC partner states to help reduce excise-led price disparities between countries, which fuels smuggling, tighter border controls and enhanced scrutiny of products to ensure they comply with local laws, more stringent penalties to act as a deterrent, in the form of custodial sentences and forfeiture of factory equipment, real estate and moveable or immoveable assets arising from illicit trade and ratification of the 2012 Illicit Trade Protocol (ITP) under the World Health Organisation's Framework Convention on Tobacco Control.
In a June 15, 2022 media statement, BAT said the year 2021 saw a significant increase in illicit trade in tax-evaded cigarettes following the implementation of the Tobacco Control Regulations, 2019 (TCR), with several illicit cigarette variants displaying irregular graphic health warnings or no such warnings at all.
Dr. Karuhanga said whilst they acknowledge and appreciate the Government's efforts to address illicit trade, more needs to be done.
"We, therefore, continue to urge the relevant authorities to enforce the Tobacco Control Laws wholistically across the industry."
In May last year, former BAT Managing Director, Kirunda Magoola, told NBS Television that increasing illicit Tobacco trade was negatively impacting on profit margins of British American Tobacco and costing the country Shs30bn in revenue.