President Museveni has said he will not allow the exportation of raw materials clarifying that this is a new form of slavery.
"The continued export of raw materials by Africa is the new form of slavery. Export of value in exchange for no value," he said Tuesday while delivering the State of the Nation Address at Kololo ceremonial grounds.
Museveni said he has resisted the urge for foreign products and only puts on Ugandan made shirts from cotton.
"The shirt I am putting on is a Ugandan made shirts from cotton. I no longer agree to putting on foreign shirts."
Museveni said it was absurd for a country like Uganda to import things like furniture which can easily be made here.
"You can imagine that Uganda was importing furniture from UAE. A desert selling furniture to a forest! You do not produce a car or a computer, but you will also not produce furniture? What will you produce? What are you for?"
He made a case for value addition saying he would never allow the exportation of unprocessed iron ore as long as he is in charge of the country.
"If you want to process come to Kabale and build a factory there. I have asked the Bakiga to get me land to establish an iron ore processing factory. Ruhakana Rugunda (former Prime Minister) got some acres in Rubanda which we shall use to establish a steel and iron ore processing factory."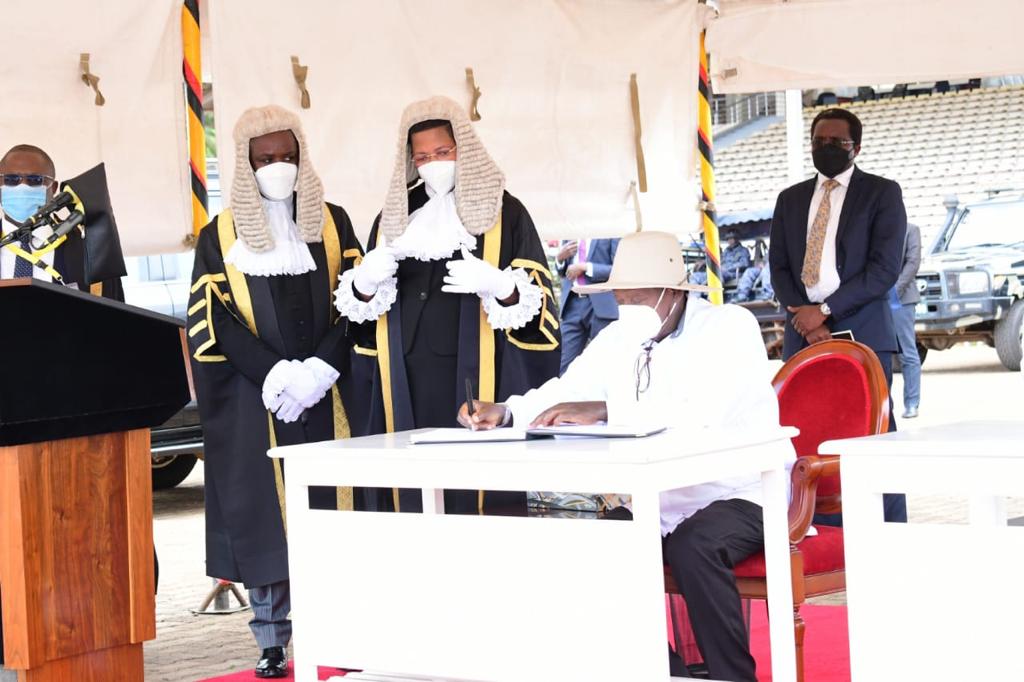 Ready to meet coffee exporters
Museveni promised to respond to the concerns raised about the Vinci Coffee deal.
The President underscored the importance of value addition for Coffee and other products.
"I am ready to sit down with all these coffee people, if you want to add value I will support you but if you want to be a slave I will not support you," he noted.
He said the global value of coffee is $460 billion. However, the coffee growing countries only get $25 billion.
"I am really embarrassed! And for the African growing countries, our share is only $2.4 billion out of the $25 billion," he pointed.
"When I met Madam Enrica Pinetti (investor), the one you are attacking, she had no idea about coffee. She, however, had a big network so she went to consult and said it was doable. I am the one who told her, for her, she was into hospitals."
He said those attacking the coffee project are supporters of the perpetual bleeding of Africa.
Museveni said there have been locust invasions, the terrorist bombs, the Covid-19 and now, the rising commodity prices.
In spite of all these, the Ugandan economy is standing at $ 45.7 billion. This means that the GDP per capita is $ 1,046.
"I have fought bigger problems like going to war without ammunition, so this high commodity prices is not as big but what I don't want to happen is the lack of food."
He said Government is committed to supporting scientists because they are influential in development and that is why they have prioritized enhancing the salaries of these scientists.
"Africa was colonized and enslaved, not because we lacked storytellers, comedians, musicians, witch doctors, and priests, but because they lagged behind in science and technology."