A group of tech driven youths in Uganda have developed an online platform that looks to transform the way in which students and graduates get internship and job placements.
In a period when levels of unemployment are spiking, coupled with fewer opportunities for apprenticeship, the group has rolled out 'ProKaziea', a Web based and Android Application that will enable students and graduates to virtually interact with employers for internships/jobs.
'ProKaziea' which is derived from "Professional", "Kazi" (work) and EA (East Africa) is a market place for young professionals to discover opportunities, connect with employers with no border limits.
Godwin Ocen, 29, an Information Technology (IT) graduate from Mbarara University of Science and Technology (MUST) who founded ProKaziea told SoftPower News that the free platform will address the huddles that students in Uganda undergo in securing internship opportunities.
The team of 7 was unveiling the product to the media on Wednesday at the KCCA Employment Services Bureau in Kampala.
"Internship in Uganda is well documented on paper but poorly managed," Ocen said.
"Most time, students get through a lot of huddles to get placements, they spend alot of money and resources trying to get placements but still there are no guarantees. This even beats their confidence down," Ocen said.
But amidst this problem, he and his colleagues realized that they could harness the increasing internet usership in Uganda and East Africa as a whole to eliminate the tiring process.
"In the era of technology, we want ProKaziea to be the bridge and for the interaction between interns and employers to be done virtually. We want to harness East African integration so that students from partner states get into the job market without geographical limitations," he said.
They hope to leverage the 16 million internet users in Uganda and those in other East African countries to grow the number of platform users.
How does it work?
On ProKaziea, which is currently available on Google Play Store for download, students or graduates can create their profiles, auto-generate their resumes and build networks with employers who are registered on the platform.
They can also access streamed opportunities instantly and connect routinely with those in their networks.
Having rolled out in October this year, the platform currently has 13 employers on board and 100 App downloads on Google Play Store, according to Ocen.
However, with the positive benefits of such technological innovations equally come risks. In this case, wrong elements like conmen are likely to exploit such platforms to fleece unsuspecting students of money in promise of placements.
Asked how ProKaziea will counter this threat, Ocen said; "We have an online instant chat which links us with the users, and in cases where the user raises an alarm that a certain employer is not legit, we shall block them from the platform".
Since the team is looking at this from a regional persective, they are already working with partners in Nairobi, Rwanda, as well as discussing with East African Employers Organization which unites the different employer federations from the regional states.
Ocen says that once a partnership is established with the various national employers' federations, it will be easier to get in contact with individual organizations and employers across the region.
The future
In March 2018, they plan to roll out another platform (ProKaziea Premium) with additional functionalities which users will pay for. Users will part with Shs 250,000 annually in order to get access to this version.
"ProKaziea Premium will give the employer the branding, and they can also access universities that the student/graduate attended verify their authenticity," the Team Leader said.
On top of that, the Premium version will have an Application Programing Interface (API) through which supervisors will virtually provide appraisal and support for the tasks being done by the interns.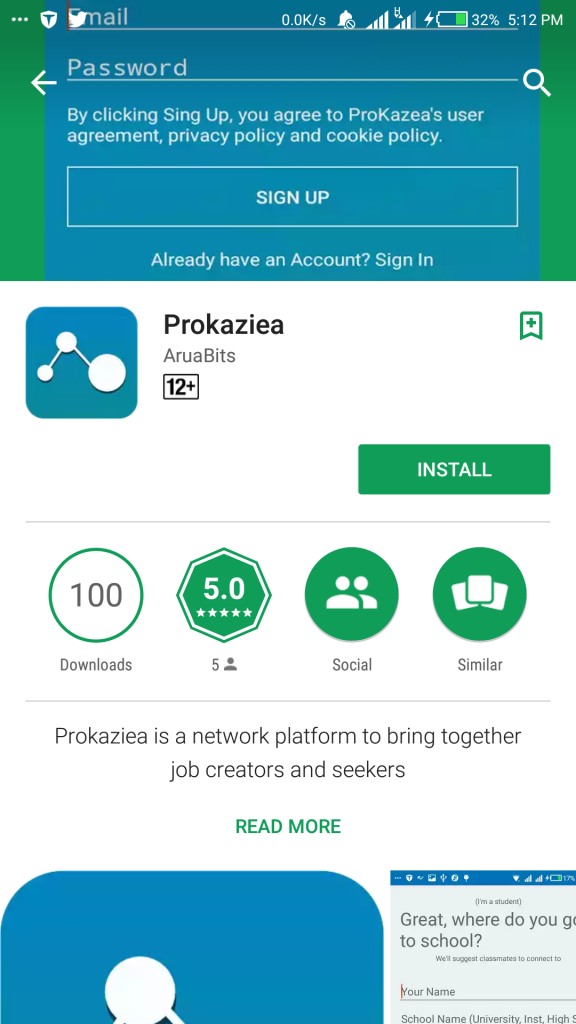 In terms of the business model for the App, Ocen said that the target is to generate much traffic on the platform which will then draw in revenue from advertisers and company branding.
"In the next 10 years we expect to be the ones to drive the recruitment sector in Africa. Our target is to have at least 20 million visitors on the platform every month then we can sale these hits to Google and get market value for it," Ocen said.
Abel Asiimwe, the Town Clerk of Kawempe Division and former Supervisor at the KCCA Employment Services Bureau said that the team behind ProKaziea is making significant effort to help graduates maximize their potential.
"There's currently a big problem of skills mismatch and we need a well structured internship program as a country."
With support from GIZ (German International Cooperation), ProKaziea was incubated through the KCCA Employment Services Bureau, which Asiimwe said intends to help young people to be bankable by positioning them for capital ventures.