French star Kylian Mbappé has won the Golden Boot at the 2022 FIFA World Cup in Qatar.
Mbappe, 23, became the top scorer after the first World Cup Final hat-trick since 1966 to finish the tournament with eight goals.
England's Geoff Hurst was the last man to score a hat-trick in the World Cup Final.
The France and Paris Saint-Germain forward also becomes France's first-ever Golden Boot winner.
Just Fontaine had won the Golden Shoe in the 1958 World Cup with a record 13 goals but the Golden Boot would officially be introduced until 1982.
How Mbappe set the record
At halftime, defending champion France looked shocked. Mbappé had little to show in the first 45 minutes of the match.
France's forward #10 Kylian Mbappe and Argentina's midfielder #24 Enzo Fernandez fight for the ball during the Qatar 2022 World Cup football final match between Argentina and France on December 18, 2022.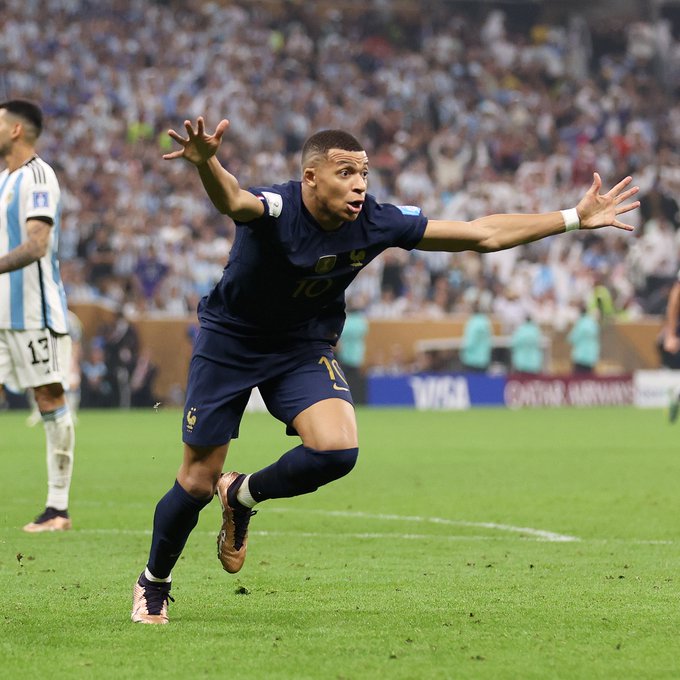 Mbappé shone during the 2018 World Cup as a 19-year-old to the extent of being compared to the Great Pele.
In 2018, Mbappé became the first teenager to score at a World Cup final since Pelé in 1958.
He set another World Cup record — surpassing Pelé's record for a player under 24 with his 11 total goals.
Mbappé scored eight goals in Qatar – entering the final tied with Messi with the overall goal lead- with a record of two goals in 93 seconds.
⚽️ 80'
⚽️ 81'

An incredible turnaround! 🔥 pic.twitter.com/gkc3QboYCo

— FIFA World Cup (@FIFAWorldCup) December 18, 2022