As global food demand rises, conversion of natural habitat to cropland is one of the greatest threats facing biodiversity in Uganda today.
If internationally agreed biodiversity targets are to be met, it is vital that ways are found to limit cropland expansion and lessen its environmental impacts where it does occur.
Rose Kaitesi, a resident of Kyangwali in Kikube district, the home of Bugoma forest is one of many Ugandans who burns bushes and trees while clearing farmland (slush and burn farming).
She notes that bush burning is the easiest and cheapest way to prepare gardens for substance farming, a move which is a big threat to biodiversity.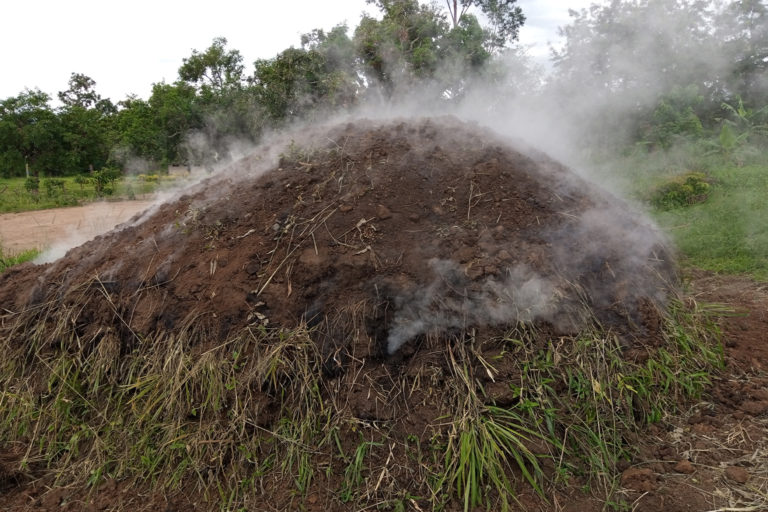 According to the BIODEV Report 2030 under the theme, "Assessing drivers of biodiversity loss caused by economic sectors in Uganda" Subsistence farming and land use has been identified as one of the key drivers and main threat to biodiversity loss.
This is with subsistence farmland expanding by 20,775 Km², and broadleaved and coniferous plantations expanding the most in relative terms, 405% and 382 %, respectively, this was between 1990 and 2017.
Kaitesi explains the only option available for her is burning the bushes because other means like tractors and manual labor are expensive.
"The food is for home consumption, we barely sell any of the harvest, with my 12 children, I can't invest in a tractor to prepare my land I don't have that money, we burn and clear it as a family, "she notes.
The BIODEV report conducted by the Wild World-Wide Fund for Nature Uganda (WWF) with support notes that the land cover land use change analyses (made between 1990 and 2017), woodland and tropical high forest have been the most negatively impacted habitats, having lost respectively 65% and more than 29 % of their surface area.
The results from the land cover and land use change matrix showed that at the national level, subsistence farmland is the main threat to the tropical high forest in particular and other natural habitats in general, followed by plantations and commercial farmland.
Solomon Kusiima, a tobacco and banana famer, also burns bushes and forests while preparing his garden, with a 6-acre plantation, part of it shifting to Bugoma forest reserve, which is currently under pressure with the Sugarcane Plantation by Hoima Sugar, the protected area is being threatened.
Kusiima believes that burning the bush, also makes the soil fertile, he also says it gives him room for logs to burn for charcoal production.
Nalongo Asaba Rose a nurse and resident of Kyangwali however expressed concern that bush burning and charcoal production, is exerting a lot of pressure to the biodiversity.
She explains that the forest and nearby bushes are under attack by those in charcoal selling business, who need logs to burn.
According to the report, small holder farmers and farming, have been identified as the source of multiple threats and who have a national or country wide negative impact on biodiversity.
The rates of expansion of the subsistence farmland and the commercial farmland are higher in Protected Areas (PAs) than at the national level, while the plantation coniferous in PAs is equivalent with the one of national level.
The intactness of the 722 protected areas was assessed visually from LANSAT 8 imagery available in Google Earth.
"The results of this analysis showed that the top five threats were observed in 92% of 722 protected areas. These five threats are related and result from frontier natural resource depletion. The main threats from economic sectors are, small holder farming and, small holder plantations." The report states.
The report showed that the main 'agent' causing these threats at a national scale are the rural communities which are mainly engaged in small holder agriculture.
"This conforms to other publications for Uganda. This is not typical for Uganda only, but this is a general observation for many developing countries, especially in Africa (WWF, 2020)."
The report shows that the continuous expansion of arable land is fueled by the combination of poor land use management and population growth where the land is opened for agriculture by clearing trees and using fire.
It states that often trees and bushes are used for charcoal, firewood and timber, this renders the farmland unproductive in a few years which requires to open up more land.
According to the report, fire is among the widely used tool for land use management, especially by subsistence farmers in the north east part of the country.
A 2016-2017 Uganda National Household Survey Summary reveals that Uganda's reliance on forest produced fuels including charcoal and dry wood, is huge with 90% of households relying on various wood fuels for cooking.
The report states that Household charcoal use jumped 12.4% between 2012-13 and 2016-17. The pattern is thought to be continuing and increase g according to Uganda Bureau of Statistics.
The report further states that the fire is also impacting semi-aquatic ecosystems such as wetlands.
Fortunately, wetlands are a very dynamic ecosystem and they recover quickly. Wetlands are also huge carbon sinks.
The BIODEV report further identified village settlements as one of the three major threats, it states that these threats are part of the public sector, which includes the Uganda Road Authority for road infrastructure and the Ministry of Housing and District Physical Planning Department for village settlements.
"The Zoka Forest Reserve became accessible after road improvements and has been severely impacted from timber and charcoal making."
Northern Uganda has largely been negatively impacted as a result of charcoal burning, reducing its woody biomass (trees and shrubs) and the only remaining high woody biomass region left in Uganda is the Karamoja region.
David Dulli the WWF Uganda Country Director, notes that small holder farmers, are challenging to engage with, to leverage voluntary commitments to stop and reverse their contributions to biodiversity loss, which is the aim of BIODEV2030.
Dulli however, notes that if a successful approach is identified, multiple threats can be addressed at the same time.
"There is not one kind of small holder farmer, Some farmers are truly subsistence farmers (mainly female led households and very remote farmers); some are (more) commercial on an individual basis, others are grouped formally in a cooperative or in an out-grower scheme linked with an agribusiness, "he states
Besides the small holder farmers, Duli believes that there are also bigger commercial farmers and truly large plantation/farm agribusinesses.
"These different kinds of farmers can be aggregated under the agricultural sector as different subsectors; even the pastoralists can be a subsector under agriculture," he recommends.
He explains that the small holder farmers can also be organised under the energy sector as they are the main supplier of biomass for charcoal production and firewood.
"They are also suppliers of timber. In which case, they fall under the forestry sector as a subsector, "he says.
The forestry sector in general has potential to contribute to the restoration of biodiversity, and reclaiming the forest reserves and replanting them with native tree species would be an option to reverse biodiversity loss.
"Similarly, these threats can be aligned with the Convention on the Biological Diversity sectors of agriculture and forestry," Duli noted.