Makerere University College of Humanities and Social Sciences (CHUSS) will this Friday, July 8, 2022, celebrate Prof. Timothy Wangusa, a poet, novelist, and teacher.
The event will be held in the Central Teaching Facility-Auditorium along Yusuf Lule Pool Road in Makerere University from 1:30pm to 6:00pm.
Born in May 1942, Prof Wangusa is also celebrating his 80th birthday this year.
"As part of the activities to mark #MakerereAt100, @MakerereCHUSS will this Friday celebrate Prof. Timothy Wangusa a renowned Poet, Novelist and Writer as he turns 80 years. Prof. Wangusa was the 1st Ugandan to be awarded a Doctor of Philosophy (PhD) from Makerere University," the university tweeted on Monday July 4. 
'Uncle Tim", as he is fondly referred to, was the first member of the Department of Literature to acquire a Doctor of Philosophy (PhD) on October 8, 1975 under Makerere University as an independent institution.
"The Dean of the Faculty of Arts to present the following for the conferment of the post-graduate degree of doctor of philosophy: Timothy Wangusa," read the notice.
The conferment of degrees and presentation of certificates was held in the Science Quadrangle on Wednesday 8th October 1975 at 10am.
The then chancellor presided over the graduation ceremony.
Rare feat: first PhD
In his article titled "Class of 1964: A chat with literary great Prof Timothy Wangusa" published by Daily Nation on March 20, 2020, writer Oumah Otienoh recalls "a lofty class that included the likes of John Ruganda, Timothy Wangusa, Okello Oculi, Rose Mbowa and Micere Mugo"-all scholars who, back in the 1960s, rose to become treasured academics.
Asked to talk about the class of 1964, Prof Wangusa told Otienoh: "My Makerere Class of 1964 produced some of the literary giants of our time. Ngugi wa Thiong'o had just left when I joined the college. John Ruganda and Rose Mbowa later became drama gurus. Okello Oculi and I got deeply involved in poetry. Prof David Rubadiri was our senior as he taught our group. Prof David Cook inspired us through writing workouts. Once in a while, we would visit his home for writing tutorials."
While John Ruganda, a former seminarian, surprised his classmates by penning his first play "Black Mamba" during their second year, it would be Wangusa who would pull off a rare feat of being the first to be conferred with a doctor of philosophy (PhD) in literature.
"We were only two who were awarded PhDs. The other graduand was from sports science," he said, recalling with nostalgia the graduation ceremony that the then President Idi Amin presided over.
A man of many firsts, Prof Wangusa was made an associate professor of literature in 1981 at Makerere University (the first from Bugisu).
"I got my professorial title on the same day with Okot p'Bitek," he told Otienoh.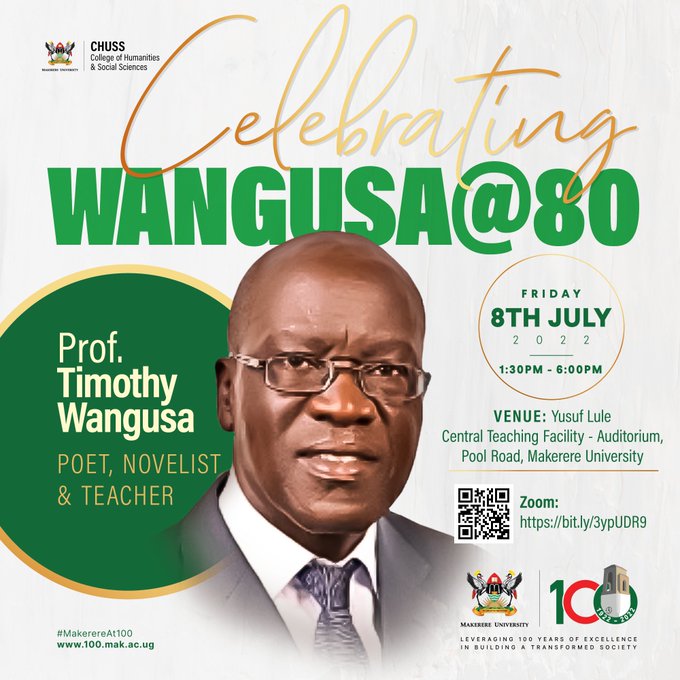 'Poet god'
In October 2006, the Faculty of Arts and the Department of Literature honored Prof. Wangusa for his outstanding work in literature and poetry.
The "god of Ugandan poetry" who has served as a presidential adviser on literary affairs, is famed for poetry books like "Salutations: Poems 1965-1975 (1977)", "A Pattern of Dust: Selected Poems" 1965-1990 (1994)", "Anthem for Africa" (1995), "Africa's New Brood" (2006)".
Aside from the masterpiece "Upon this Mountain" (1989), a novel that chronicles Mwambu's journey from naive curiosity to adulthood, Prof Wangusa is also known for his poem "A taxi driver on his death" which gives an insight into a driver's state of mind and how many of them consider an accident occurrence.
"Cynics say poetry doesn't sell anything. But it is the mother tongue of mankind where men, women and children express themselves," Prof Wangusa told the audience that gathered at the university's main hall to listen to his great literary achievements.
Then Faculty Dean, Hannigton Ssengendo, and Literature Department Head, Aloysius Kwitonda, were present at the event.
In an article titled "A tale of Africa's story in rich verse" and on Friday, March 01, 2013, Daily Monitor writes: "Everyone should read Prof. Timothy Wangusa's poem that gives his most recent collection of poems its title, "Africa's New Brood". But make sure while doing so, you are not taking tea because it will turn cold."
Gifted at creating a memorable effect, Uncle Tim has graduated from being a household name in literary circles to a legend and then "a poet god".
Tackling diverse themes, Prof Wangusa's mastery of language; the use of provocative imagery, word-play and generally free-verse form, to paint vivid pictures in the mind of the reader, is to behold.
But his secret "magic wand" is in diction: the choice of words as employed in his poem: "A Strange Wind" where he addresses a growing rivalry between the developing and developed nations.
Wangusa was chairman of Uganda Writers Association and founder president of International PEN Uganda Centre.