The 16th edition of the Inter-forces games is scheduled to take place at the Queen Elizabeth Conservation Area in Kasese district, Western Uganda.
The launch of the 2022 games took place at Uganda Wildlife Authority (UWA) headquarters in Kampala on Wednesday.
This year's sporting event is hosted by UWA and will be held in Queen Elizabeth National Park at Mweya between the 22nd and 30th of September 2022.
Only athletics will be held on the 19th at Bombo Military Barracks.
The grand opening will be convened on 22nd September 2022 by the Minister of Tourism Wildlife and Antiquities at Uganda Wildlife Research and Training Institute, Katwe.
The games will include, Football, Athletics, Taekwondo, Netball, Handball, Shooting Range, darts and Volleyball.
While representing the Inspector General of Police (IGP) at the launch, (AIGP) Charles Birungi, the Director of Welfare, Production and Sports, pledged full support for the event that nurtures talent and cooperation among the sister forces.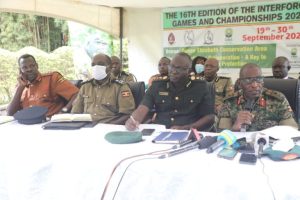 "Uganda Police is ready to participate in all the eight disciplines identified for this year and we shall be fully in it and we pledge good working relations with our sister forces for the continuity of these games," said AIGP Charles Birungi.
He added: "These games enhance cooperation beyond fieldwork of operations and its one element that unites us where more than 1000 personnel from different forces come together and share ideas."
The Director noted that this year's theme; "Inter-forces Collaboration a Key to Effective Wildlife Protection" is relevant since the forces are all obliged to protect the environment because of its importance to humanity.
He reaffirmed that it is everybody's responsibility to protect wildlife and the environment in particular.
"As Police together with other stakeholders involved in the protection of wildlife, we shall provide protection and work towards achieving the theme set since its key for the future of this planet."
Uganda police have eleven sports disciplines such as Football, Athletics, Boxing, Taekwondo, and Volleyball among others, all of which support talent development specifically among the youth and create employment opportunities.
"The force promotes the growth of talents and creates employment to over 200 personnel which is key in youth mobilization and community policing as a strategy of fighting crime," AIGP Birungi noted.