Uganda Revenue Authority (URA) has updated the template for the monthly VAT return and Pay As You Earn (PAYE) returns.
The tax body said this was effected on October 4, 2022.
"Effective 4th October, 2022, changes to the monthly VAT and PAYE return templates were made. Please check out the details in this public notice for guidance on how to go about your September 2022 returns ahead of 15th October, 2022," URA said in a public notice on Tuesday.
It added: "Therefore, for purposes of filing for the month of September 2022 and subsequent months, taxpayers are advised to download the new and enhanced return templates from the URA web portal."
On VAT Return, Under Schedule 3 of the Monthly VAT Return, a validation control has been added against the declared "VAT Deferred" at importation, implying that the return will only allow amounts that exist in ASYCUDA and are supported by fiscalised import receipts from EFRIS.
On PAYE Return, Under Schedule 1 of the Monthly PAYE return, the tax rate for computation of PAYE for employees liable to "fixed rate" has been adjusted from "30%" to "40%".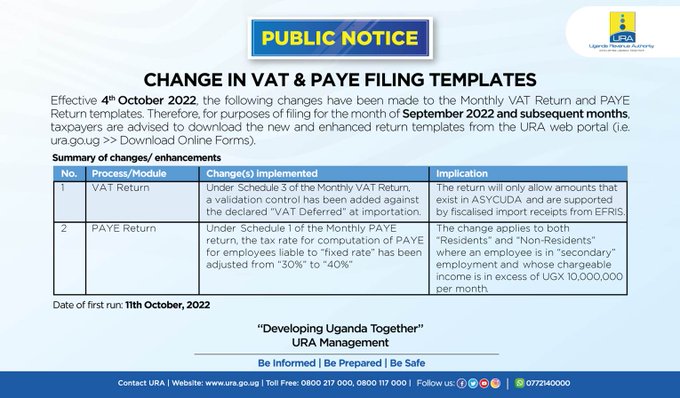 The change applies to both "Residents" and "Non-Residents" where an employee is in "secondary" employment and whose chargeable income is in excess of UGX 10,000,000 per month.
URA management in another statement on Wednesday said employees with secondary employment have been paying 30% in PAYE, contrary to the tax law that requires a 40% payment.
"The PAYE return template has now been update. Please note that the rates explained above have been in force since July 1, 2012 and this is not a new PAYE rate," it clarified.
Appearing before Parliament's Trade Committee, John Musinguzi, the Commissioner General URA, said the tax body has no right to increase tax rate even by 1% leave alone rise from 30-40%.
He explained that they have only changed the old template that was limiting to allow for one which will allow people with more than one job to aggregate.