The Deputy Headteacher of Gayaza High school, Mrs Kaboogoza Musoke, has lauded UPDF for its endeavouring inspiration towards mentoring students on their Career guidance day.
The event was conducted at the School's Compound in Gayaza.
She said UPDF is one of the best forces in Africa which always gives back to its people whenever need arises at the battlefront but also in Community Work.
Mrs Kaboogoza pointed out that during the COVID -19 pandemic, the UPDF was at the front of extending its services to every Ugandan including their own teachers and some of the school parents were vaccinated by the UPDF medical.
On the behalf of the UPDF, Col Deborah Nayebare, the Deputy Chief of Pension and Gratuity, who represented the Joint Chief of Staff praised the school for not betraying Ugandans ever since its inception to-date.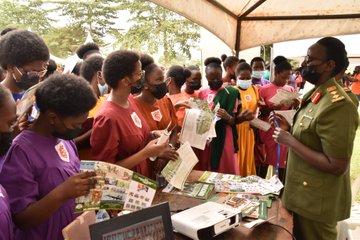 She added that students at the school are kept to high standards and exhibit the values and morals both at school and in their lives after.
The function attracted participants from the Uganda Civil Aviation Authority, Uganda Police Force, and Banking institutions, among others.