The United States of America has on November 6 and 7, donated 3,488,940 doses of the Pfizer COVID-19 vaccine to Uganda.
Combined with previous donations, the United States has now provided more than 5.8 million COVID-19 vaccine doses to Uganda.
Natalie Brown the US ambassador to Uganda noted that the recently delivered 3.5 million Pfizer COVID-19 vaccine doses represent the largest ever donation of COVID-19 vaccines to Uganda and the third donation of COVID-19 vaccines from the people of the United States to the people of Uganda.
Brown added, "This donation underscores the United States' commitment to support Uganda's COVID-19 response and protect the health of the Ugandan people. Ugandans can count on the United States to support their efforts to fight the pandemic and get their economy back on track," Ambassador Brown further noted.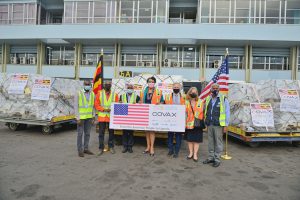 In addition to vaccine donations, the United States has provided further assistance valued at more than $113 million to support Uganda's COVID-19 response.
In support of Uganda's national vaccine rollout, the United States has provided technical and financial support in data management, risk communication, health worker training, human resources support, supply chain strengthening, and cold storage capacity enabling vaccine uptake across Uganda.
The United States has also provided life-saving commodities including oxygen delivery equipment such as cylinders, regulators, and other intensive care unit (ICU) equipment; personal protective equipment (PPE); and supplies for infection prevention and control.
The Minister of Health Jane Ruth Aceng said, "Government of Uganda appreciates the US Government for supporting the COVID-19 vaccination exercise and the health sector in general."
The Ministry of Health developed a Uganda COVID-19 Vaccination Implementation plan (UCVIP) and a deployment plan to guide the vaccination program.
The ministry plans to vaccinate 22 million people 18 years and above against COVID-19 by the end of 2022.
The ministry further plans to vaccinate 4.8 million priority people by end of December 2021, utilise all the 6.5 million doses of vaccines received in the country by the end of December 2021 by vaccinating eligible persons 18 years and above.
Progress on vaccinating 4.8 million priority population.
By November 5, 2,570,525 (53.6%) of the 4.8 million priority persons had received the first dose of the COVID-19 vaccines while 749,126 (15.6%) had received the second dose and are therefore fully vaccinated.
Aceng said, "Government had also received a total of 8,912,810 doses through donations and direct procurement by the Government of Uganda of which 3,938,730 doses have been utilized countrywide, Distribution of the remaining 4,952,680 doses is ongoing."
Government expects an additional 12,288,750 doses of various vaccines by end of December 2021.