Uganda Manufacturers Association (UMA) has confirmed 920 exhibitors who will showcase their products during the 28th Uganda International Trade Fair (UGITF) to be held in Lugogo from Monday 3rd October to 10th October 2022.
This year's fair will run under the theme: "Business recovery by harnessing local sourcing and deepening value chains integration" and will attract local and international manufacturers, traders, and distributors from various sectors.
"This theme is a reinforcement of our call to the government to prioritize local sourcing through public procurement," said Deo J.B Kayemba, the UMA Chairman, while addressing the press on Thursday at UMA Showgrounds in Lugogo.
"By increasing the reservation guidelines for sectors such as cables, iron and steel, textile, cement, transformers, furniture, and many others, we are confident that this will not only help businesses to recover but will also fulfill the aspirations enshrined in the National Development Plan III that speak to growth in jobs, exports and growth of the country as a whole."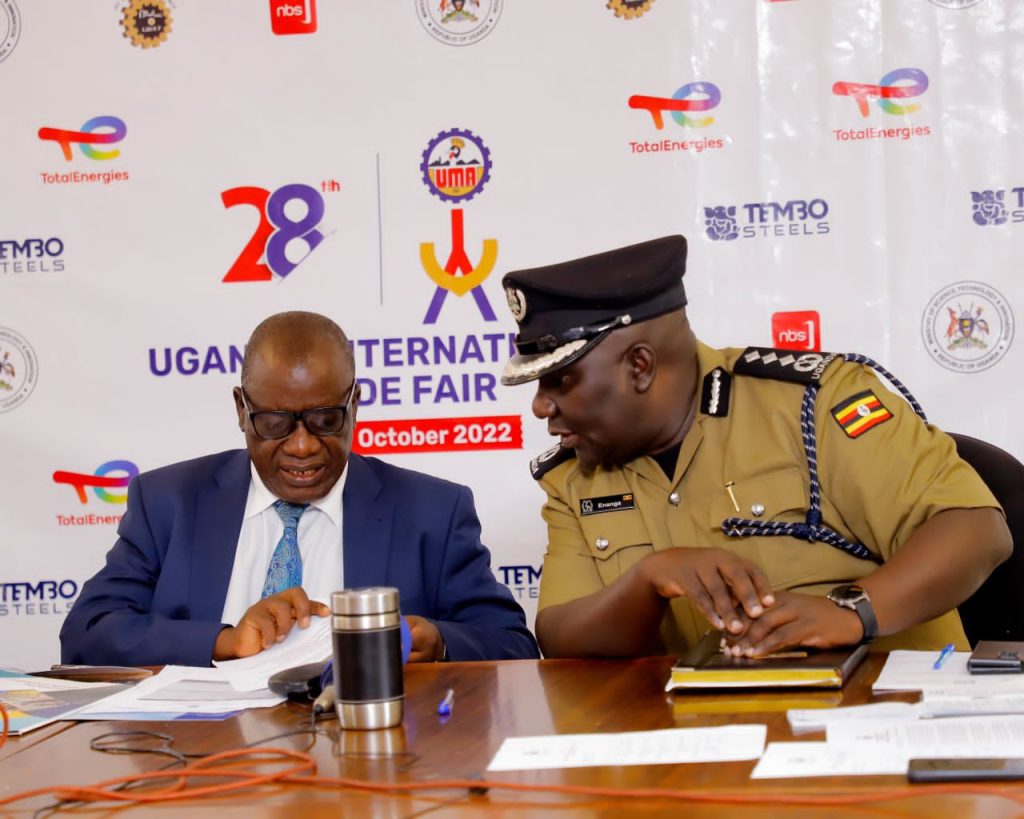 He said the show grounds are already a beehive of activity as preparations for the eight-day event continue in high gear.
According to Kayemba, the uniqueness of this fair is in its ability to offer an in-person feel and touch of products.
He said the public awareness of exhibitors arising out of their participation has resulted in the growth of numerous brands and companies that started off as start-ups in the trade fair and now enjoy national, regional, and international brand recognition.
"In the wake of closed borders, the Covid-18 pandemic highlighted the need for import substitution for economies like Uganda that heavily relied on importation. We, as the UMA, are delighted to spotlight our locally made products with grown capacities for every sector at the 28th Uganda international trade fair."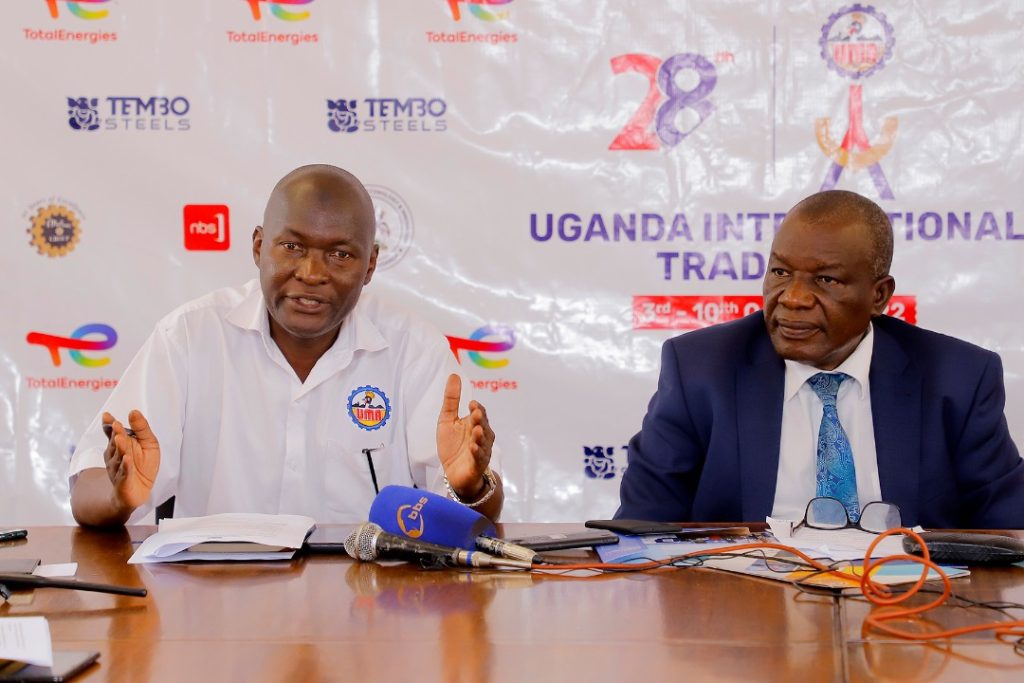 He said that with the operationalization of the African Continental Free Trade Area (AfCFTA), exhibitions like this present an integrated market platform for businesses to grow their market share and ink partnerships with both local and international participants.
920 exhibitors confirmed
Simon Kaheru, the Chairman of the Marketing Subcommittee, said they have atleast 920 exhibitors have been confirmed.
"Currently at 100% of booked stalls both indoor and outdoor. Local exhibitors are 800 while International exhibitors are 120," he told journalists.
The international participants are from 25 countries namely; Kenya, India, Pakistan, Nigeria, UAE, Turkey, Thailand, South Africa, Malaysia, Netherlands, Somalia, Iran, Morocco, Bangladesh, DR Congo, Burundi, Rwanda, Tanzania, Jordan, and Tunisia, among others.
According to Kaheru, this year, the Trade Fair is expected to attract an average of 300,000 visitors including high-profile individuals such as Heads of State, Politicians, Executives, and celebrities.
He said the objectives of the trade fair are to; promote locally manufactured goods, provide a platform for brand exposure, promotion of investment in Uganda, facilitate business-to-business linkages, provide product launch opportunities and benchmarking opportunities, etc.
He said there will be guided tours for school children from 6th to 8th for them to appreciate locally made products.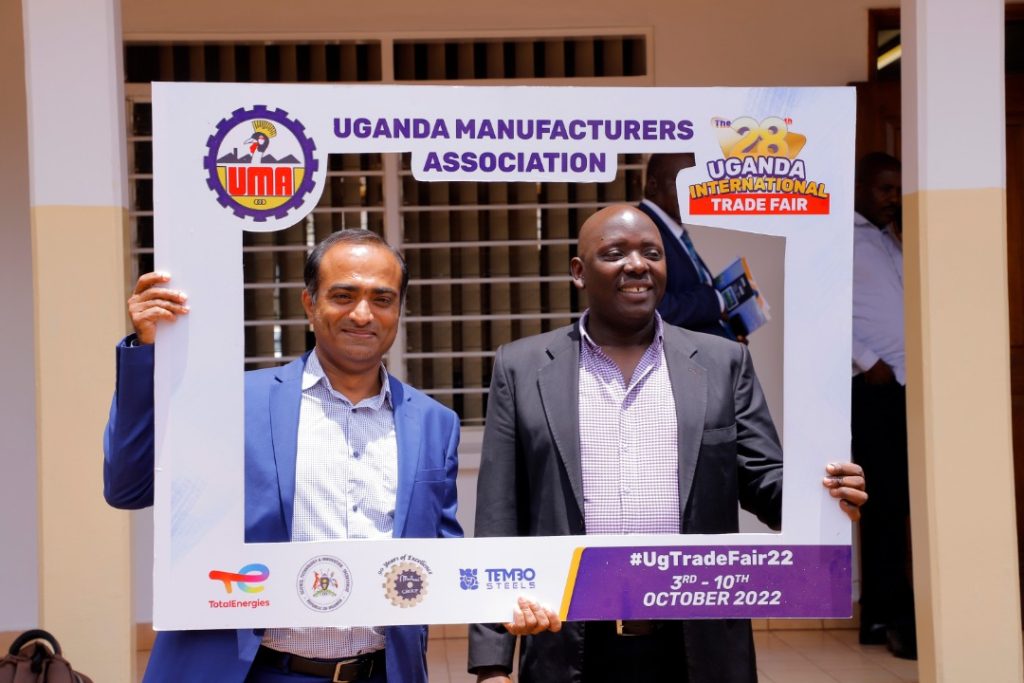 "We have a line-up of artists and comedians who will entertain the show visitors at the main event stage on all eight days. These include Weasel Manizo, Baza Baza, among others," he noted.
According to Kaheru, there will also be a kids' park with all sorts of children's games, music, and drama.
The official opening is scheduled to take place on Wednesday, October 5 starting at 10am, and will be graced by the Secretary-General of Africa Continental Free Trade Area, H.E Wamkele Mene.
President Museveni will grace the closing ceremony alongside three Heads of State including Kenyan President William Ruto on October 10, 2022.