Ugandan athlete Stella Chesang sets a new record time of 30 minutes and 39 seconds to claim honours in the "Absa Run Your City" race in South Africa.
Chesang won the 10k run after edging out Ethiopia's Genzebe Dibaba in Cape Town on Sunday.
Her 30.39 is a new course record and national record.
Olympic silver medalist Dibaba claimed third place in her first-ever appearance behind Kenya's Jesca Chelangat.
Other Ugandan athletes Sarah Chelangat and Mercyline Chelangat finished 5th and 7th respectively.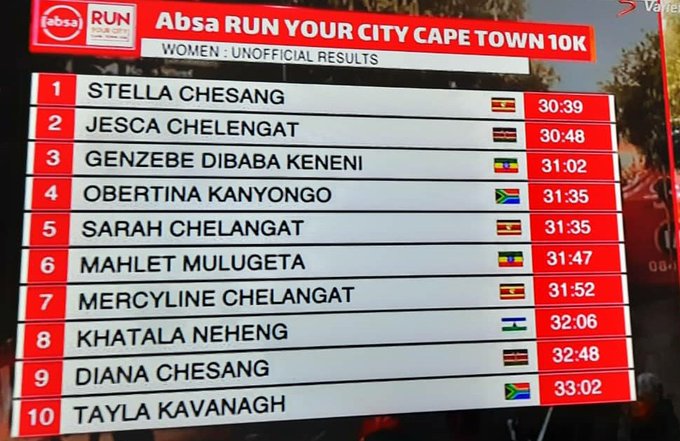 Founded in 2015, one of South Africa's most loved road running events, the Absa RUN YOUR CITY CAPE TOWN 10K has established itself as a 'proudly South African, proudly Cape Town' must do mass participation road running event that celebrates everything Cape Town – the vibe, the city and the people!
The 10km point-to-point route is fast and flat, highlights iconic landmarks and boasts magnificent views while featuring lively performances from some of Cape Town's leading performing arts groups.
🇺🇬 𝙐𝙜𝙖𝙣𝙙𝙖'𝙨 𝙑𝙚𝙧𝙮 𝙊𝙬𝙣 Stella Chesang sets a 🆕 PB time of 30 minutes and 39 seconds to claim honours in the #AbsaRunYourCity race ✨

🇪🇹 Olympic silver medalist Genzebe Dibaba claims third in her first-ever appearance 👏 pic.twitter.com/vJl3sheCxF

— SuperSport 🏆 (@SuperSportTV) May 15, 2022
This year's winner Chesang is a Ugandan long-distance runner who competed in the Athletics at the 2016 Summer Olympics – Women's 5000 metres event at the 2016 Olympics.
In April 2018, she won the gold medal in the 10,000 metres at the 2018 Commonwealth Games, held in Gold Coast, Queensland, Australia.