President Kaguta Museveni has said in the past two years 2020 and 2021, Uganda has shown that it can stand on its feet and defeat any challenge.
Speaking at the 59th Independence celebrations held at the Kololo Independence grounds, Museveni said that in the two years (2020 and 2021), the country successfully dealt with the Problems of locusts' invasion, the rising levels of the lakes (floods), the land-slides, the floating island that were threatening hydro dams, and the corona pandemic.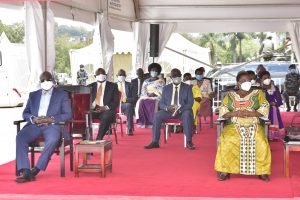 Museveni said that Uganda managed to minimize the corona virus deaths, recording a total of 3,150 deaths as of October 5, hitherto, in spite of the onslaught terrible disease for now one year and seven months.
"All those challenges notwithstanding and in spite of the indiscipline of some actors, we successfully held the 2021 General Elections for President, Parliament and Local Governments, on time," Museveni said.
He noted that the economy, also grew in both the financial years 2020-2021 and the present financial year of 2021-2022.
"In the former, we managed a growth rate of 3.4% and in the current one, it is estimated that we shall achieve a rate of growth of 3.8%, the Covid19 related shutdowns notwithstanding. By end of June, 2022, our GDP will be standing at USD 40.43BN by foreign exchange method and at USD 117.3BN by the PPP method," he said.
Museveni revealed that all the achievements were reached without, including the contributions of the first oil to be pumped out of the Ground.
He said that the first oil will be pumped out of the ground by 2025 because all the agreements have been signed.
Museveni added, "All these achievements, are in spite of the corruption of some public officials, including some of the political actors. I congratulate the whistle-blowers who, patriotically, expose these criminals, parasites and traitors to their own people."
In April this year, The East African Crude Oil Pipeline (EACOP) deal was signed during the launch of the Tilenga Development project at State House Entebbe, by stakeholders that include, Uganda, Tanzania Total E&P and CNOOC paving way for the development phase of commercial production of oil.
This also paved way for the construction of the 1,445 km heated EACOP at a cost of 3.5 billion dollars.
The EACOP, the longest in the world will begin from Hoima District in Uganda to the port of Tanga in Tanzania.
Museveni, also congratulated the people of Uganda, the people of Africa, and partners around the World, saying the achievements are not by Uganda alone.
"Our African brothers and sisters and our partners in the World, who buy our products (goods and services), contribute to this success, however, we could have achieved more if it was not for the parasites that want to harvest where they have not sown," he said.