Uganda excelled at the National Tribal Dance Festival, held in Chhattisgarh Raipur, India.
The National Tribal Dance Festival brings together all the tribal states and Union territories of India with the aim of showcasing their prominent and colorful tribal dance forms. It ran from October 28-31, 2021.
This is the second time, Uganda is participating in the festival, and this year it was represented by Kiconco Culture Troupe based in Busenyi.
At the festival, team Uganda, showcased cultural diversity through dance and Music, celebration dances as well as marriage and initiation acts were performed
Dances performed included Runyege, Ntogoro, Bakismba, muwgola, Larakaraka, Otwenge, Mwanaga and Kitagururo among others. Instruments including Adungu, drums (Engalabi Namunjoloba empunyi nankasa), flute, endanger and ensansi among others were used.
The team was given a token of appreciation award, and certificates for their exciting and entertaining exhibition at the festival. The team was also voted as the most entertaining group at the festival.
Speaking at an event held at the Uganda National Cultural Center (UNCC), Usher Wilson Owere, a UNCC board member, welcomed the team comprising of seven that represented the country at the festival.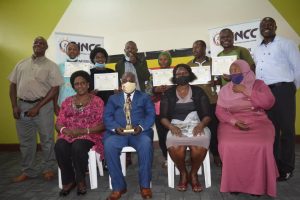 These included, Robert Musiitwa, Juliet Nuwamanya, Derrick Katongole, Zainah Mubezi Nakagwa, Namaya Enoth, Winnie Nankya, Patrick Ndawula
Owere noted that the dances helped position Uganda's culture as a tourism aspect which should be prioritized, promoted Uganda as a tourist destination, created awareness about Uganda's cultural products.
"The activities also exposed the beautiful and rich Ugandan cultural heritage, increased awareness about Uganda, the Pearl of Africa," he said.
He thanked the Indian High Commission Kampala, Ministry of Foreign Affairs, Ministry of Gender Labour and Social Development and Ministry of Health for their support towards the team.
The UNCC promised to continue sending different teams not only to India but the world over to promote and popularize Uganda's culture.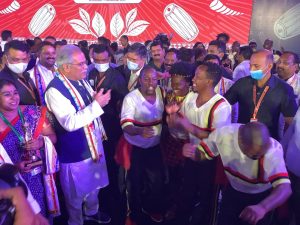 Enoth Namanya, a member of the Kiconco Culture Troupe, said that what made the team favorite was its ability to create a fusion of the local dialect Hindu with local dialects in Uganda.
"This is what made the Uganda team a favorite of the audience such that whenever they stepped on stage the audience would go crazy. Our participation further," Namanya said.
Robert Musiitwa, the UNCC spokesperson, noted that as an institution they are happy with the teams performance at the festival.
Musiitwa urged the team at the toirism ministry and all stakeholders to give culture priority since it creates uniqueness.
"Other touristic attractions like animals can be found in other countries but u may not find the unique cultures we are having here in Sweden," Musiitwa said.
Other countries that participated in the festival include Mail, Swaziland, Nigeria, Siliranca, Uzbekistan and Palestine. Local participation also included 25 states and union territories from India.