The ministry of Finance, Planning and Economic Development, Uganda Investment Authority (UIA) together with the Turkish Embassy in Uganda, will host the Uganda-Turkey Investment, Trade, Industry and Tourism Summit 2022 from May 10 to May 11, 2022 at the Speke Resort Munyonyo.
The summit running under the theme; "Accelerating Investment, Trade, Industry and Tourism between Uganda and Turkey in the Post-COVID-19 era", is targeting over 600 investors carefully selected by UIA, Turkish embassy in Uganda, the embassy of the Republic of Uganda in Turkey and the Foreign Economic Relations Board of Turkey (Deik).
The summit will be presided over by the President of Uganda Uganda H.E Yoweri Kaguta Museveni.
Speaking at a press conference held at the Uganda Media Center on Tuesday, the Minister of State for Finance, incharge of Investment and Privatisation, Evelyn Anite, said the summit will be crowned with the launch of the Uganda-Turkey Industrial Park and Trade Center in Nakasongola.
She said the center will be constructed through a partnership between UIA and the UPDF's National Enterprise Corporation (NEC).
Anite noted that Uganda and Turkey have enjoyed warm and cordial bilateral relations since 1969, adding tyat these were further cemented with Turkey's opening of a fully-fledged mission in Kampala in 2010 and Uganda's reciprocal opening of a mission in Ankara in 2011.
Both countries are members of the Organization of Islamic Conference (OIC) and have implemented several joint projects in the education, agriculture value addition, environment, infrastructural development, ICT and construction spheres through the Turkish Cooperation and Coordination Agency (TIKA).
She noted that the trade volume between both countries increased to US$71 million in 2021 up from US$63 million in 2020.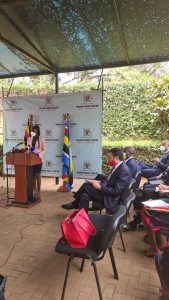 In 2021 alone, Turkish exports to Uganda increased by 26% and Uganda's exports to Turkey increased by 418%.
As a result of the continuous marketing initiatives and expositions organised in 2019, the trade and investment figures between the two countries registered steady growth to over 71M USD even during the pandemic.
"The Uganda Investment Authority is therefore keen to attract more Turkish companies and businesses to invest in different areas of the economy beyond their existing fields of operation, namely: education, infrastructure development and medicine. Likewise, Turkey is happy to offer a ready market for many Ugandan products including coffee, tea, handicrafts and processed fruits, among others," Anite said.
Speaking at the same event, Kerem Alp the Ambassador of the Republic of Turkey to Uganda, said the summit will be aimed at identifying, engaging and attracting new investment leads from Turkey and promote Uganda as a preferred investment destination in Africa, as well as facilitate engagements between potential investors and Ugandan business people.
Objectives
The specific objectives of the summit are:
Establishment of a Uganda-Turkey Industrial Park and Trade Centre, Promote opportunities in the four priority sectors- Agriculture, Industries, Services and ICT.
To promote Uganda's access to the Turkish market- a population of 85 million, a GDP of 720 Billion USD and occupying a unique geographic position lying partly in Europe and partly in Asia- a bridge between the two continents.
To promote Uganda's unique tourism and wildlife attractions for increased tourism receipts, enhance bilateral relations between Uganda and Turkey, attract Turkish Contractors and financiers into Uganda's infrastructure investments- roads, railways, energy generation and transmission and maritime sector, provide opportunities for joint ventures, partnerships and B2B linkages between Turkish and Ugandan investors and businesses, among others