Uganda through the Uganda Women Entrepreneurs Association Limited (UWEAL), Ministry of Trade, Industry and cooperatives, in collaboration with the Common Market for Eastern and Southern Africa (COMESA) Federation of National Women in Business, will host the 3rd Annual Regional Women in Business Trade Fair at the Uganda Museum Grounds.
The trade fair is slated for August 24-26, 2022.
Addressing media, Sarah Kitakule, the UWEAL interim Board Chairperson, said the Intra-Trade Fair seeks to attract over 10,000 women and men who run Micro, Small and Medium Enterprises (MSMEs) and large businesses from over 35 countries globally.
The fair will involve networking and business to business interfaces to create Linkages for business ideas and opportunities.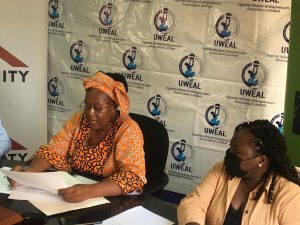 According to Kitakule, the trade fair and exhibition aims to provide a platform for policy dialogue on strategies to address barriers constraining women and youth entrepreneurs from maximizing opportunities of regional and cross-border trade.
"The trade fair also aims at providing a platform for the business community (including women and youth) to showcase their products and services," she noted.
Connie Kekihembo, the CEO of UWEAL, said that business conference sessions on topical discussions have been arranged to support the business community at all levels.  Women in Business will exhibit their products and the trade fair will be crowned with an Awards Dinner Gala.