The government has revealed its plans to hire 3 international marketing firms that will promote Uganda's tourism in the untapped markets of China, Japan and the Persian Gulf states.
This is in a bid to further the campaign to aggressively market the country's tourism attractions to the outside world and position Uganda as the prime tourist destination.
The Minister for Tourism, Prof Ephraim Kamuntu told journalists on Tuesday that as part of the priorities in the coming financial year, government is hiring 3 more PR firms in line with the ambitious target to attract 4 million foreign tourists to Uganda by 2020.
In 2016, following incessant appeals from the private sector to invest in aggressive marketing like neighboring countries were doing, government recruited PHG Consulting (for the North America market), Kamageo for the UK and Ireland; and KPRN for the German speaking Europe. Each of these firms earns about USD 500,000 per year.
"We are appointing 3 more marketing firms in China, Japan and the Persian Gulf states. Up to 1.3 billion Chinese move outside China annually as tourists. If we can capture only 1% of these, that will be significant for Uganda," Kamuntu stated.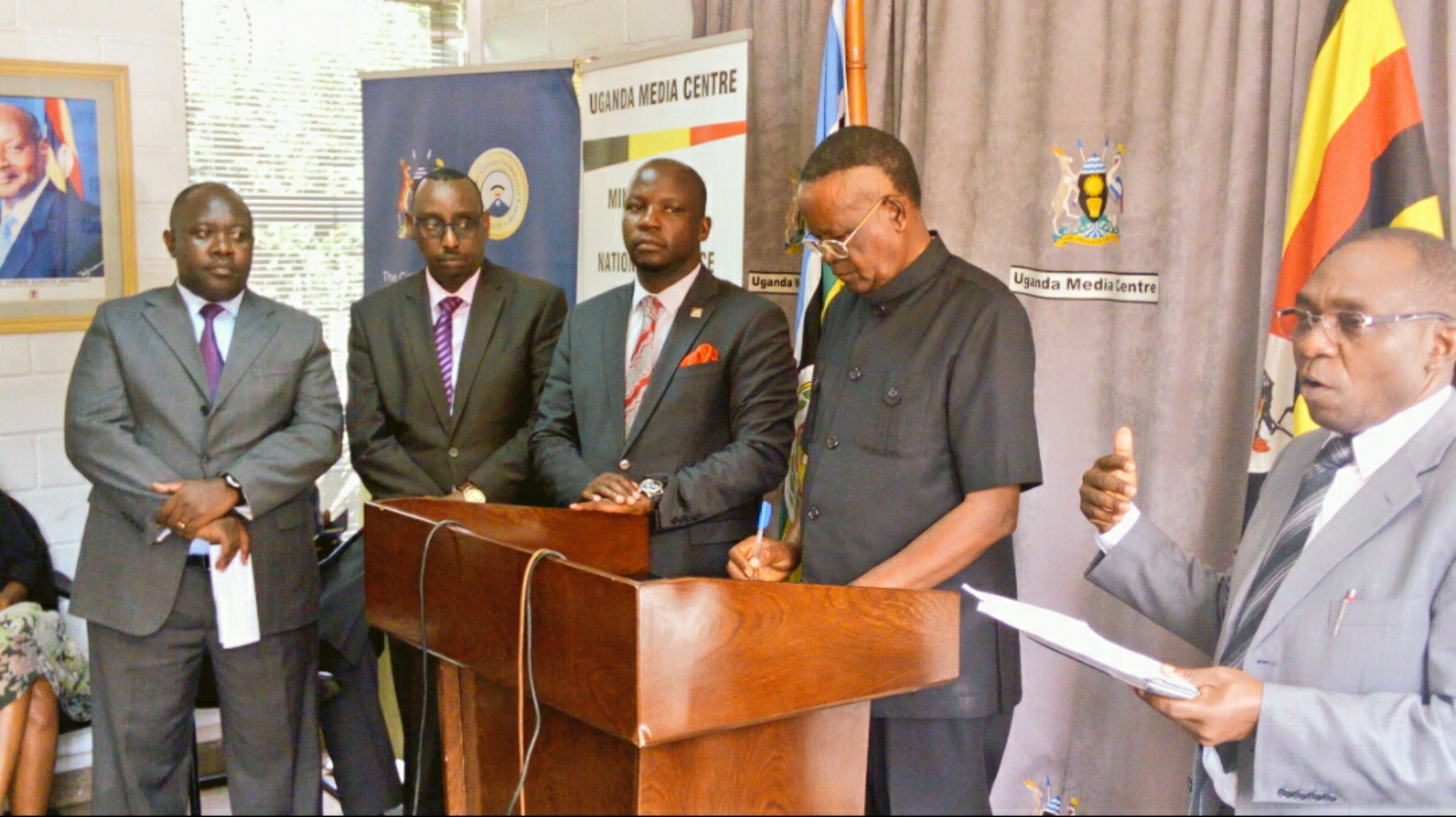 The previous year, Uganda registered a total of 1.37 million foreign tourists pooling USD 1.34 billion in foreign revenue. But Prof Kamuntu noted that by 2020, government intends to raise these collections to USD 2.7 billion.
As part of the ongoing Manifesto Week, he together with other officials from tourism and wildlife agencies were addressing the press at the Uganda Media Centre on what has so far been achieved in the sector.
In an interview with SoftPower News, the Minister said; "We are negotiating with them [marketing firms]. As soon as the budget is approved for the next financial year, we will engage them".
Steven Asiimwe, the Chief Executive Officer for Uganda Tourism Board, the agency responsible for marketing Uganda's tourism told this website that USD 400,000 (Shs 1.48 billion) is required for the initial surveys on the destination before the 3 firms commence their work. This sum doesn't include the actual payment for the promotional work.
"We have a combined budget of Shs 6.8bn both for the emerging markets and the companies [PR firms contracted for North America, UK and German speaking countries] we are renewing. So there's is the money we pay directly and the money we use to facilitate the process.
He said "It comes to 400,000 dollars for inception reports, research studies and baseline. The advantage we got in the other 3 firms we hired first, the World Bank covered this cost for us"
Asiimwe explained to SoftPower News that the Chinese are the world's biggest outbound travellers, and the Chinese economy has been growing so fast which make up the reason why Uganda is looking to source from this particular market.
"In Africa alone, China had 13 million visitors. Even if we got 10% of that, that's big. That's why we are going there," he said.
In the Persian Gulf, Uganda is looking at six countries including; United Arab Emirates (UAE), Saudi Arabia, Kuwait, Qatar, Oman and Bahrain. He terms these countries as "the big spenders".
Asiimwe says that benefits from the first 3 firms has been immense for Uganda both in terms of number of arrivals and visibility. All the major media firms including CNN, Rough Guides, Financial Times, Toronto Star, The Herald have since visited Uganda while others have carried articles showcasing Uganda as one of the best tour destinations.
Amos Wekesa, who runs Great Lakes Safaris, one of the most successful tour companies in Uganda says that the PR firms have done a commendable job in selling Uganda.
"When you look at the UK, German and U.S, we are in the news all the time; the gorilla in the Trafalgar Square, even Rough Guides voting us among the top destinations to visit was because of those firms," he told this website in an interview.
"If you go to Bwindi now, all the gorilla permits and hotels are fully booked. Even for me at Primate Lodges, the bookings for the future are so many, we have probably doubled or tripled our bookings".
However, Wekesa notes the need for these firms to also pay attention to marketing places like Murchison, Rwenzori and Mt Elgon which accommodate more numbers so as to open up more opportunities for Ugandans, as opposed to focusing only on gorillas.
He also had reservation on Uganda's move to hire 3 other firms for markets in China, Japan and the Arab countries describing it as a wrong move.
"They are making a mistake. The budget they are going to use in China is less than 100,000 dollars. How do you do that in a market with 1.3 billion people? Rather target 200,000 English tourists for 5 years each of them spending 3,000 dollars," Wekesa said.
His problem with rushing for the Chinese markets partly has to do with the tendencies and dynamics of Chinese tourists. He says that Chinese are in the habit of suckinf up every opportunity in emerging destinations leaving the local players with no opportunities.
"They also travel in big numbers of say 300 in one group, we can't market to them gorillas which only sell about 40,000 permits a year".