President Museveni on Thursday officially opened the Uganda – Turkey Investment, Trade, Industry and Tourism Summit 2022 in Kampala.
He thanked the Uganda Investment Authority (UIA), the Ministry of Finance, the Embassy of the Republic of Turkey and the Foreign Economic Relations Board of Turkey (DEik) for organising this summit.
The trade volume between Uganda and Turkey increased to $71m (2021), up from US$63 million in 2020.
In 2021 alone, Turkish exports to Uganda increased by 26% and Uganda's exports to Turkey increased by 418%.
"We have so much capacity, what is disturbing us is mainly value addition. Uganda and Africa, in general, are so rich, everything is here," Museveni said.
He added: "This is Paradise. Therefore, for investors who wish to tap into Uganda's potential, this is the right place and it is the right time." Museveni said investing in value addition will reap profits.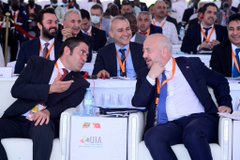 "We have all conditions to facilitate that; 77% literacy rate, a robust young and trainable population and a unique climate."
He said thanks to the UIA, it is now possible for investors to get their licenses in less than 24 hours.