The Prime Minister of the Federal Democratic Republic of Ethiopian, Dr. Abiy Ahmed Ali, has begun a 2-day state visit to Uganda at the invitation of President Yoweri Museveni.
Premier Ali Abiy Ahmed Ali, who arrived in the country this morning, was welcomed by President Yoweri Museveni at State House, Entebbe.
Prime Minister Ahmed Ali was treated to a red carpet welcome and accorded a 19-gun salute. He also inspected a guard of honour mounted by the Officers and men of the Uganda People's Defence Forces after which he was entertained by groups of Ugandan traditional local troupes.
Later, President Museveni and his guest held a tete-a-tete before they were joined by delegations from the two countries, Uganda and Ethiopia.
The focus of the visit to Uganda by Premier Ahmed Ali centres on strengthening issues of mutual interest between the two countries, including trade and political ties, among other areas.
Joint communiqué
According to a joint communiqué issued at the end of the meeting, the two leaders noted the existing bonds of friendship and cooperation between Uganda and the Federal Democratic Republic of Ethiopia. They agreed to concretize cooperation in priority sectors energy, trade, agriculture, transport, tourism and culture.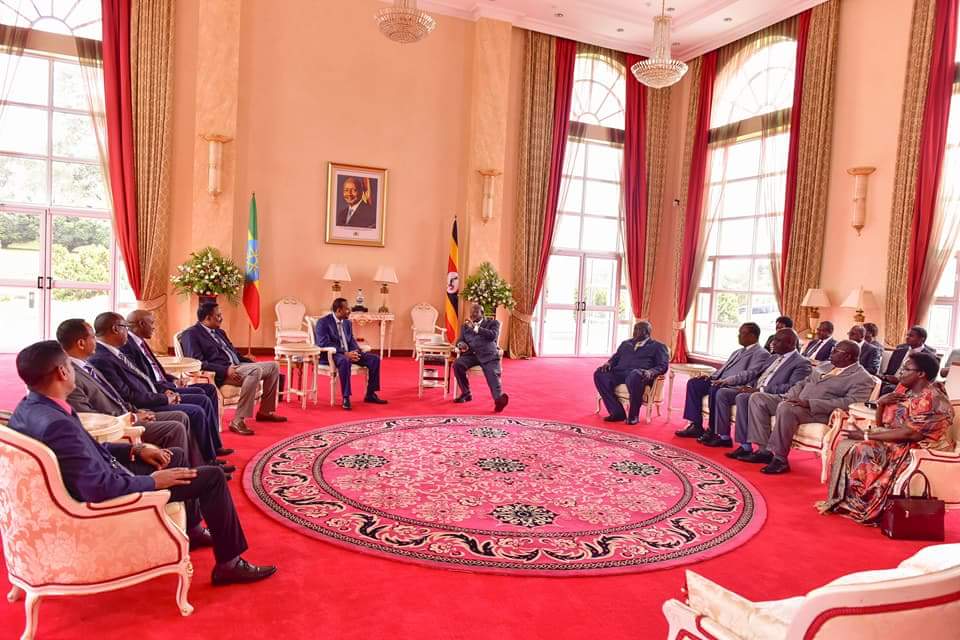 The communiqué was jointly signed by Uganda's State Minister for Foreign Affairs, Hon Henry Okello Oryem together with the Ethiopian Minister for Foreign Affairs, Hon Workneh Gebeyehu.
The two leaders, Museveni and Dr Ahmed stressed the need to increase the volume of bilateral trade between the two countries by bringing together the respective private sectors to identify opportunities for trade and investment. They underscored the need to work on road transport linking North-eastern Uganda to Southern Ethiopia, through Northern Kenya.
Regional security
The leaders discussed the situation in South Sudan, calling upon all parties to the conflict to renounce violence and armed rebellion, and redouble efforts to find a peaceful political solution through dialogue under the IGAD-led High Level Revitalization Forum. They also agreed on the need to convene an Extra-Ordinary IGAD Summit to address outstanding issues.
Prime Minister Ahmed Ali is accompanied by a delegation of Ministers and high-ranking Ethiopian government officials.
Dr. Ahmed Ali is the 12th Prime Minister of Ethiopia. He was sworn into office in April 2018 after his predecessor, Mr. Hailemariam Desalegn stepped down in January 2018.