A Ugandan business delegation on Saturday arrived in Goma city, North Kivu Province in the Eastern Democratic Republic of Congo for the second leg of the Uganda-DRC Business Summit.
The delegation includes heads of government agencies and private sector players who are searching for joint investment opportunities with Congolese counterparts.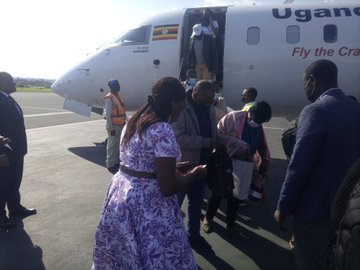 The over 200-strong delegation arrived in Goma city aboard Uganda Airlines and was received by North Kivu Province Governor, Lt Gen Constant Ndima.
The Uganda-DRC Business Summit is aimed at Investment Promotion and Market Access.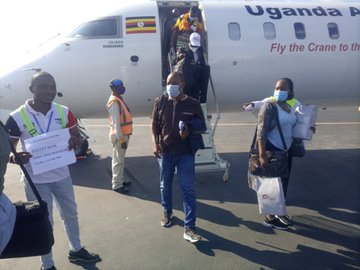 "Thank you, Kinshasa! We came to do business and we did just that, business! We are now set; ready to engage and do business in Goma, Democratic Republic of Congo," tweeted Private Sector Foundation-Uganda (PSFU) which organized the summit.
"After a successful business forum in Kinshasa, our business and Government delegation from Uganda arrived safely in Goma, North Kivu Province of DRC to discuss business. Thank you, Your Excellency Kaguta Museveni."
PSFU Chief Executive Officer, Stephen Asiimwe, Presidential Advisor on Special Duties, Odrek Rwabwogo, Acting Ambassador to DRC Dr Edith Namutebi, and state minister for Trade, Hon Harriet Ntabazi, are heading the Goma mission to discuss joint business ventures.
The second leg of the summit will end on Wednesday.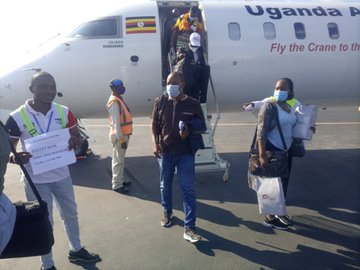 According to minister Ntabazi, so far, more than 300 business deals have been signed between Ugandan and DRC entrepreneurs.
Rwabwogo, on his part, thanked HE President Tshishekedi and HE Yoweri Museveni for leading the charge to unite the two markets and for supporting their stay in DRC.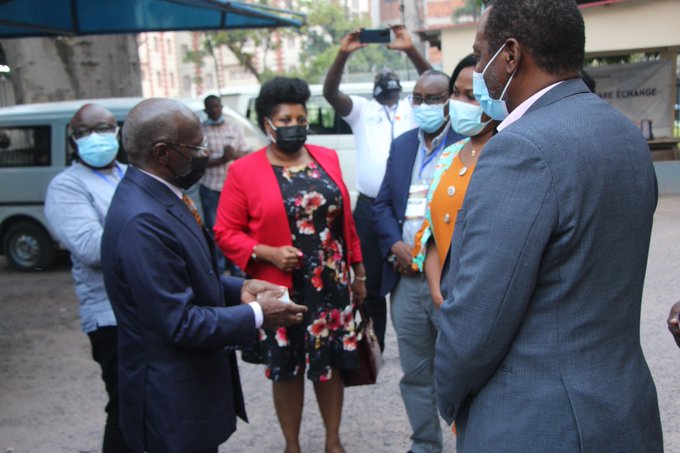 "HE Museveni even chartered an aircraft for our return leg and prepared security for us in Goma on our second leg. I thank our Kinshasa embassy for the hard work put into this," Rwabwogo noted.
He also thanked the pioneers in this market including; Emmanuel Barigye and his Dynapharm team, Movit cosmetics, Mukwano, Mr Kinene and his transportation group, among others.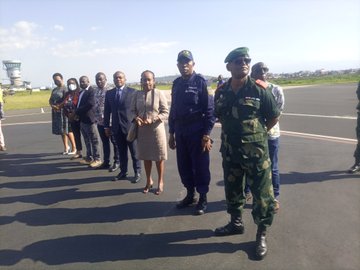 "Pioneers take heavy risks to get us all to a better place. Our journey to the DRC provided a platform for networking and sharing trade opportunities between the two countries. We identified strategies in which Uganda can position her products in the DR Congo market," he explained.
.@mtic_uganda Hon. Harriet Ntabazi is leading the business delegation currently in Goma.

She addressed the media yesterday on arrival stating clearly that Uganda business people are in Goma to do business.#UGDRCBusinessSummit pic.twitter.com/RMZqXISqIh

— Private Sector Foundation Uganda (@PSF_Uganda) June 5, 2022
He added: "The visit also helped us to establish MOUs with government institutions and agencies among other issues like enhancing bilateral relations and attracting potential investors from DR Congo into Uganda."
The summit was organized by Private Sector Foundation in partnership with Equity Bank, Uganda Export Promotions Board, Uganda Manufacturers Association, Trade Mark, Uganda Airlines, Office of the Senior Presidential Advisor on Special Duties, Uganda National Chamber of Commerce and Industry and Federation des Entreprises du Congo (FEC).