U.S. Secretary of State, Antony Blinken, has held talks with Rwandan President, Paul Kagame, over the ongoing security situation in the eastern part of the Democratic Republic of Congo.
"Had a productive conversation with Rwandan President Paul Kagame to underscore the need for peace and security in eastern DRC," Blinken said Monday.
Blinken urged the Rwandan leader to honour the Luanda agreement that called for the withdrawal of M23 rebels from occupied areas. It was further agreed that Kigali ceases its support of M23 rebels.
In a statement released by Department of State Spokesperson, Ned Price, Blinken spoke with Kagame Sunday on the importance of peace and stability in the eastern Democratic Republic of the Congo (DRC).
Secretary Blinken expressed strong support for regional mediation and dialogue led by Angola and the East African Community.
He underscored the need for concrete progress on and implementation of commitments made during these discussions, including the November 23 Luanda Mini-Summit on Peace and Security communiqué.
"The United States urges Rwanda to honour commitments made in Luanda, including ending Rwanda's support to M23," Blinken added.
He made clear that any external support to non-state armed groups in the DRC must end, including Rwanda's assistance to M23, an armed group that has been designated by the United States and the United Nations.
He also shared deep concern about the impact of the fighting on Congolese civilians who have been killed, injured and displaced from their homes.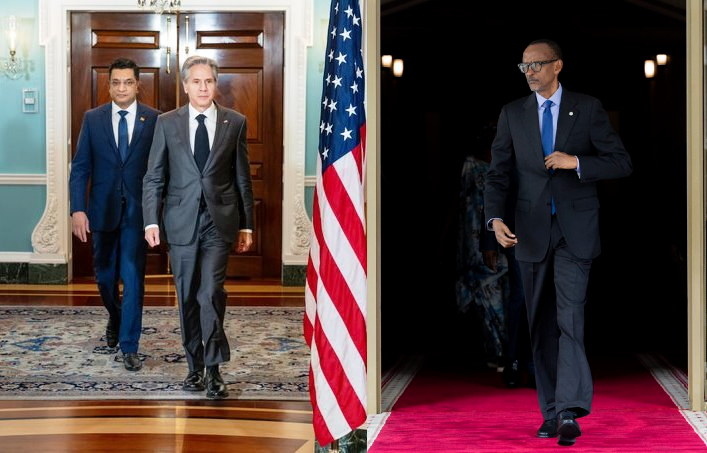 Secretary Blinken condemned the resurgence of hate speech and public incitement against Rwandaphone communities, recalling the real and horrible consequences of such rhetoric in the past.
At the close of November, Kagame spoke about those who choose blame games and not solutions in Eastern DRC.
"We know what war means. If you are looking for somebody who knows a thing or two about it, please come to me. And by that, I know how you can't have something better than peace," he said.
He added: "If you are looking for somebody who knows a thing about war, you come to me, please. I know something about it and I know how bad it is. And by that, I know how you cannot have anything better than peace."
While speaking during the East African Community (EAC) summit on DRC, Kagame cited the need to address the source of conflict in eastern DRC.
Last month, Blinken called on Rwanda "to take steps to facilitate de-escalation" in eastern DRC where Congolese forces are engaged in a battle with M23 rebels that are allegedly being supported by Rwanda.
Blinken and Rwanda's Minister for Foreign Affairs engaged in private talks on the margins of the G20 Summit in Bali.
"I had an important meeting with Rwandan Foreign Minister Vincent Biruta today on the margins of my G20 meetings in Bali. I underscored the United States' deep concern about the continuing violence in eastern DRC, and called on Rwanda to take active steps to facilitate de-escalation," he said on Twitter.
In response, Biruta said: "Thank you Secretary Blinken for the good meeting. I reiterated Rwanda's commitment to the regional Nairobi and Luanda mechanisms to bring peace and stability to eastern DRC and the region, and the need for all concerned parties to work towards a political solution to the crisis."
Rwanda has previously denied supporting the rebels, and instead accused the DRC of providing support to FDLR, which is accused of committing the 1994 genocide against the Tutsi.