The NRM Director in charge of Information and Communications, Emmanuel Dombo has regarded as fake reports that aspirants for speaker and deputy speaker of the 11th parliament from NRM should express interest in the positions.
This follows a tweet on the party's official handle posted on Tuesday communicating the same.
"NRM Electoral Commission calls upon party members that are interested in the speakership and deputy speakership positions of the 11th Parliament to pick interest forms from the NRM electoral commission starting tomorrow," read the tweet on the NRM party twitter handle.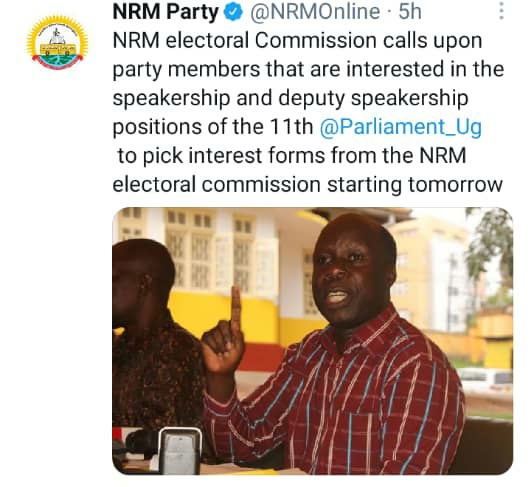 The information was picked by several media outlets including national broadcaster, UBC television that went ahead to tweet the same and their post was retweeted by the party.
Also read here: https://www.softpower.ug/nrms-ec-asks-mps-to-express-interest-in-speakership-race/
But when contacted, Dombo said the tweet by the NRM party is "fake news". He however didn't delve into details.
Several online outlets later quoted the party's Electoral Commission Chairperson, Dr Tanga Odoi, denying knowledge of reports that he had asked the aspirants for speakership to pick expression of interest forms.
However, in another video by UBC TV,  Tanga Odoi says he will ask MPs to express interest.
But, the tweet communicating that he has already asked MPs to express interest was by press time still undeleted from the official twitter handle of the party despite NRM officials refuting it.
This development has since sparked concerns about who is behind the tweet, his or her motive and how it found its way on the party's official handle and why Dombo as the Director in charge of Information or any other party leader have not ordered for its removal.
There is growing anxiety within the NRM on who, of the incumbent Rebecca Alitwala Kadaga and her deputy Jacob Oulanyah, to front for Speaker of the 11th Parliament. The two highly experienced lawmakers are both CEC members and command a relatively huge support from the members of parliament.
Other MPs who have expressed interest in the position include Juliet Kyinyamatama (Woman MP Rakai) Ssemujju Ibrahim Nganda (Kira Municipality) and Richard Ssebamala (Bukoto Central).
MPs will be sworn-in in groups starting on May 17 before the first sitting of the new parliament on May 20 when both speaker and deputy speaker will voted from and by the members of the 11th parliament as provided by rule 5 of the parliamentary rules of Procedure.
The elections of the speaker are presided over by the Chief Justice or a judge representing him.  Shortly after the speaker is sworn-in by the Chief Justice, he or she presides over the election and swearing in of a deputy speaker.