Barely a month after the State Minister for Privatization and Investment Evelyne Anite pulled a stunt akin to former dictator Idi Amin's to rally her constituents to support the proposed Age Limit Amendment, another Minister has followed suit.
On Independence Day celebrations in Koboko district, Anite who doubles as Koboko Municipality MP sat in a chair and had four men carry her on their shoulders as she flashed the NRM sign. The stunt was likened to an anti-imperialistic move made by Idi Amin to claim his superiority over the British Empire that previously colonised Uganda.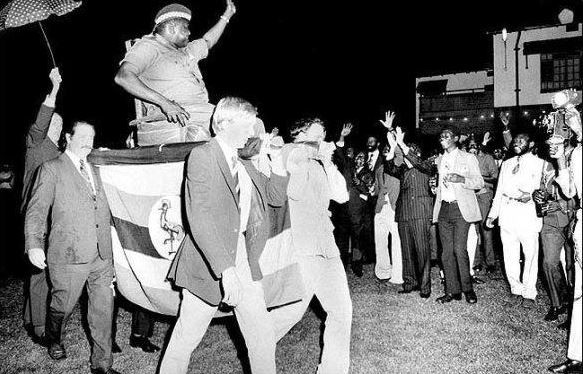 In reaction, Ugandans on social media had bashed the Minister for making an infamous and demeaning gesture.
Few weeks later, State Minister for Water Ronald Kibule has also jumped onto the trend. Photos have emerged with Mukono North MP, Kibule in a yellow (NRM party color) shirt seated on a seat and carried by men during his recent consultations on the Bill seeking to repeal Presidential age limits from the constitution.
It seems like the NRM legislators are quickly making a trend out of Amin's stunt and only time can tell who else will jump on the bandwagon.