The government through Uganda Tourism Board (UTB) has commenced engagements and discussions with the private sector in the tourism arena to bring in the element of business tourism focusing on Meetings, Incentives, Conferences and Events (MICE).
MICE is a category or type of tourism in which large groups, usually planned well in advance, are brought together.
This brings in a different segment of the market and the consumption of the services that they come for is not exactly the same, however, they use some of the same facilities and services.
Speaking on the sidelines of the event, the Uganda Tourism Board (UTB), Executive Director, Lilly Ajarova, said they are using MICE to position Uganda as a destination that provides the services the country has.
"We have been promoting Uganda as a MICE destination, and what is happening now is that after the COVID pandemic, we are engaging with the private sector to refresh their knowledge and skills and also for the facility owners to be more prepared as Uganda Tourism," she said.
Ajarova said they decided to train the private sector and also prepare the different stakeholders to position themselves and get ready to start promoting, preparing bids and also post the International Meetings and Events.
Ajarova noted that Uganda had performed well in 2018 and 2019 in the MICE sector, however, this was disrupted by the Covid-19 Pandemic.
"We started preparing better for the MICE Industry in 2017, where we had training and a business plan to focus us on where we need to go as a country with MICE. That helped us that in 2018 we were ranked in the 10 best destination in Africa for MICE and in 2019,"
"We prepared more bids, and we got more meetings that we hosted and conferences and that got us in the sixth best position. Of course, 2020-2021 because of the COVID pandemic, nothing happened and right now we are positioning ourselves to even get to the top of the ranking and that's why we engaging with the private sector, preparing them sharpening their skills or knowledge and as Uganda Tourism Board, specifically also marketing Uganda as a MICE destination."
Ajarova said Uganda is already advantaged with key factors where she (Uganda) competes very well.
"Uganda is a safe destination and attractive in terms of weather and other incentives that the destination provides. We have accessibility, we have our own national carrier. We have over 10 airlines that fly into Entebbe International Airport, which gives easy accessibility and in terms of pricing and the offer that we give. We are also competitive enough. Those are the key factors that make us competitive," Ajarova noted.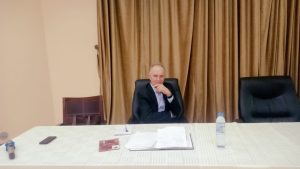 Rick Taylor, CEO of The Business Tourism Company, said they are in Uganda with the single-minded purpose of establishing a new economic piston called the Uganda Convention Bureau.
He said the Institute will be housed under the Uganda Tourism Board and its purpose will be to attract $100 million to the country by the year 2025.
"So, to do that, the institution is going to deliver amazing opportunities from an investor point of view and a job creation point of view. The convention Bureau always says that it's the marketing arm of the MICE sector. It's an arena that Uganda has just started to explore. Uganda Convention Bureau will be the trigger to implement and ignite," noted Taylor, an International Tourism Economist Consultant.
He said the MICE sector in Uganda has an amazing and electrifying opportunity to take advantage of.
"…an industry that globally, is worth just over 1 trillion US dollars. What we need to do is to make sure that Uganda gets its fair share, certainly of the global impact," Taylor noted.