Thugs have raided the office premises of Citizens' Coalition for Electoral Democracy – Ugands (CCEDU), a civil society organization and assaulted a security guard, reports say.
It is said that unknown thugs attacked the security guard on Monday night, broke into the offices located in Nsambya near Kampala. The thugs took off with the guard's belongings before he raised an alarm.
The incident was confirmed by Crispin Kaheru who is the Coordinator for CCEDU.
He told SoftPower News on Tuesday morning that all the staff of the organization were out of Kampala for holidays. Kaheru however was enroute back to the city following the break-in on the offices.
"We are out of Kampala but have sent a team to assess the damage and the things that might have been taken," Kaheru said.
On how they learnt about the robbery, he said; "Our guard whose gun was taken called his guard friend and informed him that he had been attacked and needed reinforcement".
CCEDU, a coalition of citizens advocates for the value of integrity in the electoral process by promoting a social and political system that enhances fair, equitable and transparent electoral processes.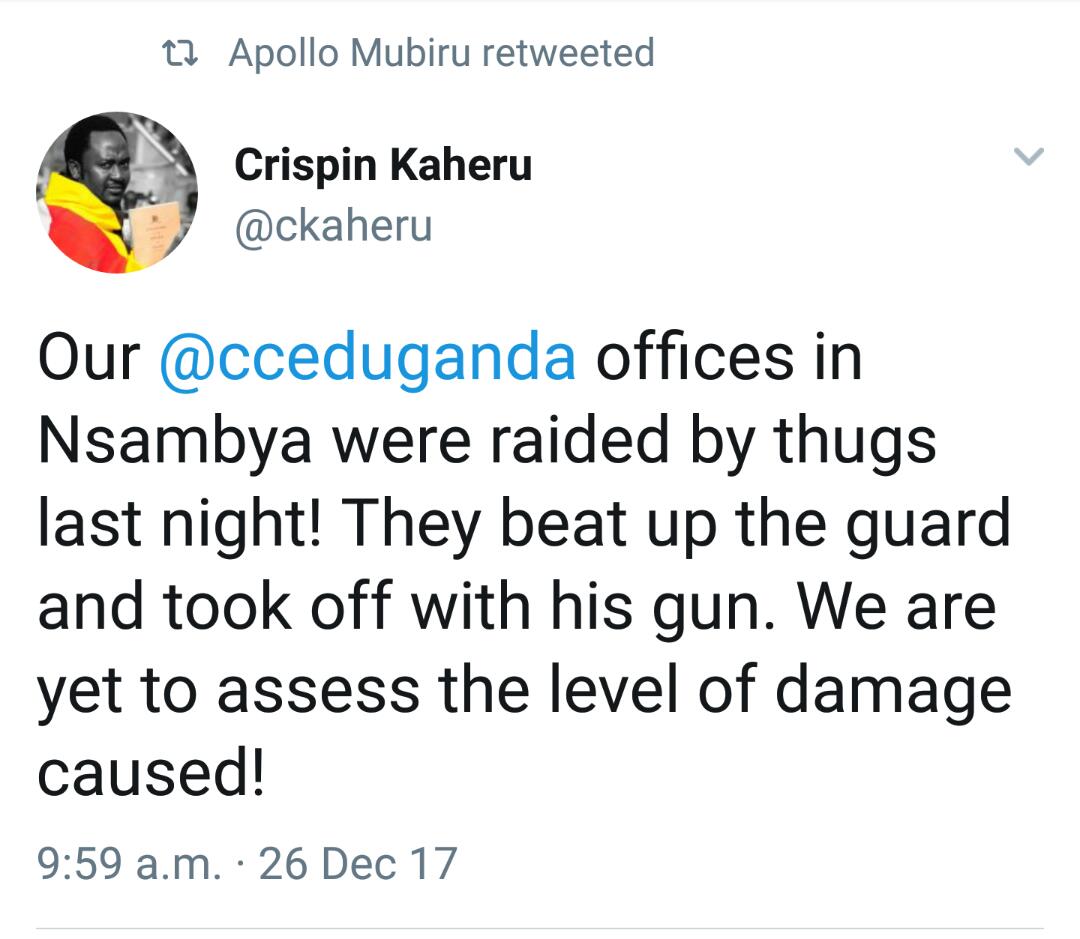 This is yet another in a series of break-ins on offices of NGOs operating in Kampala.
A total of 24 NGOs and Civil Society Organisations have had their offices broken into, among them; Foundation for Human Rights Initiative (FHRI), Human Rights Network Uganda (HURINET) and Human Rights Awareness and Promotion Forum (HRAPF).
In the case of FHRI, the assailants stole Shs 45million, 11 Samsung mobile phones, 11 laptop computers, land tittles for clients, one projector and a hard drive for the backup computer.
In May 2016, a security guard was beaten to death after thugs stole documents and a television screen from HRAPF offices in Kampala.
Other organizations that have been targets of these robberies include Refugee Law Project, Inter Religious Council of Uganda, Human Rights Awareness and Promotion Forum, CSBAG, Action For Community Development (ACODEV) and Action Aid International Uganda.
Some of these organizations have pinned government for these actions which they say intend to intimidate them for their political linked activism.
However, police investigations into all these break-ins has not yielded tangible results as yet. It has come under immense criticism for failing to apprehend the perpetrators even in incidents where the assailants were recorded on CCTV footage.
In June 2016, 31 local and international organisations petitioned the Police chief, Gen Kale Kayihura expressing concern over the way the police had handled the spate of break-ins targeting organisations across the country.