Former Prime Minister of Uganda, Amama Mbabazi gave away his niece for marriage to Andile Ramaphosa, son to the South African President in what could pass as one of the most prestigious traditional events that Uganda has witnessed.
The kuhingira as the traditional ceremony is known in the Ankole and Kigezi cultures took place in Amama Mbabazi's Kololo residence in Kampala. As one would imagine, for an event that involves an influential and wealthy Ugandan politician and a South African first family, this was an affair of money.
The ceremony was not only flashy, but it was studded with the most affluent, including two Presidents; Yoweri Museveni of Uganda and Cyril Ramaphosa, the President of South Africa.
Several influential individuals in Uganda were also on the guest list. Diplomats, politicians, businessmen, top government officials, cultural and eminent leaders attended. Business moguls Sudhir Ruparelia, Amos Nzeyi, Charles Mbire were present, as well as Prime Minister, Dr Ruhakana Rugunda, Central Bank governor, Tumusiime Mutebile, Chief Justice, Bart Katureebe, his predecessor, Benjamin Odoki, Katikkiro of Buganda, Charles Peter Mayiga among others.
South African President, Cyril Ramaphosa who was accompanied by his wife, Dr Tshepo Ramaphosa also came with an entourage of top shots from South Africa.
The decor was stunning and the ceremony was flawlessly executed. Bridget Birungi, the soon-to-be daughter-in-law to the South African President looked elegant and so was her fiancée, Andile. She was dressed in a traditional cream sash with a veil that only exposed her face. Her neck, wrists and forehead were wrapped in beards.
But it was during the speeches that it became clear that the ceremony was a rendezvous of the past and the present. Both Presidents Museveni and Ramaphosa, as well as Amama Mbabazi had shared a past at a personal level which made Saturday's kuhingira to come out as a perfectly deserved destiny.
During his speech, President Yoweri Museveni joked about how Ramaphosa prior to being President had come to Uganda, visited his farm and underpaid him for 43 Ankole cows.
"When he came to my farm, he was not like the other visitors who come and all they talk about is football. He told me he wanted to buy some of my cows. I gave him 43 cows which he took to Kenya. But he underpaid me," Museveni said.
He said that to him, that was an indication of how much Ramaphosa appreciated the African heritage.
Later, President Ramaphosa said that the cattle he took to Kenya have since turned into a tourist attraction.
"The 43 cows we took to Kenya have since multiplied. We took other embryos to South Africa where i have another herd. I wanted to sell the herd in Kenya but I was told not to because they have become a tourist attraction," President Ramaphosa said.
He too went on to joke how he has since added another title to himself 'President of the Ankole Cattle Association in South Africa' which for long was his dream.
The ceremony also evoked the past that Uganda and South Africa share especially the role that Uganda played when there was a struggle against the apartheid regime.
Ramaphosa applauded President Museveni whom he called "a visionary leader of our continent" for sacrificing Uganda's development to give South Africa moral, political, military, material and diplomatic support.
It also turned out that MTN Uganda Chairman Charles Mbire, who during the 'kuhingira' was the 'katera rume' (one who acts as a bridge between the family of the suitor and that of the bride-to-be) has been a business partner with Ramaphosa for the last many years.
He said that the tie between Bridget and his son Andile was going to further cement the relationship between the two countries even more.
Museveni described Ramaphosa as a freedom fighter and sharp businessman.
His speech was not short of gratitude towards his political opponent in the 2016 Presidential race, Amama Mbabazi either. Museveni thanked Mbabazi and wife Jackline for their contribution towards the liberation struggle in Uganda which in 1986 brought his government into power.
"In 1974, the family of Mbabazi helped our struggle greatly. I thank them and I want the other side to know," Museveni said. He said that Mbabazi together with Gen Kahinda Otafiire, both students activists at the time, were instrumental in coordinating the intellectual class that were part of the struggle.
Museveni made an undisclosed financial contribution towards the couple (Bridget and Andile) and wished them a good marriage. He said that his contribution was to honour the traditional 'enshagarirano' which is given to the couple as start up capital.
Mbabazi who spoke last said he and President Museveni have been companions for the last four decades, although he admitted that they haven't met often as they should have. He said that he felt that the 'kuhingira' ceremony was a prime time to meet with Museveni.
"We have been together for more than 40 years .Of the 29 people we went with to Mozambique, only him [Museveni], Salim Saleh [brother to Museveni] and Ivan Koreta are the only ones still living," Mbabazi said in his speech.
The ceremony was characterized by as much humor as there was prose. Like when President Ramaphosa explained how he chose Museveni's 'beautiful cows' over him (Museveni) and daughters. Mbabazi also tickled the guests when he asked the President whether he voted for him [Mbabazi] in the 2016 elections.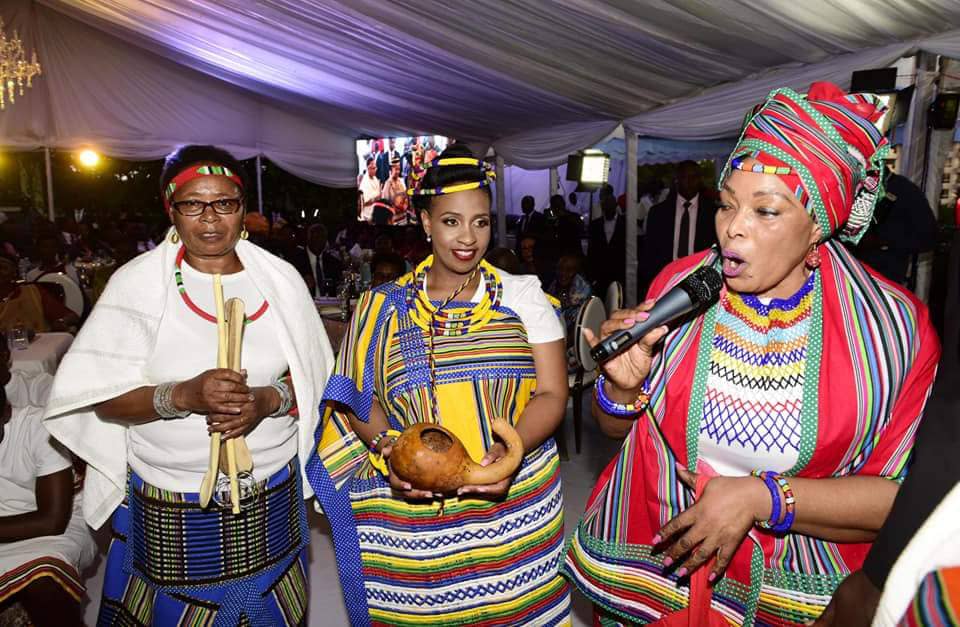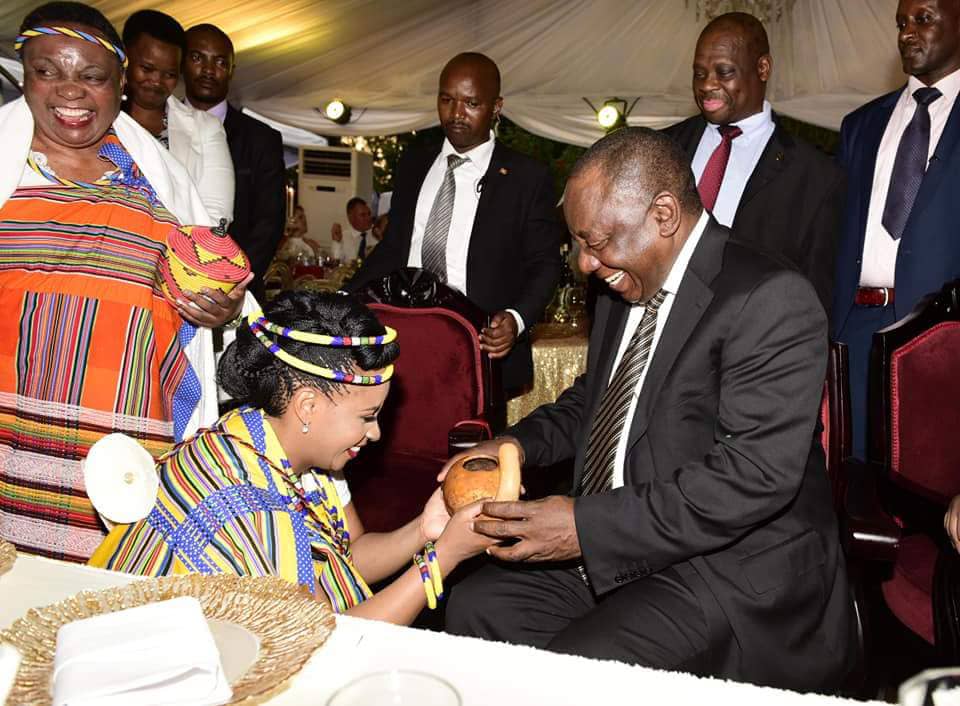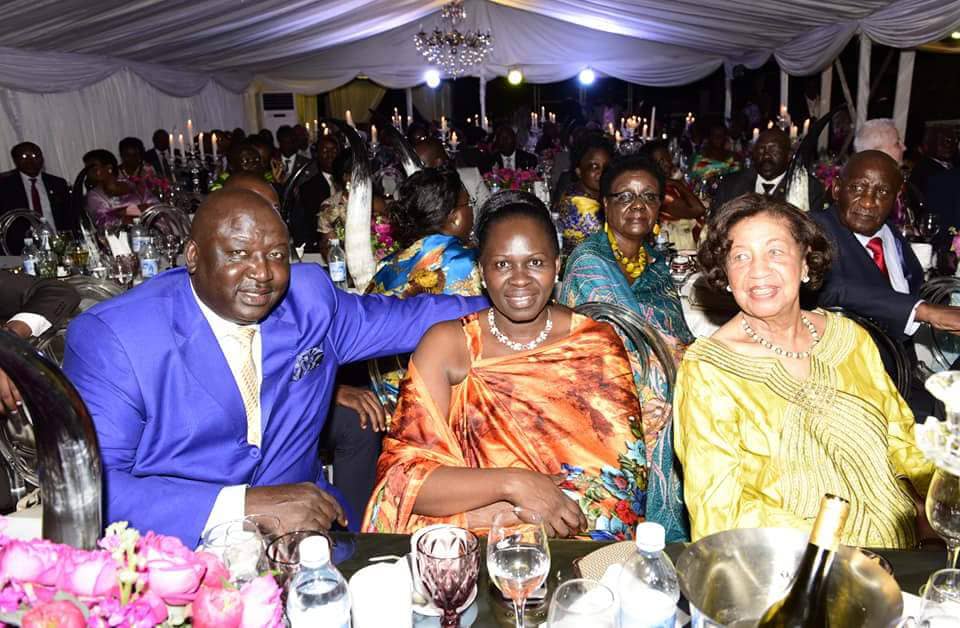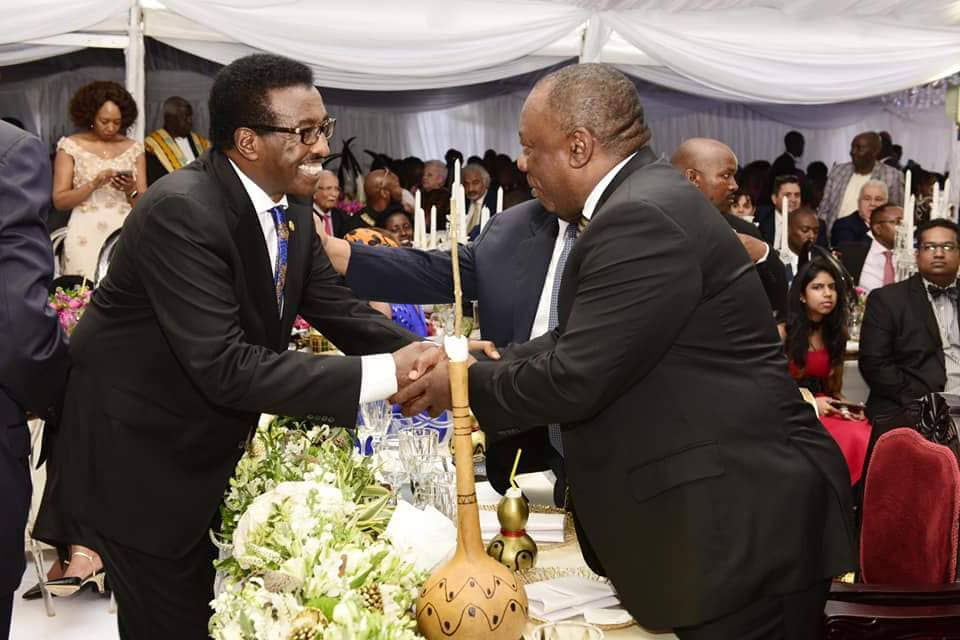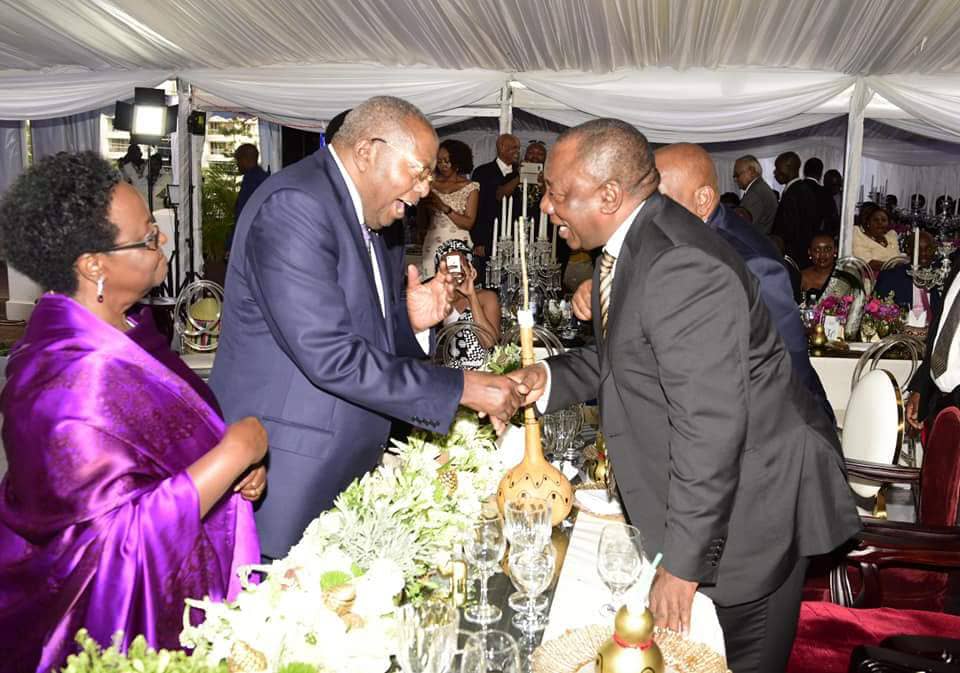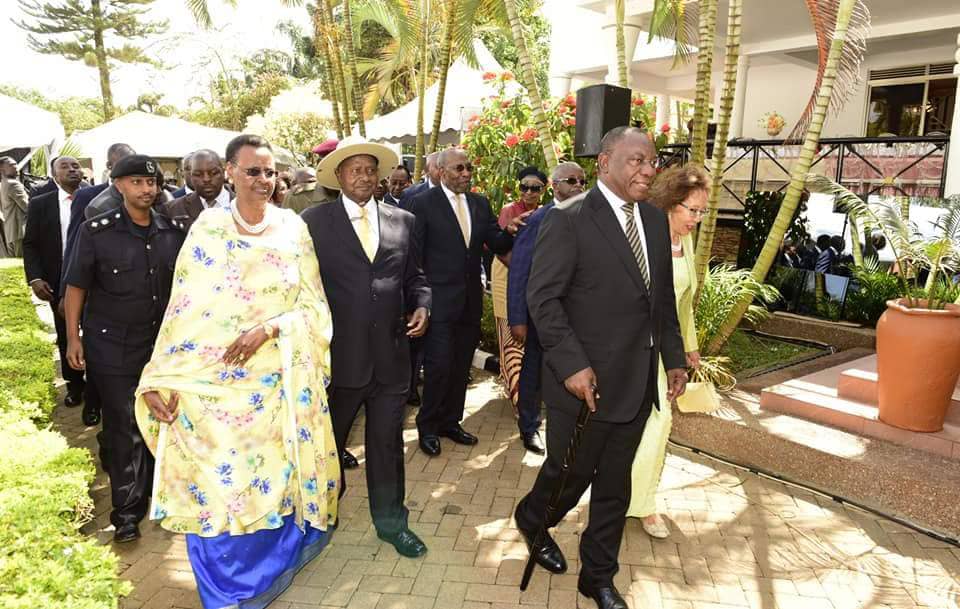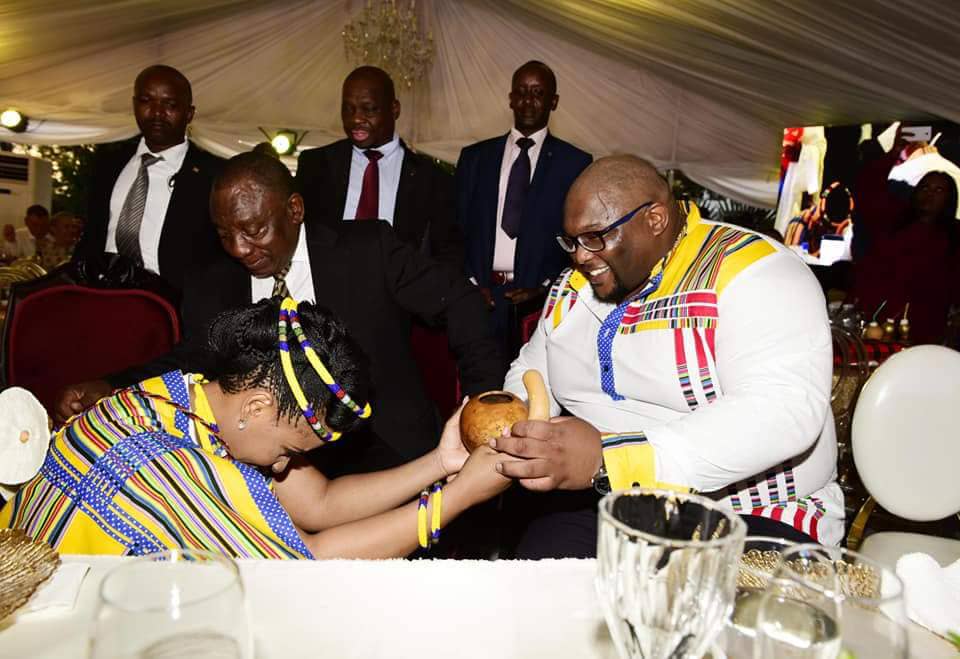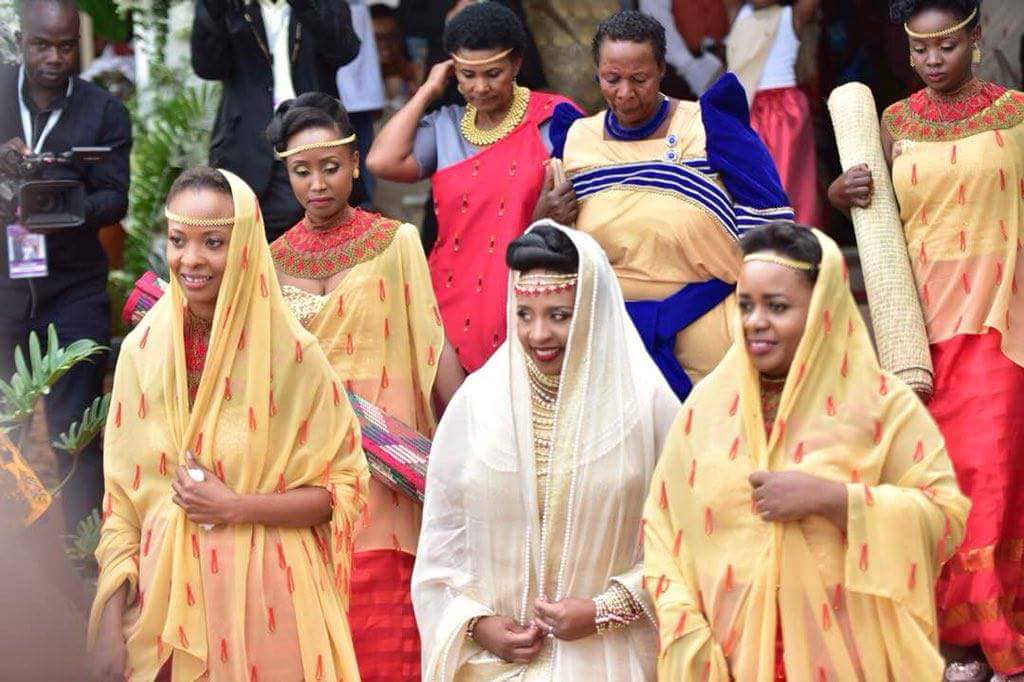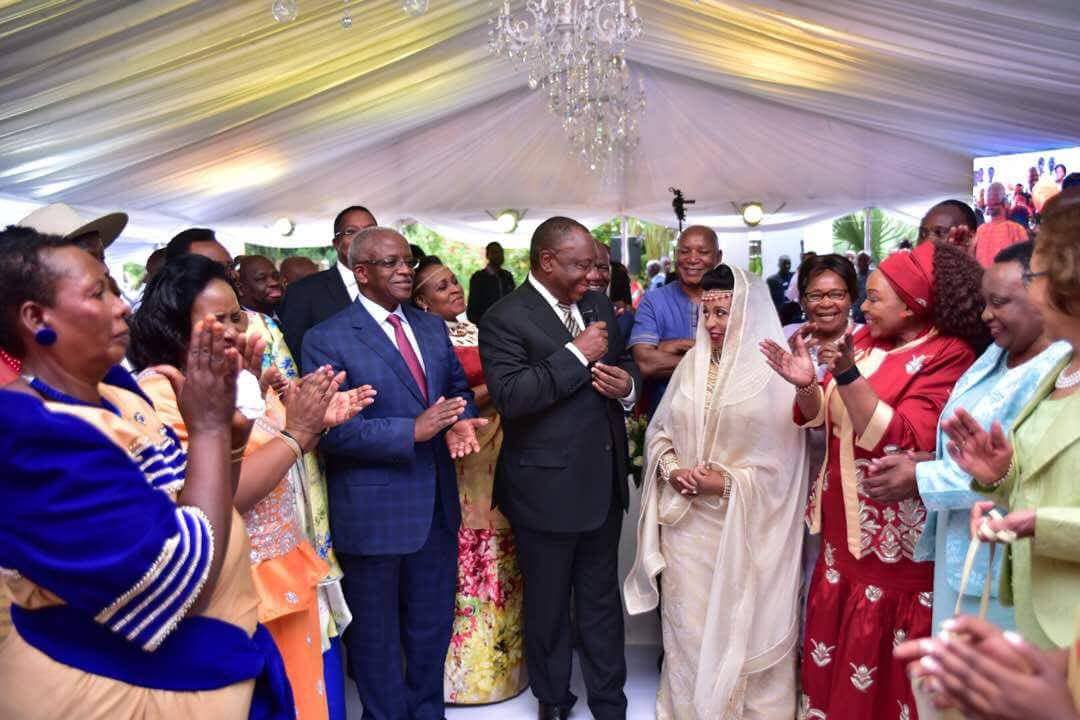 Photos: PPU & Nicholas Bamulanzeki