The Members of Parliament who were suspended on Monday by the Speaker, Rebecca Kadaga following the chaos that ensued during the second reading of the Age Limit Bill have reacted bitterly to her decision restricting them from the afternoon session.
Some of the suspended legislators including Kira Municipality MP, Ibrahim Semujju, Ntungamo Municipality MP, Gerald Karuhanga and Makindye West MP, Allan Ssewanyana vented their dissatisfaction with the Speaker, saying they won't relent.
Following procedural disagreements raised mainly by opposition MPs, Speaker Kadaga adjourned plenary to 2pm on Monday afternoon and suspended six MPs.
These included Allan Sewanyana, Ibrahim Ssemujju, Gerald Karuhanga, Kawempe South MP, Mubarak Munyagwa, Kilak North MP, Anthony Akol and Erute South MP, Jonathan Odur.
Reacting to his suspension moments later, Ssemujju said; "Why did the Speaker go to the school of law if she is not aware of the law? There is no good reason for our suspension. May be her lecturers are the ones that did not go to school but if otherwise, they must be crying down there in their graves".
He went on to undermine the Speaker's literacy equating her to someone who did not attend nursery school.
"We are now in jungle law. But they should know that this matter is not going to end today, we were beaten but the fighting hasn't stopped," Semujju said.
Gerald Karuhanga who during the morning plenary session questioned procedure informing the House that debate should ensue three days after the report is tabled, accused Kadaga of being political.
"She has suspended us and has chosen basically to be political but its useless. You now see total abuse of rules, we spent so much time and lots of our precious ideas," Karuhanga said reacting to his suspension.
Although he said the suspension was not a surprise, he stated that regardless of Parliament's decision, Ugandans have spoken against the Bill.
"You may win the war here in parliament but lose it before all Ugandans because they are clearly indicating that they do not want Museveni to change the constitution".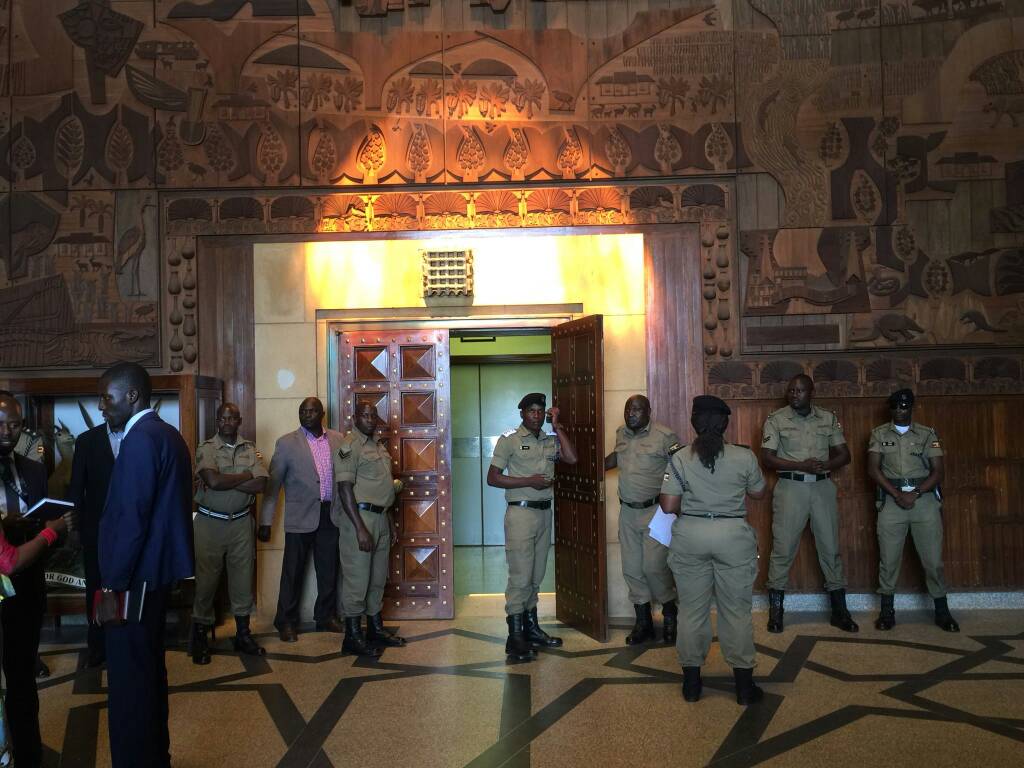 On his part, MP Allan Sewanyana said Speaker Kadaga had no right to stop him from representing the views of his constituents as she (Speaker) never elected him into office.
"Kadaga has never elected me but the people of Makindye brought me to parliament and I have to present their views no matter what," Ssewanyana who was ordered out of Parliament last week for dressing inappropriately said.
He said that all he did was warn the Speaker against proceeding wrongly "and after loosing, she decided to suspend me".
"I will come back in the afternoon and see what she will do to me because this is not her Parliament".
Ugandans still wait in bated breath how the Parliament where the ruling NRM party enjoys a majority, will debate and vote on the Bill which has divided not just the political spectrum but the NRM itself.
If passed, the Bill will see the Presidential age limits removed from the constitution and pave way for incumbent President Yoweri Museveni to run for a sixth term come 2021.