Midland High School Kawempe has spoken about an incident that happened inside its school bus which shows students twerking.
Twerking is a type of dance mostly performed by women or girls in a sexually provocative manner involving throwing or thrusting their hips back or shaking their buttocks, often in a low squatting stance.
The incident happened on Friday, June 10, 2022.
The video which has since gone viral was captured while the bus was stuck in a traffic jam on Kampala-Jinja highway.
The girls donning school uniforms are seen rubbing their butts on the thighs of boys who baby-sat them in an almost strip-tease show.
FX Kyasa, the headteacher of Midland High School, issued a short statement on Saturday saying the students in question belong to Lubiri High School.
He maintained that Lubiri High School hired their school bus for an agricultural trip to Jinja city in eastern Uganda.
He condemned the manner in which the students conducted themselves and appealed to Lubiri school authorities to take disciplinary action.
"We, Midland High School, have very, unfortunately, been appraised of happening on our school bus hired by another school (Lubiri High School) for an agriculture tour to Jinja on Friday, 10th June 2022. Those were not students of our school," FX Kyasa said.
He shared a Shs1m receipt to confirm it.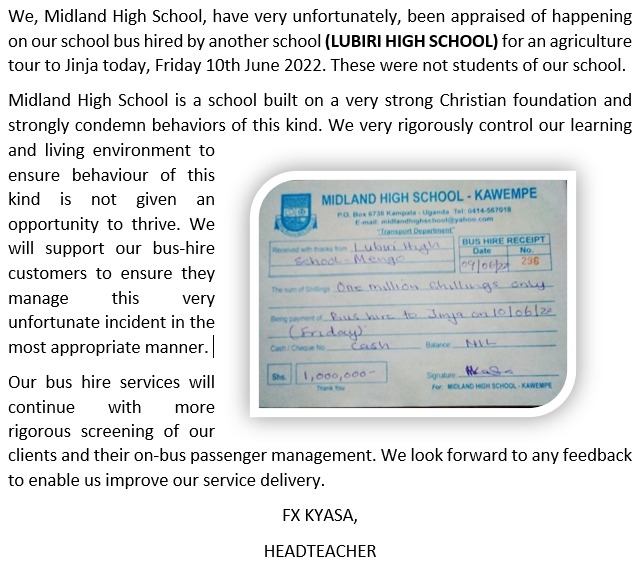 He said Midland High School is built on a very strong Christian foundation and that their students would not engage in such behaviour.
"Midland High School is built on a very strong Christian foundation and strongly condemns the behaviours of this kind. We very rigorously control our learning environment to ensure behaviours of this kind do not thrive," he pointed out.
He added: "We will support or bus-hire customers to ensure they manage this very unfortunate incident in the most appropriate manner. Our bus hire services will continue with a more rigorous screening of our clients and their on-bus passenger management."
The video has sparked outrage with parents and teachers condemning it in equal measure.