The President of the Federal Republic of Somalia,Hassan Sheikh Mohamud, has arrived in the country ahead of Sunday, 9, Independence Day Celebrations At Kololo CeremonIal grounds.
He was received at Entebbe International Airport by the Minister for Defence and Veteran Affairs, Vicent Ssempijja.
"H.E. Hassan Sheikh Mohamud The President of the Federal Republic of Somalia, arrives at Entebbe International Airport for the 60th Independence Celebrations," Uganda's Foreign Affairs Ministry tweeted.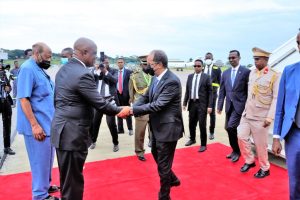 Uganda will Sunday, October 9, 2022, celebrate its 60th Independence. This Year's Independence will be celebrated under the theme; October 9: A declaration of African interdependence and our shared destination.
Part of the activities shall include show of military might, like military fly-past and acrobatic dropdown of the UPDF commandos while awarding of medals was scrapped off the agenda on President Museveni's order.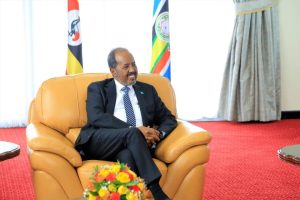 The celebrations will also mark Uganda's achievements like economic growth, peace and security, among others.