The National Drug Authority (NDA) has closed over 830 drug outlets in the 17 districts of Acholi and Lango sub regions for operating illegally, among other offenses.
The authority also impounded 924 boxes of assorted medicines and medical equipment worth over 1.7bn shillings.
According to the NDA Spokesperson, Abiaz Rwamwiri, this was part of a compliance enforcement carried out in Northern Uganda.
He noted that the 14-day enforcement operation was carried out in the districts of; Aleptong, Amolatar, Apac, Dokolo, Kole, Kwania, Lira, Otuke, Oyam, Agago, Amuru, Gulu, Lamwo, Kitgum, Nwoya Omoro and Pader.
Some of the arrests made during the enforcement operations include: Dr. Alobo Gasthony (a gynecologist and a lecturer at Lira University) who was running an illegal pharmacy in Lira.
He was found in possession of drugs for the Government of Uganda.
Rwamwiri says the lecturer  was detained at Lira Central Police Station under case file No. SD/20/21/10/2022.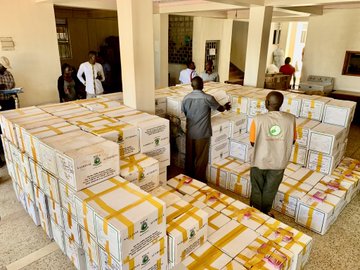 Also arrested were; Rubanga Kene James and Odong Christopher Langoya, attendants of Akfrank Medicines Drug Shops owned by Akena Robert (a pharmacy technician at Kitgum General Hospital) where drugs and medical equipment worth over 1.5 billion shillings belonging to the Government of Uganda were found.
Akena is currently on run but the Uganda Police and other security agencies are tracking him down.
Rwamwiri says two cases were opened at both Gulu and Kitgum Police Stations.
Kenneth Watmon, a laboratory technician at Kitgum General Hospital, who was found keeping boxes of medicines including drugs belonging to the Government of Uganda drugs at his home, was also arrested and is currently held at Kitgum Central Police Station.
Rwamwiri revealed that the suspects are under investigation for Unlawful possession of classified drugs contrary to Section 27 (2) of the National Drug Policy and Authority (NDPA& Act, unlawful possession of government stores, Contrary to Section 316 of the Penal Code Act, carrying on a business of pharmacist without a license contrary to Section 14 (3) of the NDP&A Act, abuse of office contrary to Section 11 of the Anti-Corruption Act and causing Financial Loss contrary to Section 20 of the Anti-Corruption Act.
The Authority in a statement also warned persons operating drug outlets without licenses or qualified supervising personnel to halt all operations until the licensing requirements are fulfilled.
Operators of the outlets whose drugs have been impounded were advised to visit NDA's Northern Region offices in Lira for guidance on the requirements to meet in order for release of the custody the impounded drugs.