21 Senior Police officers have been conferred with a Master in Peace and Conflict Studies at Makerere University during the 73rd Graduation Ceremony held on Friday, 17, 2023.
The officers completed a Senior Command and Staff course in Bwebajja.
According to a source in Bwebajja, the course had three components; police modules, institutional leadership, management course conducted by Uganda Management Institute (UMI) and master of Arts in peace and conflict studies of makerere University.
The graduands include;
CP Muluya Moses, the Commissioner Welfare in the UPF.
ACP Kagarura Herbert Bob
ACP SSERUNJOGI Eddie, RPC West Nile Region.
SSP Kiconco Johnson Tibbs
SSP/Kule Yona
SSP OMARA cyrus Samson, the Makerere University chief security officer.
SSP SAIGA Ibrahim
SP Ahimbisibwe Fred
Karuhanga Hike, the DPC Tororo district
SP Anyama Richard Rwakasis, the DPC Kalungu District.
SP ASIIMWE Abraham
SP Gobolo Julius
SP Kasigire Micheal, the Deputy RPC Savannah Region.
SP Katuramu Robert
SP Katwesiime Damian
SP Kutusa Marion (Ms)
SP Kyeyune Edirisa
SP Mafundo Emmanuel
SP Musiime Andrew,
Muruli
SP Ssebuyongo Geofrey Muruli
SP Syamutsangira Marahi Simon, the DPC Nagalama
SP TUGUME Ezra, Head Parliamentary Security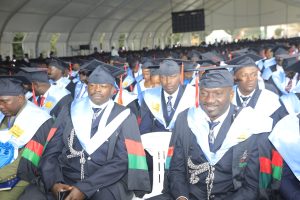 "Am overjoyed," said SP Fred Ahimbisibwe, one of the graduates.
Makerere University commenced its 73rd graduation ceremony on Monday, at the Freedom Square.
A total of 13,221 graduands, of whom 6,809 (52 percent) are female and 6,412 (48 percent) are male, are expected to graduate during the university's 73rd graduation ceremony, which ends on Friday.
A total of 102 of these are PhD students, 1,378 are master's students, 108 are postgraduate diploma and 35 are undergraduate diploma.