SEACOM, the pan-African telecommunications service provider, unveiled its regional expansion strategy for the Ugandan and East African markets at a special networking breakfast event in Kampala, Uganda.
The event was attended by a cross-section of clients, business partners, staff, representatives of key government ministries and parastatals in Uganda, and SEACOM executives from Uganda, East Africa, and the Group Office.
Unveiling the regional expansion strategy was Mr Oliver Fortuin – SEACOM Group CEO – flanked by Mr Tejpal Bedi – SEACOM MD for East Africa, Mr Dennis Okiror and Mr Rodney Mujuzi both
Key Account Managers at SEACOM Uganda.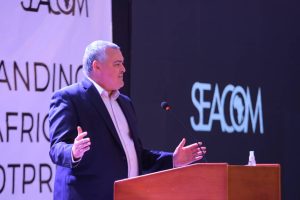 The regional expansion strategy has been boosted by acquiring critical fibre infrastructure assets to propel their service offering in Uganda.
Speaking at the event, Mr Tejpal Bedi – SEACOM MD for East Africa – stated that the regional expansion strategy is a testament to SEACOMs commitment to providing competitive end-to-end connectivity and ICT solutions across the region.
"East Africa and Uganda have been an important market for SEACOM ever since we first arrived on the shores of Mombasa in 2009. By officially establishing ourselves in Uganda through proprietary facilities and resources, we are prioritising widespread connectivity and opening up opportunities to work with businesses in search of quality communication services."
On his part, Mr Oliver Fortuin – SEACOM Group CEO, stated that the regional expansion strategy would see SEACOM Uganda make significant strides in offering added value to their clients by improving on their current physical network:
"As part of the regional expansion, we will increase our fibre footprint within the Ugandan capital city of Kampala and surrounding towns", he stated at the event.
"The acquisition goes hand in hand with our five-year strategy into expanding operations in the region," Tej added. "As such, we are very excited about having a greater local presence."
SEACOM has provided wholesale solutions to Uganda since its inception in 2009 and corporate solutions since 2018. The leading service provider enjoys a large footprint in Uganda's financial services sector (FSI) and works with government and non-governmental organisations, including those in the education, technology and hospitality sectors.
Although small businesses dominate, Uganda is home to a thriving private-sector with thousands of medium to large companies across Kampala and the central region. There's also a growing Internet penetration rate with competitive connectivity prices compared to other countries in the area.
The acquisition of established infrastructure will allow for further expansion into East Africa, enabling SEACOM to provide seamless integration of its services for clients across Uganda, Kenya, and Tanzania, and decreasing the reliance on third-party last-mile providers to deliver connectivity solutions – solutions that include wireless and fibre Internet access, cloud connectivity, as well as hosting facilities, such as email and security, such as distributed denial of service (DDoS) protection software.
"SEACOM is responding to the needs of the market. Customers are starting to buy more bandwidth. Businesses are making use of the cloud like never before, using enterprise resource planning, Office 365, and customer relationship management (CRM) solutions that serve not just to fill gaps but aid in driving digital transformation and strengthening internal and external capabilities. The growth of the Internet in the region follows the demands of these businesses, and it's up to us to facilitate that. The result is lower prices, improved reactions, and an overall better experience for our customers," concluded Tej.
SEACOM launched Africa's first broadband submarine cable system along the continent's Eastern and Southern coasts in 2009. Today, it is the preferred partner for African businesses, network carriers, and service providers.
Through its ownership of Africa's most extensive ICT data infrastructure including multiple subsea cables, a resilient, continent-wide IP-MPLS network, and Metro Fibre in major African Cities, SEACOM provides a full suite of flexible, scalable and high-quality communications and cloud solutions that enable the growth of the continent's economy.
It is privately owned and operated, which allows the company the agility to rapidly tailor-make and deploy new services, commercial models, and infrastructure in response to customer requirements. Without the red tape or hidden costs often prevalent in this industry.