Educationists and Scholars have underscored the role of strengthening the bond between cultures.
Speaking at a symposium organized by the Royal Embassy of the Kingdom of Saudi Arabia in Kampala, Dr Ganatusanga Haroon Sinan noted that the objective of the integration of Social Development between Saudi Arabia and East African countries, as scholars, is to clarify the economic development integration and social interaction that the two have in common.
He noted that both have human values and are rich in cultural heritage in a scientific style.
"In Uganda, we are talking about socio-economic transformation as it is in Saudi Arabia. The King is talking about socio-economic transformation. So, that integration, the right integration must be there," noted Dr Ganatusanga from Kampala International University (KIU).
The symposium was themed "Culture bondings between Saudi Arabia and East African Countries".
He said that the socio-economic development equilibrium in social beliefs and the social beliefs of the common cultures abide by the two.
"Saudi Arabia is the birthplace of Islam and most are natives to the majority Sunni. Sunni is guiding mostly the Saudi society in prayer and fasting the same as we have in Uganda here today," he said.
The scholar added that the first visitors to Uganda were Arabs who came around the 1830s to trade and coincidentally taught Islam which went on in every aspect of life.
The Kampala International University Vice Chancellor, Muhammad Mpezamihigo, said the symposium helped to understand the relationship between Saudi Arabia and East African countries.
He said that many thought Arabic is Islam and all Arabs are Muslims, which was demystified in the meeting.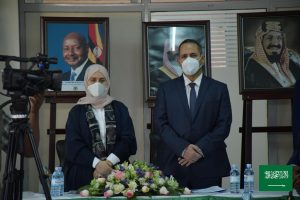 He noted that the interaction of Arab traders with natives on the East African coast led to the birth of the Swahili language which is a mixture of Arabic and the native languages.
The Saudi Arabian Ambassador to Uganda, H. E Jamal Al-Madani, noted that the workshop is good for highlighting and clarifying the meaning of some of the knowledge gained over a long time.
He also pledged to continue working with different institutions in the country in fields like education, among others.