Ms Elsie G. Attafuah, the United Nations Development Programme's (UNDP) Resident Representative for Uganda, has paid tribute to Uganda's phenomenal women who have catalysed the development of the country.
She made the remarks Thursday during the "Sarah Ntiro Public Lecture" held at the Yusuf Lule Central Teaching Facility at Makerere University.
The lecture which is held in honour of the life and legacy of Sarah Ntiro Nyedwoha, the first female University graduate in Eastern and Central Africa, also lauded other powerful women like Joyce Mpanga and Rhoda Kalema.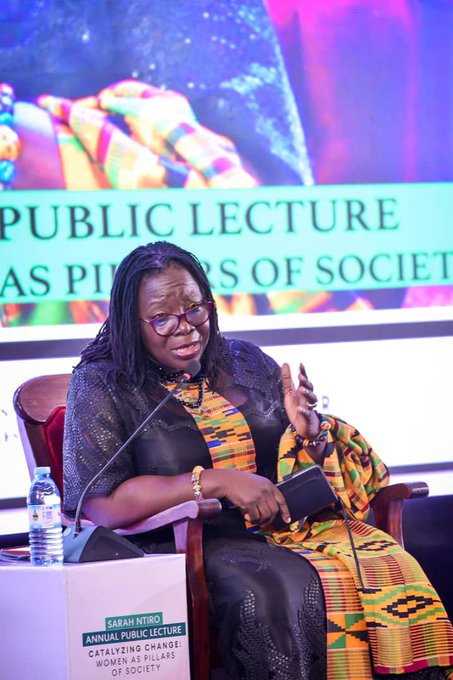 "Many times we see a glass as half empty and not as half full. This speaks to the need for partnerships to foster mindset change in the agenda to uplift women as pillars of society," said Attafuah.
She appreciated what the government of Uganda has done to empower women; Uganda has a female Vice President, a female Prime Minister and a female Speaker of Parliament, among other female leaders.
"We must celebrate and tell the African story of women who are catalysing change. As the Resident Representative of UNDP who grew up in the ghetto of Ghana, I used my Twitter page to tell my story and I inspired many young women. So, I urge all women to tell their stories to empower and encourage other young women."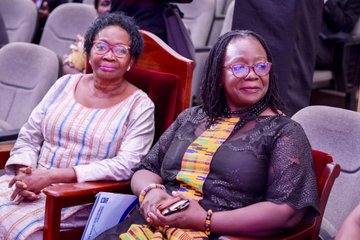 She said UNDP is promoting the African Free Trade Area by focusing on connecting African women to regional markets to create access to both markets and good quality African produce.
On her part, Anna Reismann, the current Country Director for the Konrad Adenauer Stiftung Uganda and South Sudan, said: "We ought to know and acknowledge what the women who have come before us have done and sacrificed that we can enjoy the liberties we enjoy today."
"I long for the time when we will have the workplace be a place where women do not have to be bold and aggressive to contribute to society because you do not need to be aggressive to contribute to society," she added.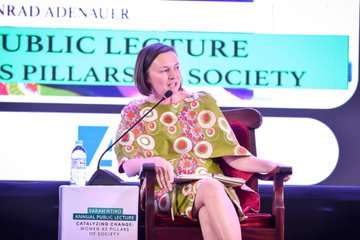 Ms Martha Kalema, a fourth generation of the Sarah Ntiro family said her grandmother always said, "If the men can't hear you, speak louder, stand on the table and shout and make sure you are heard."
"It is because of my grandmother Sarah Ntiro that we now boast of four generations of female University graduates. She was truly a trailblazer not only for our family but for all young and old women alike," she stated. Ms. She then quoted from 'Grandmothers' (a poem written by Maya Angelou) "which I believe exemplifies who my grandmother was: "When you Learn, Teach; When you Get, Give; As for me, I shall not be moved"."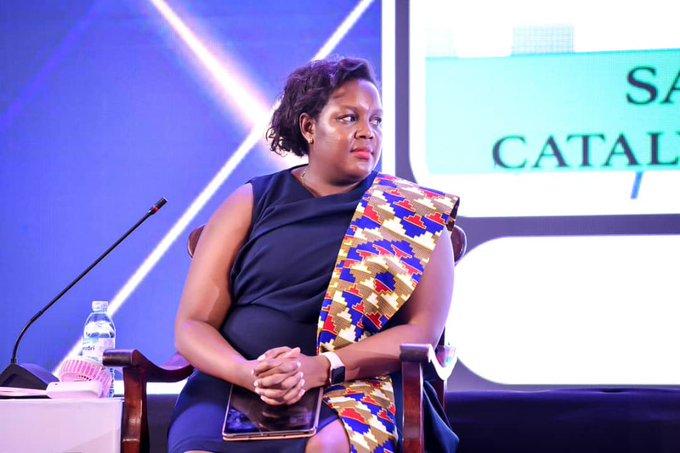 She went on: "Ntiro also known as "Kiki" reminds us to always challenge the status quo, staying small and fitting in, is not the safest path. It is always important to speak out, identify the barriers holding women back and come together to find solutions."
Speaking on the same occasion, Prof. Sarah Ssali, the dean of the School of Gender Studies at Makerere University, said because of the legacy of Sarah Ntiro, many women have gone forth to penetrate the realms of leadership across various platforms of influence.
"As we are here today, we are seated here to reflect on the contributions of the trailblazers like Sarah Ntiro and the triumphant societal contributions of Her Royal Highness Sylvia Nagginda (Buganda Kingdom Queen) to catalysing change in society," she noted.