Rukungiri Municipality MP Roland Mugume Kaginda is the latest opposition legislator to declare that he has returned the money allocated to him for Age Limit Bill consultations.
Members of Parliament recently received Shs 29 million each from the House to facilitate consultative meetings of their constituents on the sticky proposed constitutional amendment to remove Presidential age limits.
About 10 opposition MPs have since returned the money to Parliament claiming it was intended to compromise them while others say it is illegal. Some of the MPs include Kira Municipality MP Ibrahim Semujju, Rubaga North MP Moses Kasibante, Kyadondo East MP Robert Kyagulanyi alias Bobi Wine among others.
Kaginda who is also the deputy opposition Chief Whip on Thursday morning also returned the money to Parliament as the Leader of Opposition Winnie Kizza is also expected to do the same later today.
Kaginda paraded a bag full of cash before the press at Parliament on Thursday morning and told journalists that; "I have returned the money because my people have told me to do so".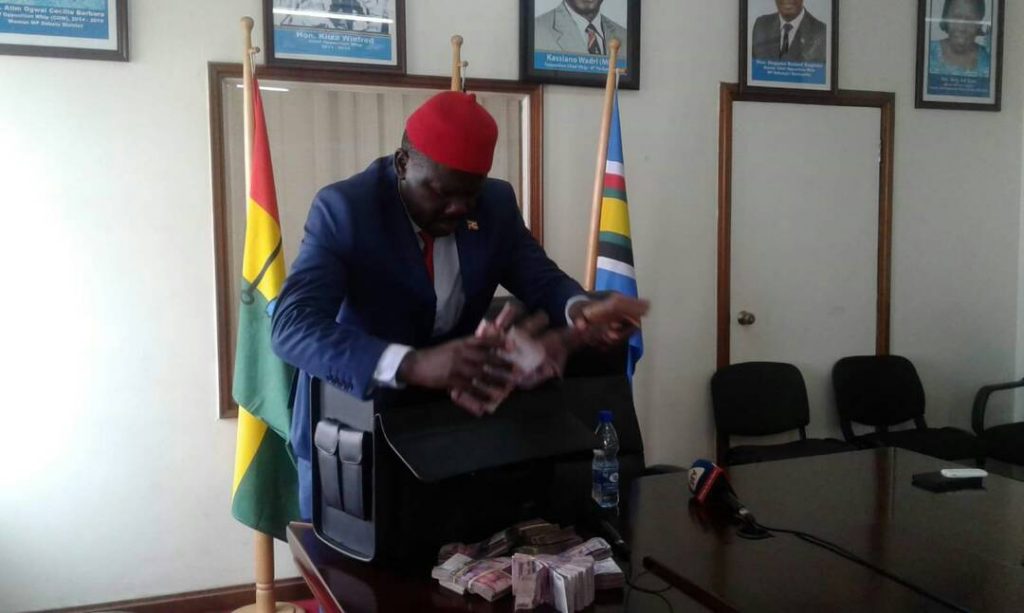 However, he said he couldn't openly display the transaction in regard to returning the money like Bobi Wine did saying his constituents were not tech savy.
"Bobi Wine has people most of whom are WhatsApp class. He is advantaged that the people he represents can access all information through WhatsApp unlike us," Kaginda told the press.
He said that the people of Rukungiri Municipality understand easily when money is displayed in cash than ordering the bank to return the money.