Rotary Club is set to offer free medical care to local communities in its annual Rotary Family Health Days. The nationwide medical camps will offer services including immunization, cancer screening, family planning, HIV testing and counseling among others at no cost.
The flagship camp will be held in Kampala on October 21 at Old Kampala Secondary School, organized by the Rotary Club of Kampala Central. A week later, other Rotary clubs across Uganda will also set up similar camps to avail free health care at various health centres.
At a press conference to announce the program, Rotary President for Kampala Central Barbra Mbabazi said that the camps are an opportunity for Rotarians to provide a service to the communities in which they live.
Centenary Bank which is partnering with Rotary has donated Shs 230 million towards the cause, Shs 40 million of which will procure a cancer screening kits to be used during the Rotary Family Health Days.
Godfrey Byekwaso, the Centenary Bank General Manager for Finance said; "We are proud to associate with this cause that will change lives. These health camps touch the nuclear of community and addresses a noble cause of curing diseases."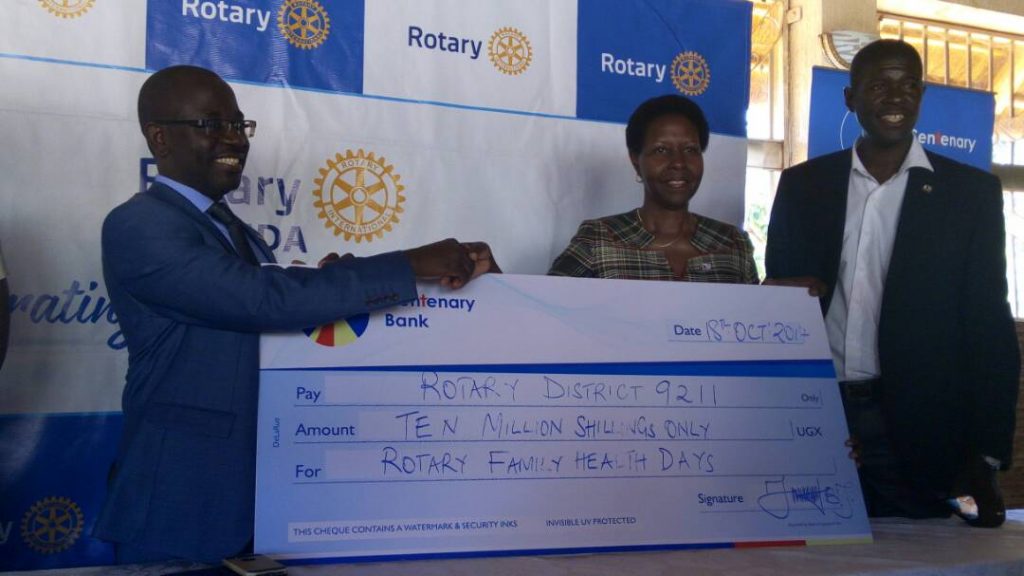 "We know that cancer is a silent killer yet whose detection can protect life. Through various activities we have made people aware of this scourge and how to prevent it."
Cervical cancer is among the leading killer diseases in Uganda with about 3,915 new cases registered every year according to a 2015 report on the Human Papillomavirus and Related Diseases.
According to Rosemary Byanyima the Past President for Rotary Club of Kololo, the Rotary Family Health Days program has treated over 2 million people in Uganda over the years.
"We shall also have a program on drug abuse targeting young people that live on the street. These camps have a big impact because we go in areas here their is most need," she said.
Rotarians noted that the country has a big gap in the provision of medical services which is evidenced in the desperation of people not just in rural areas but urban towns like Kampala too.
Shortage of drugs in health facilities, understaffing and costly services have all widened this gap, they said.