Scientists and researchers have cautioned Ugandans on the lifestyle they are living, which they say has led to an increase in the number of people living with Non-Communicable Diseases (NCDs).
A Non-communicable disease (NCD) is a disease or a condition that is not transmissible directly from one person to another. These are also known as lifestyle diseases.
According to Dr Frank Mugisha, in Uganda, the burden of NCDIs is on the rise and these account for 37% of the Disability-adjusted life year (DALYS) and 41% of all deaths in the country.
Dr Mugisha noted that the burden of the NCDs has more than doubled in the last 20 years, where 22% of adults are at risk of premature death (30-70 years) as of 2016 due to the same.
He added that there is a high prevalence of risk factors based on the NCD risk factor survey 2014 and other studies.
Dr Mugisha said that the high burden of NCD conditions, is Hypertension, where 24.3% of adults in Uganda suffer from Hypertension requiring treatment with only about 20% accessing treatment, and the Prevalence of diabetes is estimated at about 1.4 % of the adults ranging between 05 to almost 5% in rural to urban areas.
He added the increase in NCDs is being driven by many factors at play ranging from urbanization, social/ lifestyle and age and sex and pathogenic factors.
He revealed that the country is conducting the second NCD risk factor survey, with financial and technical support from WHO and Makerere School of Public Health for the financial and technical support. Adding this will give better statistics for use in planning and referencing.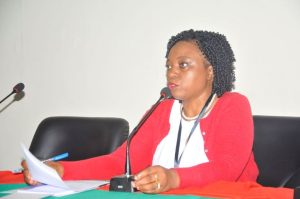 He called for the Implementation of preventive programs and documented the impact on policy and research, and also emphasized the importance of a multidisciplinary approach in addressing NCDs.
Dr Mugisha made the remarks at the NCD Symposium, organized by Makerere University College of Health Sciences, and the Alliance of Research Universities in Africa (ARUA) NCD Centre of Excellence, where he represented Dr Oyo Charles the Commissioner NCDs, Ministry of Health.
Speaking at the same event, the Principal of Makerere University College of Health Sciences, Professor Nakanjako Damalie, said as the college for health sciences, they are committed to productive research.
She noted that they are also committed to training a capable human resource, that can handle this disease for generations to come.
"So our commitment is to make sure that we build capacity in the country to be able to handle non-communicable diseases. And our capacity is trained for different districts because we train our students in all districts of the country so that everyone is reached," she said.
Professor Nakanjako explained that with an improvement in lifestyle and expectancy NCDs are increasing she noted that the highest-burden has been communicable diseases, but as the country registers an improvement in lifestyle and life expectancy, the NCD burden is expected to be high by 2040.
Speaking at the same symposium, Dr Fred Bukachi from ARUA, said there's a need for innovative measures on how newer ways to work on NCDs in the region can be got.
He added that this can be done through collaborations with other universities and research organizations.
"NCD is a common problem across Africa the best thing is to put hands together using research to be able to solve this problem. The rise in the NCDs is worrisome we call it a silent disaster," said.
Globally, non-communicable diseases (NCDs) are responsible for a significant proportion of deaths, with 41 million people dying from these chronic diseases each year.
NCDs, also known as chronic diseases, tend to be of long duration and are the result of a combination of genetic, physiological, environmental and behavioural factors.
NCDs disproportionately affect people in low- and middle-income countries, where more than three-quarters of global NCD deaths (31.4 million) occur.
In Uganda, the number of people living with NCDs has been increasing dramatically, making NCDs a major public health threat. For instance, 74,354 new cases of diabetes were seen at health facilities in Uganda in 2009-10 compared to 58,523 five years earlier showing an increase of 27% (HMIS data 2009/10).
In 2013, the Uganda Diabetes Association revealed that over 200,000 children had diabetes and expressed fears the number could be higher because many of the children do not report to the hospital for diagnosis.