The ad hoc committee of Parliament which was tasked to probe into the circumstances surrounding the arrest of four MPs in Arua district has released its report, citing gross acts of brutality against suspects.
The report comes close to two weeks since MPs; Robert Kyagulanyi, Gerald Karuhanga, Paul Mwiru and Francis Zaake were arrested in Arua district following the chaos that broke out on the last day of campaigns during the Arua municipality by-election.
Twenty six (26) other people including 5 women were also arrested.
In its findings, a copy of which SoftPower News has obtained, the committee reports that 2 of the women "could neither sit nor stand as they groaned in excruciating pain on the floor of the suspects' holding facility at the Magistrate's court in Gulu".
"They could barely speak. One of the women, Asara Night was reportedly suffering blood hemorrhage from her private parts," the report states.
It states that the condition of the two women was symptomatic of the effects of brute force and savagery either at arrest or during detention.
"One of the female suspects informed the Committee that her baby of barely sixteen months with whom she was arrested had been left behind in Arua".
Another suspects, Atiku Shaban (male) could neither walk nor sit and complained of extensive bodily pain arising out of severe beating while in detention.
These kinds of acts, according to the committee violate Article 24 and Article 44 (a) of the 1995 Constitution, which prohibit torture, inhumane and degrading treatment. In addition, they contravene with the Prevention and Prohibition of Torture Act, 2012 which criminalizes torture in any form.
Suspects told the committee they were severely beaten by what they said were men dressed in uniforms of the Special Forces Command (SFC).
MPs Karuhanga, Mwiru Paul and former legislator, Mike Mabikke complained of chest and back pain.
"They stated that they had been viciously brutalized during and after arrest while in Police custody in Arua and during transportation between the place of arrest and detention at Arua CPS and later Bondo Military barracks".
But the team did not manage to physically interact with Bobi Wine until August 20 as they were denied access to him both in Gulu military barracks and in Makindye military barracks where he had been transfered.
Members of the Committee report that they together with other MPs were forcefully chased out of Gulu Military barracks on orders of the Commander of the 4th Division army barracks, Brig. Kanyesigye Emmanuel, where they had earlier been allowed.
Bobi Wine's lawyers who got the initial opportunity to see him during the first court martial session in Gulu told the committee he could not speak.
"Despite his already dire situation, the Committee was informed that Hon. Kyagulanyi Robert Ssentamu was still handcuffed in detention at Gulu 4th Division barracks and was unconscious during the proceedings of the General Court Martial".
The report also indicates that the suspects were produced in court 72 hours after their arrest, which violated Article 23 (3)b that requires a person restricted or detained to be produced in Court not later than 48 hours.
In addition, the suspects were denied their right as enshrined in Article 23 (5) (a) of the Constitution, to have their next of kin informed and have access to them as well as their lawyer and doctor.
Bobi Wine's condition
In the case of Bobi Wine, the committee says that even when he was being arraigned before the General Court Martial, his wife, relatives, friends and colleagues Members of Parliament were denied access both to the suspect and to the proceedings of the General Court Martial.
"The suspect [Bobi Wine] was denied access to his personal doctor even when his condition was confirmed to be worrying" reads the report.
"The Committee notes that the deprivation of the suspects in their deplorable state, of access to private specialized medical help of their private doctors predisposed the suspect to grave danger to their health and possible death".
Members of the ad hoc committee particularly note the need to save the life of the Kyadondo East MP and that of others in dire state.
They say that during their interface with Bobi Wine in detention at Makindye Military barracks, he was ignorant of the charges that had been preferred against him in Gulu, which they say is testimony of his unconscious state during his first appearance at the General Court Martial.
During the same visit, they report that "his physical condition remained worrying".
They add that Bobi Wine's left lower body was paralyzed, he spoke and breathed with difficulty often breaking to catch his breathe.
"He sat with difficulty and could not move his body by himself. However he was able to speak albeit with difficulty and narrated the circumstances of his arrest in his hotel room in Arua".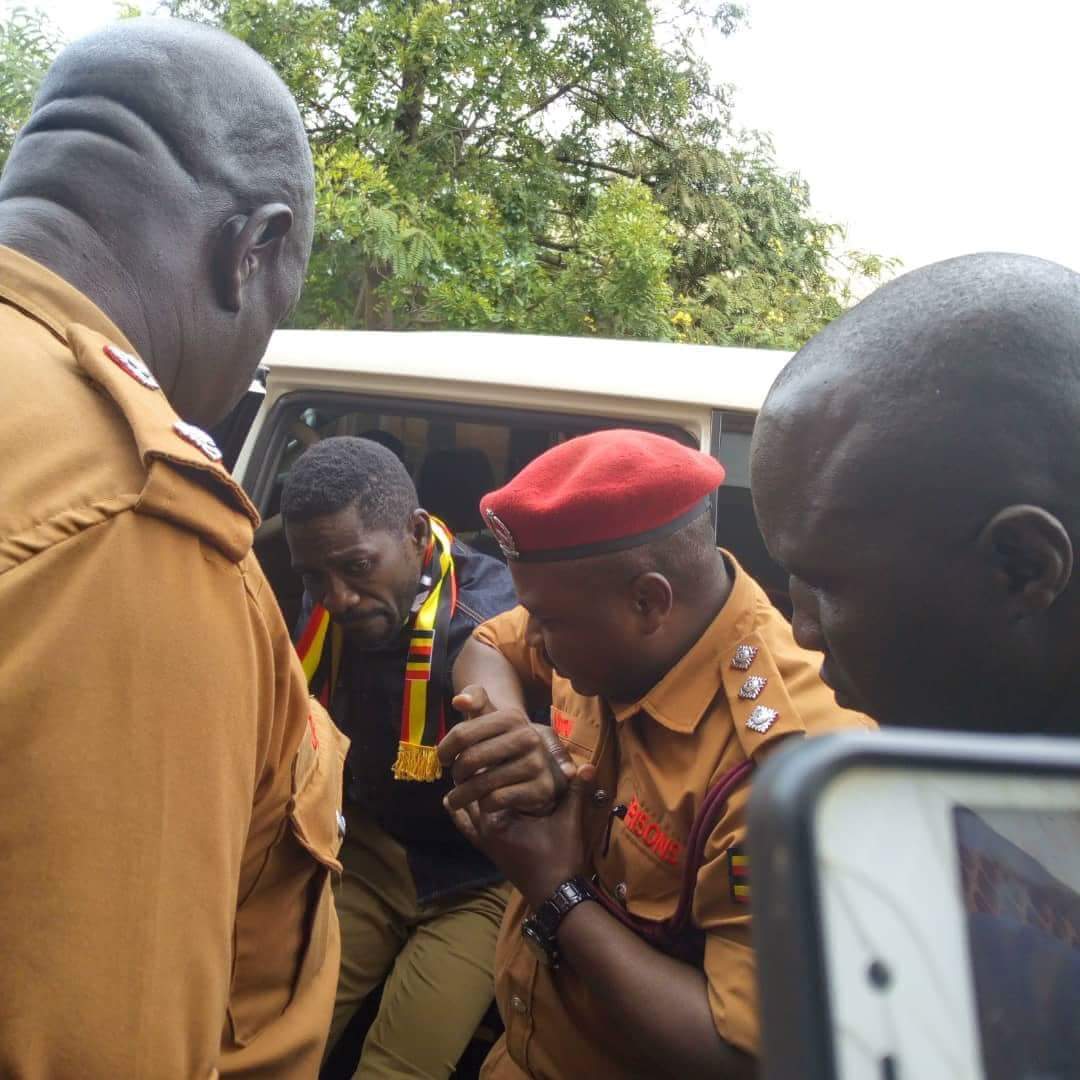 Bobi Wine told members of the committee that men clad in uniforms of SFC broke into his hotel room in Arua, found him kneeling on the floor with his hands up in surrender but went ahead to hit his head with a blunt object that he suspects to be an iron bar.
"Thereafter he was severely beaten with gun butts and other objects he had no knowledge of".
"Both his legs and hands were chained. He was later wrapped in a blanket and driven off to an unknown location as the beating continued," reads the report.
He told them his testicles were squeezed so hard that one of his testicles had smashed beyond existence. He said he could no longer locate it [testicle] within his scrotum.
"He was later dumped at a room, which he suspects was at the Arua airfield where he was later airlifted to Gulu Military barracks. His clothes were soaked in blood as a resuit of the horrendous beating he suffered".
Kyagulanyi also told the team that he feels pain all over his body and was only surviving on pain killing injections. The left side of his abdomen is visibly painful and the wounds on his head are still visible, they said. He complained of chest pain and that his teeth were loosened by the beating he suffered.
"The Committee observed that Hon. Kyagulanyi Robert Ssentamu requires urgent specialized medical care preferably abroad".
The dignity of Parliament
The committee decries the treatment meted out unto MPs by soldiers at the UPDF 4th Division Headquarters which they say was inappropriate and an affront on the stature and dignity of Parliament.
"The manner in which Members of Parliament were chased out of the barracks into the rain by over 30 soldiers under the command of one Col Kanyoro was very inappropriate and degrading," the committee reports.
They note that the actions of the soldiers towards the MPs is testimony of the regressive erosion of the stature and dignity of Parliament.
In its recommendations, the Committee urges the UPDF to respect and protect human and people rights in the discharge of its constitutional mandate so as to maintain its reputation of a disciplined people's army.
It also recommends that those individuals and State institutions that are complicit in the derogation of human rights and dignity be punished.