A rare but adorable photo of President Yoweri Museveni holding a toddler was appeared on social media on Sunday, attracting praises and wonderment from social media natives.
In the photo posted on the official Twitter page of the President, he is seen standing with head protruding the roof of his vehicle while holding the calm lovely baby by its tummy.
In another photo, the father of the baby can be seen handing it over to the President why onlookers stare in admiration.
This was during the President's several stop-overs in Ndeeba, Natete, Kyengera and Kawanda townships along the Kampala – Masaka highway where he spoke to artisans.
"Wonderful; down with the people. More African presidents should take time to do the same," Tahir tweeted in reaction to the President's photo.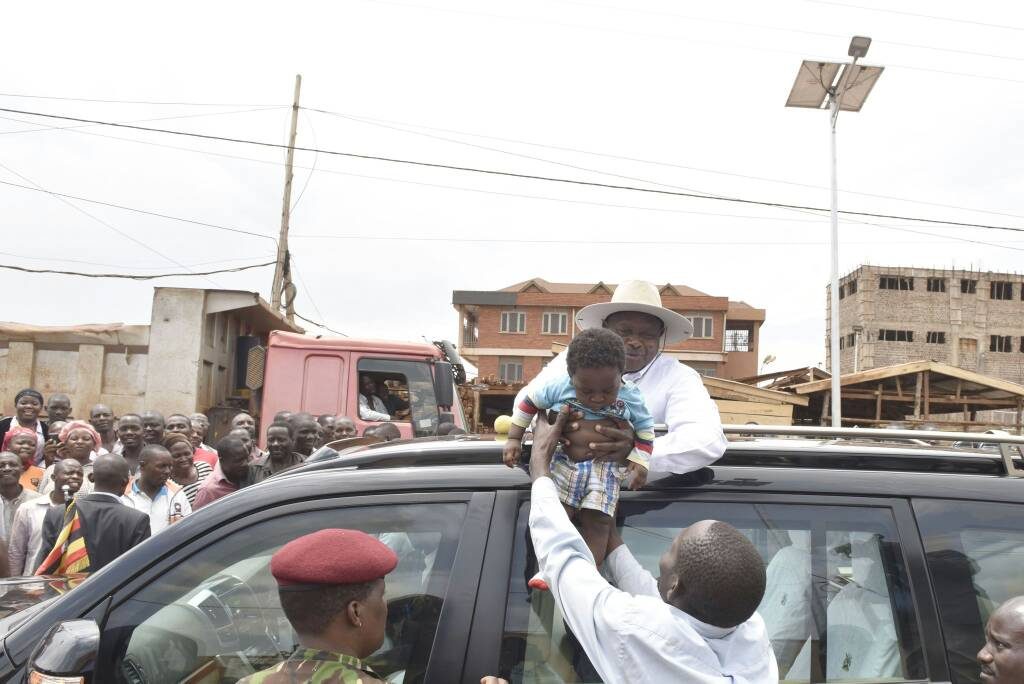 Stan Reynolds also said; "What a nice blessing for the people to greet their President. You made their day!!!" in a tweet.
Victoria Tumusiime tweeted; "This is good, people need to know you Mr. President."
Another tweep, Julius Adupu hailed the President's gesture of touching base with the ordinary citizens. "Well done your excellency. It's important for us wananchi to see you in our familiar surroundings," he said in a tweet.
In his appeal to the artisans, Museveni encouraged them to form organized groups and SACCOs so that government can support them. "It's easier to help organized groups than individuals".
He cited the example of Najera youth in Wakiso district who he recently supported with common user facilities in metal fabrication as part of Government efforts to create employment and create income for the youth.