Russian President Vladimir Putin has expressed support for the African Union (AU) to participate in the Group of Twenty (G20) as a full member.
G20 comprises 19 countries (Argentina, Australia, Brazil, Canada, China, France, Germany, India, Indonesia, Italy, Japan, Republic of Korea, Mexico, Russia, Saudi Arabia, South Africa, Türkiye, United Kingdom and the United States) and the European Union.
"And, of course, I want to mention that Russia supports the African Union's participation in the G20 as a full member," said Putin while addressing the Russia-Africa Summit in Saint Petersburg.
"We expect that the G20 will reach a decision on this matter, including with our support, at the summit in New Delhi in September. Objectively, this decision would reflect the constantly growing role of the African continent and its leading regional structures in international affairs," he added.
He added: "I would like to remind you that Russia was one of the first to react positively to the initiative advanced by the President of Senegal, who preceded you in this position, for granting the African Union full membership in the G20. We hope that the decision will be adopted at the G20 summit in New Delhi in September."
He said Russia is ready to help strengthen African countries' sovereignty and contribute to Africa becoming a key partner in the new system of the multipolar world order.
Speaking on Thursday during a working breakfast with heads of African regional organisations, Putin said Russia is a proactive contributor to regional integration projects across the vast Eurasian space.
"The Eurasian Economic Union is probably the key structure where Russia participates alongside our friendly neighbouring countries. Its purpose is to build single markets for goods, services, capital and labour. It is for this reason that we decided that it would be important to discuss the prospects of cooperation between the Eurasian Union and Africa's integration bodies. This primarily refers to the African Union which has been following a similar path with the creation of the African Continental Free Trade Area."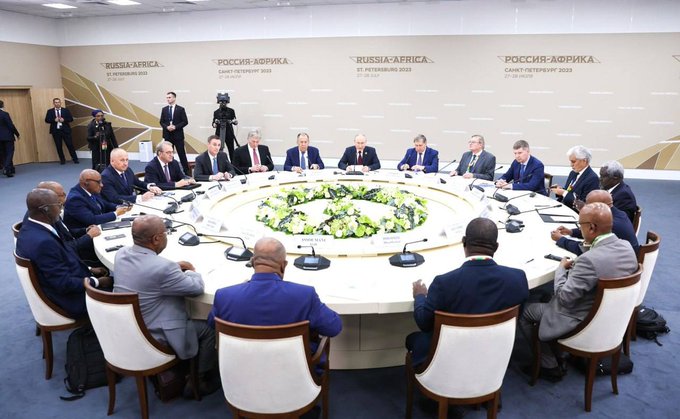 He believes that the creation of a new permanent dialogue mechanism for consultations on such urgent issues as countering terrorism and extremism and ensuring food, information and environmental security could be a meaningful addition to Russia–African Union instruments of interaction.
While meeting the Chairperson of the African Union Commission, Moussa Faki Mahamat, Putin said he views AU as a leading regional organisation that shapes the modern security structure on the continent and paves the way for Africa to take its rightful place in the system of global economic links.
Russia is still a reliable food supplier
Putin said despite the difficulties created by the coronavirus pandemic and the illegal sanctions imposed against Russia, his government has ensured the growth of trade and economic ties.
"Our mutual trade reached approximately 18 billion US dollars in 2022 and increased by nearly 35 percent in the first six months of 2023."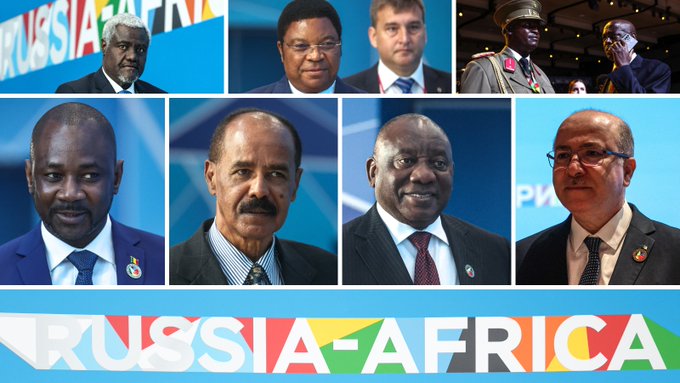 In 2022, Russian food exports amounted to 4.7 billion US dollars. Many large Russian companies are successfully working in Africa.
"Russia remains a reliable food supplier for Africa. The key spheres of our cooperation include energy, subsoil use, and agriculture. There are good opportunities for cooperation in research and technology, education and culture."
Africa emerging as the new centre of power
During the plenary session of the second Russia–Africa Summit on Friday, Putin said traditionally strong bonds of friendship and close and mutually beneficial relations link Russia and Africa.
Their foundations were laid in the mid-20th century during the struggle of the African continent's peoples for their freedom.
"For decades, we invariably provided support during the African countries' difficult fight against colonialism. Unfortunately, some manifestations of colonialism have not been eradicated to this day, and former colonial powers still practice them, including in the economic, information and humanitarian spheres," he noted.
"Russia remembers and cherishes the memory of Africa's outstanding sons. I will name them, friends. We must remember them, and we must never forget them. I will name Patrice Lumumba, Gamal Abdel Nasser, Nelson Mandela, Ahmed Ben Bella, Omar al-Mukhtar, Kwame Nkrumah, Samora Machel, Leopold Senghor, Kenneth Kaunda and Julius Nyerere. We also remember other African freedom fighters and national leaders of African countries. While relying on the principles of justice and equality, they staunchly promoted independent development for their nations, often sacrificing their lives."
He said the ideals of freedom, independence and sovereignty are also very important now in the difficult period of international turbulence when a truly multipolar world order is evolving and the era of domination by one country or a group of countries is coming to an end.
"However, those who are used to their exceptionalism and monopoly in global affairs are resisting this. Therefore, it is no coincidence that the theme of the second Russia-Africa Summit is For Peace, Security and Development and that the summit is not only focused on the further development of Russian-African strategic cooperation but also on the pivotal issues of global and regional stability, sustainable development of the continent, and the strengthening of all aspects of African countries' sovereignty."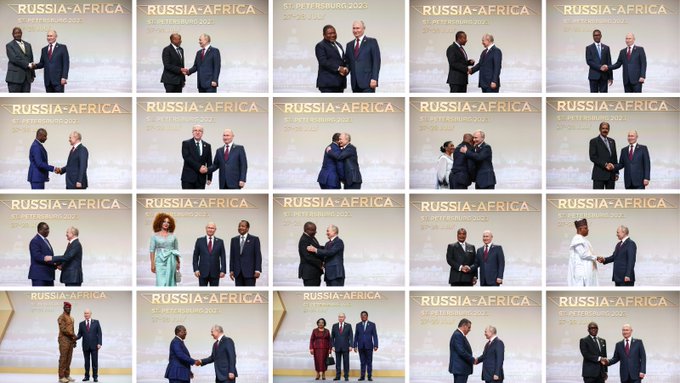 He went on: "Russia and African states call for building a new, fairer global architecture, are working together to protect international law, the UN Charter and the central role of that global organisation and are trying to coordinate their positions on the main issues on the international agenda."
He said Russia and Africa share the inherent commitment to standing up for genuine sovereignty and the right to follow their own unique development path in the political, economic, social, cultural and other areas.
"However, this aspiration to independence and sovereignty does not mean self-isolation. On the contrary, it implies being open to cooperating with free nations and states who are equals and enjoy the same rights," he added.
"I would like to note that the African continent is emerging as a new centre of power right before our eyes. It has been demonstrating exponential growth in terms of its political and also economic roles. Everyone will have to reckon with this objective reality."
He cited the example of the initiative by several African countries to resolve the Ukraine crisis.
"This is an urgent issue and we have never sought to avoid discussing it. The very existence of this initiative is quite telling since the so-called developed democracies used to hold a monopoly when it came to undertaking mediation missions of any kind. But this is no longer the case, and now Africa is ready to help bring about solutions to problems which may seem to lie outside of its immediate sphere of interests."
On the sidelines of the summit, Putin also held bilateral talks with President Museveni of Uganda, President of Zimbabwe, Emmerson Mnangagwa, President of the Republic of Burundi, Evariste Ndayishimiye, President of Mozambique, Filipe Jacinto Nyusi, President of South Africa, Cyril Ramaphosa and President of Egypt Abdel Fattah el-Sisi, among other leaders.