The Permanent Secretary/Secretary to the Treasury in the Ministry of Finance, Planning and Economic Development, Ramathan Ggoobi, has called for enhanced accountability in the delivery of government medicines to public health facilities.
Ggoobi noted that stakeholders in the health sector must commit to ending grey areas that exist once government medicines have been delivered to public health facilities.
The Finance Permanent Secretary made the remarks shortly after a tour of the NMS warehouse in Entebbe on Sartuday.
Currently National Medical Stores mandate is to buy, store, and distribute medicines.
However, Ggoobi says that there is a grey area after NMS has delivered medicines to government health facilities.
Ggoobi was speaking after a tour of the NMS warehouse in Entebbe on Saturday.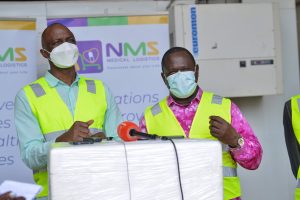 He commended NMS on the ongoing construction works of the new NMS Warehouse in Kajjansi which he says has saved the taxpayer huge sums of money.
Once complete, the Shs 70 billion Kajjansi warehouse will be the largest government-owned pharmaceutical warehouse on the African Continent
On the tour, Ggoobi was accompanied by the Deputy PS Finance Patrick Ocailap, the Acting Accountant General, Jenifer Muhuruzi, and Laban Mbulamuli the Ag Director of Budget.