Ugandan economist and scholar in management, leadership and entrepreneurship, Prof Juma Waswa Balunywa, has been recognised as the overall winner in this year's National Citizens Integrity Awards.
The National Citizens Integrity Awards 2023 were held Tuesday night at Hotel Africana in Kampala under the theme of promoting Integrity for a corruption-free and sustainable society.
The academic administrator, who served as the Principal of Makerere University Business School (MUBS), was also the winner of the Management Obligation category.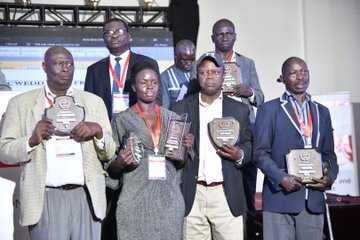 Kabale Municipality MP, Hon Andrew Bararyanga Aja, was the overall first runner-up (nationally) and also the winner of the Political Obligation category.
Hon Kassiano Ezati Wadri was the second runner-up (nationally) and also the first runner-up in the Political Obligation category.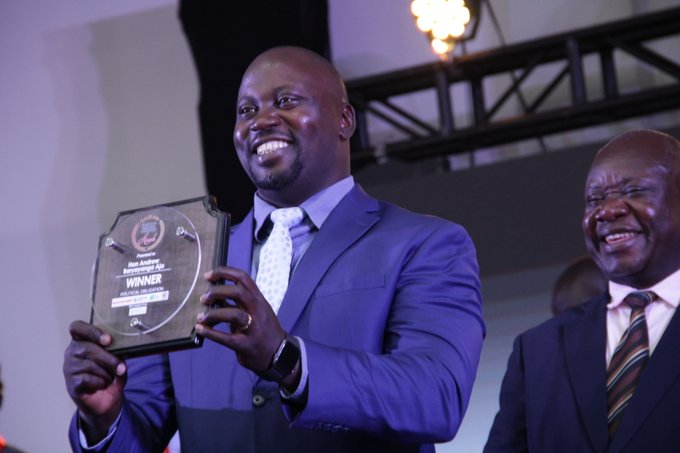 In the Frontline category, this year's winner is Dr Morris Ocwedda with Akello Edith as the first runner-up and Ochen James as the second runner-up.
Speaking during the awards ceremony, ActionAid International Uganda Country Director, Xavier Ejoyi, said: "We do not only recognize men and women of integrity, we also name and shame the corrupt. To the winners, you have been recognized by citizens. That is why we call it the national citizens' integrity awards."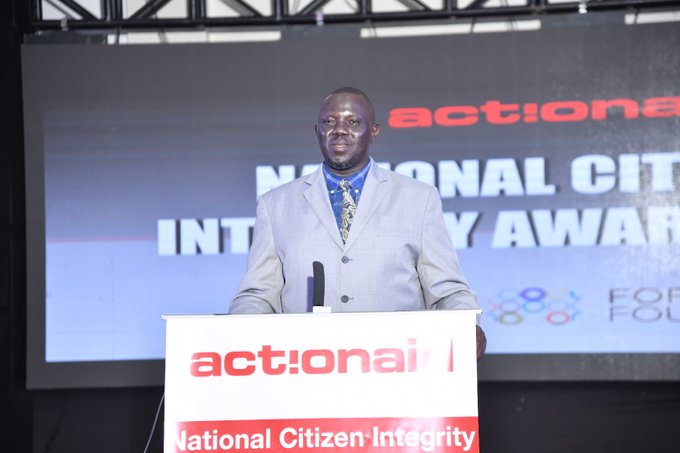 He went on: "I remind the award winners that the awards that you are carrying today belong to Citizens. I want to caution you that citizens can recall the award if they recognize that your conduct is not compatible with the spirit of the awards."
He thanked members of the public who nominated men and women of integrity from all over the country.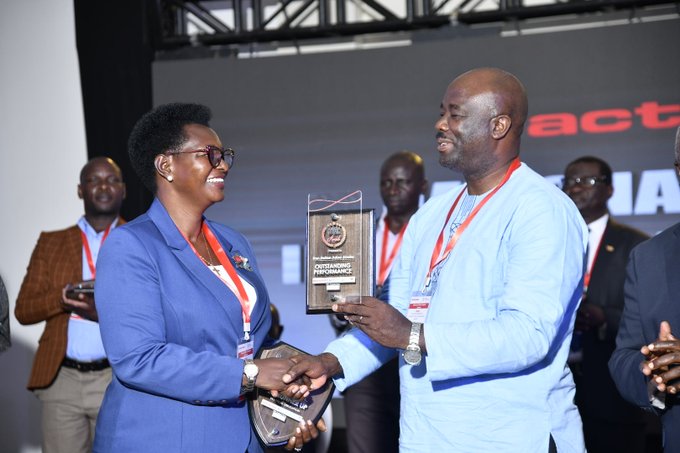 "We received more than 600 nominations and were able to award at least 15 individuals. Together we can champion integrity throughout the country," he revealed.
Dr Sylvester Onzivuwa, a Pathologist and member of the voting committee, said integrity is the same or equal to godly values.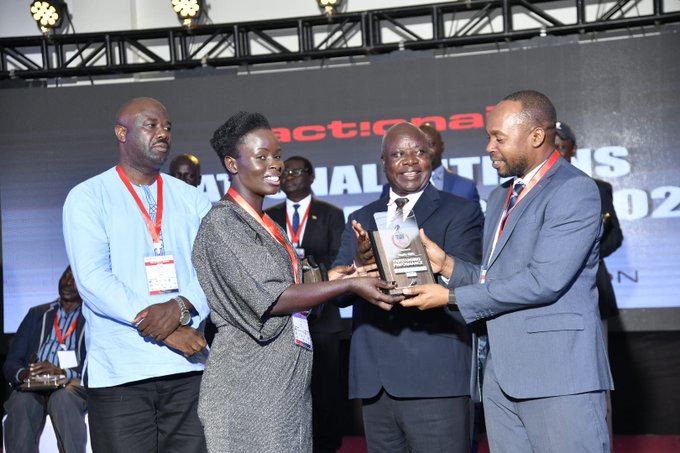 "The award you should look to win is integrity before God. If there is by any chance any nominee associated with ActionAid or any of our partners, they are disqualified," said Onzivuwa.
Here is the full list of winners:
LIST OF AWARD WINNERS AND PROFILES
DR MORRIS OCWEDDA
1ST RUNNERS UP FRONTLINE: AKELLO EDITH  She is a registered Midwife and has served Iganga District Local Government since May 2011. She currently works at Iganga General Hospital in the maternity ward. Edith exhibits unwavering integrity, both in her professional conduct and in interactions with patients, colleagues and the community at large. Her ethical values and moral compass serve as a shunning example for others to follow. Her tireless efforts to ensure patient's safety, privacy and integrity have earned her the trust and administration of all those who have worked with her. She has always ensured that mothers following delivery with a positive or negative outcome (with babies alive or not) go home fully supported especially emotionally and mentally and not missing out the medical aspect. She has complete sense of humor, has good working cordial relationship with both the fellow workers, patients and care givers. Being a frontliner, she kept on working even during the time of COVID-19 although many medical staffs had left the hospital because of her passion to work.
AKELLO EDITH
1ST RUNNERS UP FRONTLINE: AKELLO EDITH  She is a registered Midwife and has served Iganga District Local Government since May 2011. She currently works at Iganga General Hospital in the maternity ward. Edith exhibits unwavering integrity, both in her professional conduct and in interactions with patients, colleagues and the community at large. Her ethical values and moral compass serve as a shunning example for others to follow. Her tireless efforts to ensure patients' safety, privacy and integrity have earned her the trust and administration of all those who have worked with her. She has always ensured that mothers following delivery with a positive or negative outcome (with babies alive or not) go home fully supported especially emotionally and mentally and not missing out the medical aspect. She has complete sense of humor, has good working cordial relationship with both the fellow workers, patients and care givers. Being a frontliner, she kept on working even during the time of COVID-19 although many medical staffs had left the hospital because of her passion to work.
OCHEN JAMES
2ND RUNNERS UP FRONTLINE : OCHEN JAMES James works at Alik HCIII as Medical Assistant in Lira DLG. He does not demand for money from patients, works beyond stipulated time and he motivates others. James has a clean record free from corruption. He is an active problem solver at the district and supports those below him.
PROF. BALUNYWA WAISWA
WINNER MANAGEMENT OBLIGATION: PROF. BALUNYWA WAISWA He is a Professor and Principal at Makerere University Business School. He has been credited with having revolutionized business education and spearheading the private students' scheme in Uganda that has become a model for many universities across the country and region. He developed a PhD programme with over 140 PhD holders to date. Started MUBS upcountry campuses in Jinja, Arua, Mbale and Mbarara to increase access to education. Balunywa Foundation has trained over 3000 vulnerable young people in Iganga district enabling them to start their own businesses and some of them were able to join formal institutions as employees. The foundation has also been able to support young people into universities. Women have been trained in business start-ups like tailoring and many were empowered to get loans from banks.
BAKAK ANDREW RONALD
2ND RUNNERS UP MANAGEMENT OBLIGATION: DR. MOSES WAMBI He is an Education Specialist and Curriculum Specialist. He is currently the Principal of the National Teachers College, Kabale with high integrity, a mentor, intelligent and hardworking. He is trustworthy with public funds and enhances proper accountability especially as Deputy Principal Bishop at Wills Core PTC which earned him a promotion. He initiated the teaching of Lusoga Language in all education institutions of Uganda and was acknowledged by National Council for Higher Education. He innovated the practice of sighted (not visually impaired) students to learn to use Brail Machines (Perkins Braille) which are commonly used by visually impaired students in learning (2013-2018). He has inspired people in the field of teaching given that he is the brain behind the early grade reading and teaching. He keeps people informed, demonstrates credible leadership and is a vision of change. He has played a very big role in upgrading and revising the new text books of early grade reading that are now being used by the teachers in the country.
DR. MOSES WAMBI
2ND RUNNERS UP MANAGEMENT OBLIGATION: DR. MOSES WAMBI He is an Education Specialist and Curriculum Specialist. He is currently the Principal of the National Teachers College, Kabale with high integrity, a mentor, intelligent and hardworking. He is trustworthy with public funds and enhances proper accountability, especially as Deputy Principal Bishop at Wills Core PTC which earned him a promotion. He initiated the teaching of Lusoga Language in all education institutions of Uganda and was acknowledged by National Council for Higher Education. He innovated the practice of sighted (not visually impaired) students to learn to use Brail Machines (Perkins Braille) which are commonly used by visually impaired students in learning (2013-2018). He has inspired people in the field of teaching given that he is the brain behind the early grade reading and teaching. He keeps people informed, demonstrates credible leadership and is a vision of change. He has played a very big role in upgrading and revising the new text books of early grade reading that are now being used by the teachers in the country.
HON. ANDREW AJA BARYAYANGA
WINNER POLITICAL OBLIGATION: HON. ANDREW AJA BARYAYANGA Andrew Aja Baryayanga is an entrepreneur and politician serving Kabale Municipality as a Member of Parliament. In the 9th Parliament, he served on the Committee on Commissions, State Authorities & State Enterprises, and the Committee on Natural Resources where he challenged the Inspector General of Government (IGG) inquiry on the Karuma hydropower project in the constitutional court. As a result, tariff prices were lowered, and the local citizen is benefiting from the national grid. Before joinging politics, Andrew contributed personal resources to putting electric poles in Rushaki where the community now has power extended, has been instrumental in restoring water sources in Kabale Municipality (Kirwa, Bugongi, Rwakaraba, Kekubo, Karubanda) where locals access fresh water for domestic and commercial use. He constructed a children's church at St. James Kijjuguta Church of Uganda where kids no longer sit on the floor or hold services outside.
HON. KASSIANO WADRI EZATI
1ST RUNNERS UP POLITICAL: HON. KASSIANO WADRI EZATI He is a social worker He is former Member of Parliament Terego County and former Chairperson Public Accounts Committee, also chaired COSASE and was once Secretary General for FDC. Has sponsored several students in the constituency and has maintained close contact with electorates. He is accountable and fulfils most of his pledges without conditions. As an MP, he exhibited nationalism during his tenure, and he is always unthreatened and focuses on the truth. He lives an honest and integrity life filled with satisfaction and transparency in the conduct of affairs.
HON. HELLEN ADOA ABEKU
2ND RUNNERS UP POLITICAL: HON. HELLEN ADOA ABEKU She is the state minister for Fisheries in the Ugandan Cabinet and the Women's Member of Parliament for Serere District in the 11th Parliament. A consistent anticorruption crusader who encourages the concept of naming and shaming. She has spoken out eliminating illegal fishing practices on the lakes including corruption tendencies amongst the Uganda Police and UPDF soldiers who have been extorting money from fishermen inform of bribes and tips.
OVERALL, WINNER
Prof. Balunywa Waiswa
SECOND
Hon Andrew Baryayanga Aja
THIRD
Hon Kassiano Ezati Wadri
OUTSTANDING PERFORMANCE
1ST
Akello Edith
2ND
Hellen Adoa Abeku
3RD
Akello Agnes She is a dedicated traffic Police Officer, a darling to many in the traffic section of Uganda police, and about three months ago was awarded by the rotary club of kasese snow peaks as some who has served this country without and corruption allegation unlike her other counter parts in the same department, it is a side that she is supportive and calm during execution of her work. She has helped many people get their cases resolved without any difficult. She acts professionally, like when she stops you, she explains the reason and does not take bribers. She does not just issue tickets until the driver understands the reason for the issuance of the ticket. She is not arrogant