Buganda Kingdom Prince David Wasajja was the man of the hour on Saturday, April 23, 2022, as Uganda Rugby Cranes lifted the national flag and made their country proud.
The Uganda Men's Rugby Sevens national team won the 2022 Rugby Africa Sevens trophy after beating Zimbabwe 28-00 in the Nile Special – sponsored 2022 Rugby Africa Sevens.
Rugby Cranes were then crowned African champions at Kyadondo Rugby Grounds in Kampala, having gone unbeaten over the two-day event.
They only conceded three tries.
The event coincided with UPDF Land Forces Commander Lt Gen Muhoozi Kainerugaba's 48th birthday celebrations at State House Entebbe.
In the absence of the State Sports Minister who left to attend the birthday event, the responsibility fell on Prince Wasajja to officiate at the international Rugby tournament.
The Prince is a Trustee of Uganda Rugby Union.
Uganda started by pushing out Kenya in a game that ended 22-12.
According to the images shared by Buganda Prime Minister Owek Charles Peter Mayiga, Prince Wasajja is seen celebrating Uganda's victory over Kenya and qualifying for the forthcoming World Cup, on Sunday 24 April.
"Tusiimye nnyo Omulangira obuwagizi bw'owa bannabyamizannyo (we thank the prince for the support accorded to sportspeople)," Mayiga said in appreciation.
Led by their captain Mike Wokorach, Uganda's rugby 7s team went ahead and defeated Zimbabwe captained by Hilton Mudariki.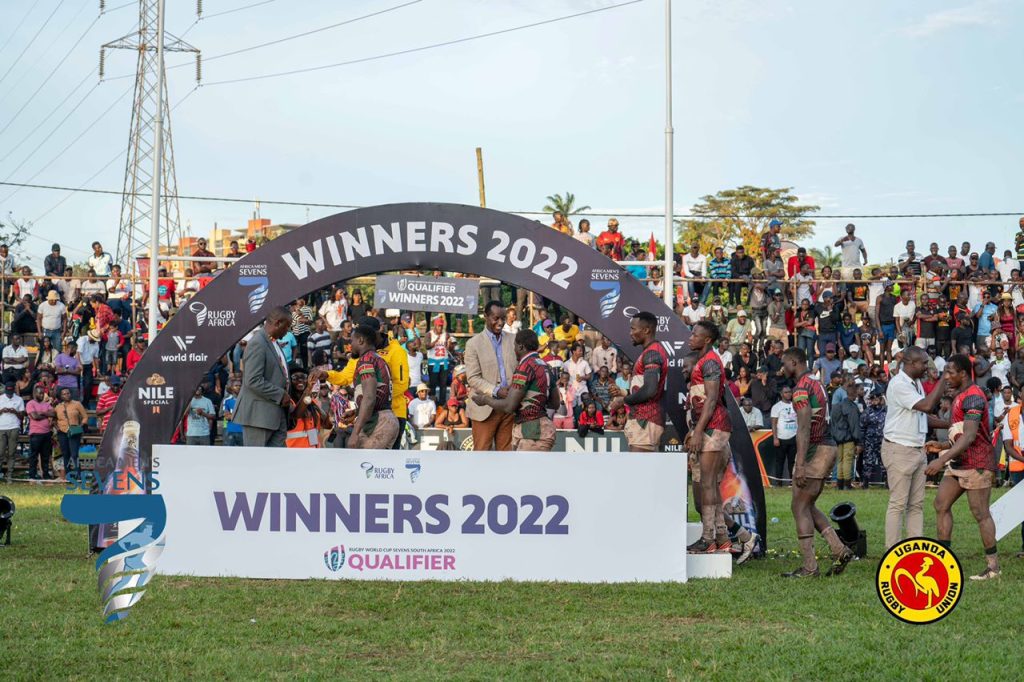 The Rugby 15s World Cup qualifiers will be held in France.
Andrew Owor, the vice president of Rugby Africa, lauded the teams for investing a lot of effort and pushing themselves higher.
Like Zimbabwe and Kenya, Uganda has tough seasons ahead in preparing for tournaments.
They have barely months to get in shape to match the likes of Fiji, Great Britain, Samoa, and New Zealand.
Prince David Wasajja is the youngest son of the late Kabaka Muteesa II, the 35th Kabaka of the Kingdom of Buganda, and Winifred Keihangwe, an Ankole princess.
Accordingly, he is the youngest brother of Muwenda Mutebi II the current Kabaka of Buganda.