Ukraine President Volodymyr Zelensky has posted a video on social media with his government officials, saying they have not fled the capital Kyiv as Russian forces entered the city.
This followed rumours in Russian media that Zelensky had fled the capital alongside other country's leaders.
"The president is here. We are all here. We are in Kyiv. Our soldiers are here, the citizens of the country are here. We are here protecting our independence; our country and we are going to continue to do so. Glory to the defenders of Ukraine," Zelensky said in a Twitter video.
"This night, the enemy will use all the forces available to break our resistance — treacherously, viciously, inhumanly," Zelensky earlier said in a speech posted online after midnight on Saturday.
"The president is here." President Volodymyr Zelensky of Ukraine posted a video on social media showing him standing alongside other government officials, saying that the country's leaders had not fled Kyiv as Russian forces entered the city. https://t.co/VPxc01QGAG pic.twitter.com/F91xlEp7we

— The New York Times (@nytimes) February 25, 2022
"This night, they will make an assault upon us. We all have to understand what we are going to face. This night, we have to withstand. Kyiv requires special attention. We cannot lose the capital."
The Biden administration warned Kyiv could fall quickly, according to Washington Post.
The U.S. government is prepared to help Zelensky leave Kyiv to avoid being captured or killed by advancing Russian forces, according to U.S. and Ukrainian officials.
President Biden authorized $350 million more in security assistance for Ukraine on Friday evening, bringing the total over the past year to $1 billion, according to the White House.
UN Security Council fails to pass resolution
UN Security Council Friday failed to pass a resolution that would condemn Russia for its military operations in Ukraine.
The final vote tally was 11 votes in favour, 1 against and 3 abstentions. As a permanent member of the UNSC, Russia vetoed the vote.
Ukraine's ambassador to the U.N., Sergiy Kyslytsya, had asked the Security Council for a moment of silence so diplomats could pray for peace and for the souls of people who were killed or will be killed.
Addressing his Russian counterpart, Kyslytsya said, "I invite the Russian ambassador to pray for salvation." After a moment of silence there was a loud round of applause.
https://twitter.com/PMoelleken/status/1496941845812760577?s=20&t=mJn7o072Tv5yCwGc5kOz3g
"…what is currently happening is a correction of history and the re-establishment of the balance of international order after the end of the Soviet Union", said the Syrian presidency in a statement.
Fighting intensifies in Kyiv
Andrew E. Kramer, Moscow correspondent for The New York Times, reported fierce street fighting in Kyiv, bursts of gunfire and explosions echoed through several areas of the city.
Early Saturday morning, Ukrainska Pravda, a Ukrainian news site, citing eyewitnesses, reported combat in Victory Square, a little over a mile from the city center, Maidan Square.
Fighting had also raged nearby around the city's train station and along a central thoroughfare leading from Victory Square toward the city center, Bohdan Khmelnitsky Street, the site said.
Along that street and closer to the city center, bursts of gunfire could be heard through the night.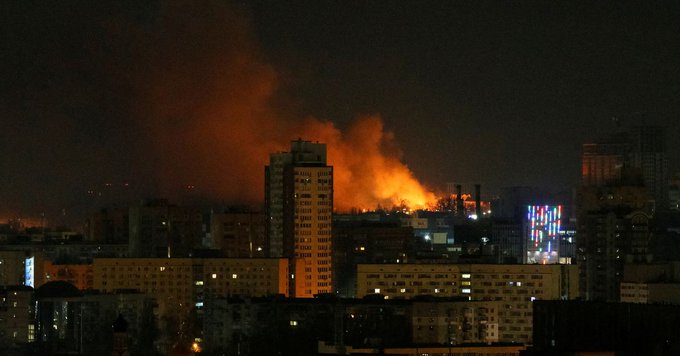 At 7 a.m. the secretary of the Ukrainian Security and Defense Council, Oleksy Danilov, said an attack had been rebuffed. "We are stopping the horde, so far as we can," he said. "The situation is under control of the armed forces of Ukraine and citizens of Kyiv."
Meta, Facebook's parent company, is barring Russian state media from running ads or monetizing on its platform anywhere in the world.
Nathaniel Gleicher, Facebook's head of security policy, said on Twitter that the company would also continue to apply labels to the accounts of Russian state media.
2/ We are closely monitoring the situation in Ukraine and will keep sharing steps we're taking to protect people on our platform. https://t.co/mTatqghCzQ

— Nathaniel Gleicher (@ngleicher) February 26, 2022
EU sanctions Putin and Lavrov
In a press release, the Council of the EU imposed sanctions against President Putin and Foreign Minister Lavrov and adopts wide-ranging individual and economic sanctions.
"The EU today decided to sanction Vladimir Putin, President of the Russian Federation and Sergey Lavrov, Minister of Foreign Affairs of the Russian Federation," the statement read.
"The Council also agreed on a further package of individual and economic measures covering also Belarus to respond to the unprovoked and unjustified military aggression carried out by the Russian Federation against Ukraine."