Operation Wealth Creation (OWC) and Uganda Police Force have signed a Memorandum of Understanding (MOU) that will see vulnerable groups like youths empowered to engage in income generating activities as a way of preventing crime.
Police believes that this initiative will deal with issues like lack of income and idleness especially among the young people which often precipitates theft, robbery, murder and other related crimes.
The MOU was signed on Wednesday between the Inspector General of Police Gen Kale Kayihura and the Chief Coordinator of Operation Wealth Creation, Gen Salim Saleh at Namunkekera Industrial Centre in Kapeka, Nakaseke district.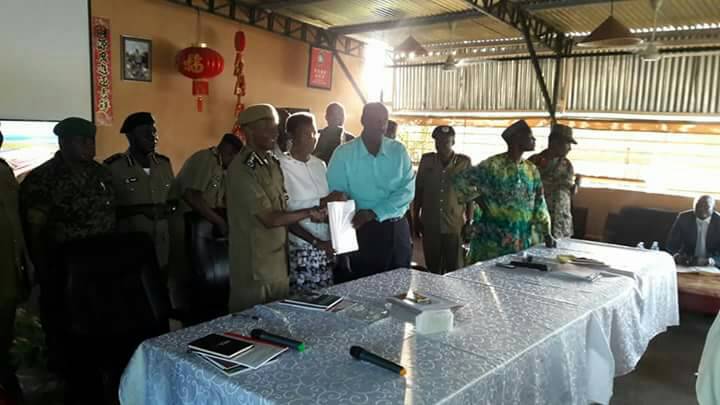 The signing ceremony was presided over by Esther Mbayo, the Minister for Presidency.
At the height of the insecurity occasioned by the spate of murders that targeted women in parts of Entebbe and Wakiso mid this year, Gen Saleh advised security institutions to adopt a different approach to promote security.
Rather than spend resources in training thousands of crime preventers, he advised that agencies like Police should collaborate with youths to help them start small businesses that will preoccupy them but also reduce their vulnerability to crime.
Unemployment is known to be the biggest driver of crime but even for the majority of the youths in Uganda who are interested in entrepreneurship, capital remains a challenge.
The proposal by Gen Saleh was later supported by Police and piloted in Nansana, and later Katabi town council which has restored a semblance of security in these areas in the last few months.
"We must start a program that focuses on solving social problems which create an environment of social behavior in which criminal gangs thrive," IGP Gen Kayihura commented during a meeting with residents of Nansana in August.
He had further explained that youths are contracted to carry out crimes due to lack of income.
SoftPower News understands that during their meeting on Wednesday, the IGP, Gen Saleh and Minister Mbayo, discussed at length strategies required for crime prevention in greater Kampala using Operation Wealth Creation programs.
Operation Wealth Creation was introduced by President Yoweri Museveni in 2013 as an initiative aimed at transforming lives of the 69% households from susbsistence to commercial agriculture.
Some of its programs have involved distribution of seedlings as well as livestock to individuals and groups of farmers across Uganda.
General Saleh is commended for driving an industrial revolution in Kapeka where commodity value chains are linked from production to markets.