The Prime Minister Robinah Nabbanja and the minister for Relief, Disaster Preparedness and Refugees, Eng. Hillary Onek have agreed to work together for the betterment of the country, the Vice President Maj. (Rtd) Jessica Alupo has revealed.
"We have had a good meeting and agreed to work together. We have decided to leave certain issues in the past and work for the betterment of our country," Alupo noted, after a closed-door meeting with Nabbanja and Onek.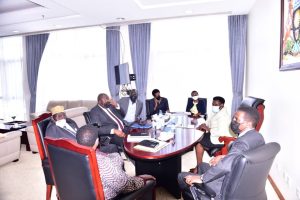 "We have agreed to look ahead and forget the past. We are one," the Vice President emphasized.
The meeting, chaired by the Vice President as an arbiter; was also attended by Gen. Moses Ali, the Second Deputy Prime Minister and Deputy Leader of Government Business in Parliament, and Lucy Nakyobe the Head of Public Service and Secretary to Cabinet
The others in the meeting held at the Vice President's Office were Attorney General Kiryowa Kiwanuka, Dr. Baryomunsi Chris the Minister of Information, Communications Technology and National Guidance and Esther Anyakun the State Minister for Relief, Disaster Preparedness and Refugees.


This follows a letter from Eng. Onek to the Prime Minister Nabbanja protesting her working format.
In an October 29 protest letter copied to President Yoweri Museveni, Speaker of parliament Jacob Oulanyah, Deputy Speaker Anita Among, Minister of state for Relief, Disaster Preparedness and Refugees Esther Davinia Anyakun, Onek threatened to resign over what he termed as Nabbanja's "micromanagement" of his ministry.
"Rt. Hon Prime Minister, if you have decided to carry on working like this and rendering my docket irrelevant, kindly put it in writing to H.E. the president who is the appointing authority and I will relieve myself of my responsibilities and allow you carry on with your duties. I will NOT be held accountable for decisions that have been taken without my input," he noted.
In the letter, Onek further accused Nabbanja of calling meetings behind his back.
In response, Nabbanja noted that she is a hands-on person who won't tolerate laziness in extending services to the people.