The three-day (22-24 March) Rwanda-Uganda 11th Joint Permanent Commission (JPC) meeting, is ongoing in Kigali, Rwanda.
The commission convening for the first time after more than 10 years, is aimed at discussing areas of trade and cooperation and especially reviving the Northern Corridor Integration Projects.
The two countries agreed to revive the Commission during a meeting between Uganda's Minister of Foreign Affairs, Jeje Odongo, and his Rwandan counterpart, Vincent Biruta, on September 1, 2022.
Speaking at the 11th JPC meeting, The Permanent Secretary Ministry of Foreign Affairs Uganda, Vicent Bagiire said this year's JPC is a landmark in the continued engagement for strengthened cooperation and development of the two countries.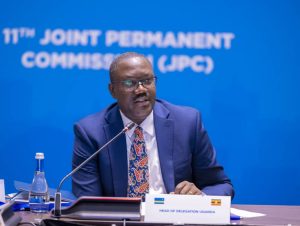 He added that It has also provided an opportunity to update on areas of cooperation but also agree on a number of action points.
He noted that both countries have warm and cordial relations that are rooted in the shared and cherished history built on the social, cultural and blood relations of their citizens.
Bagiire said these deep relations have over the years enabled both Uganda and Rwanda to build and strengthen their political, diplomatic and bilateral relations.
He further asked that The Memorandums of Understanding (MoU), which have been concluded to be signed, on Justice and Constitutionalism, Migration, political consultations and Mutual Legal Assistance should be implemented by the respective Ministries, Departments and Agencies of the two countries.
The Director General of Africa Africa, MINAFFE , Shakilla Umutoni said the meeting is a follow-up to the Ministers of Foreign Affairs Political and Diplomatic consultation that happened on 1st September 2022, and the subsequent technical meeting of Permanent Secretaries in November 2022.
She appreciated Uganda's collaboration and flexibility in the organization of the JPC. "Our smooth collaboration in the preparations of this meeting gives me advance optimism that this JPC will be a unique success."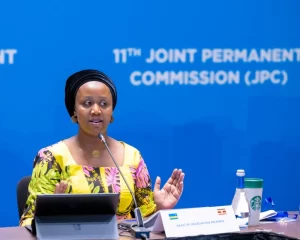 The 11th JPC is a milestone in the bilateral cooperation between the two countries as it demonstrates the renewed commitment that both countries have embarked on to revive historical cooperation, she said, adding, "It is an opportunity to revisit where we stopped in the last ten years and what we must do to regain time and opportunities lost."
The JPC started with technical sessions, and a meeting of Permanent Secretaries and will be followed up with a ministerial meeting expected to discuss outcomes of the previous technical meetings.
Prior to the eleventh JPC, delegations from the two countries held bilateral consultative meetings on March 20 and 21 to identify and agree on the major documents for the meeting.
Other pre-meetings between the two countries including the bilateral technical meeting on trade held on March 21, aimed at identifying opportunities and challenges faced by the business community in both countries.